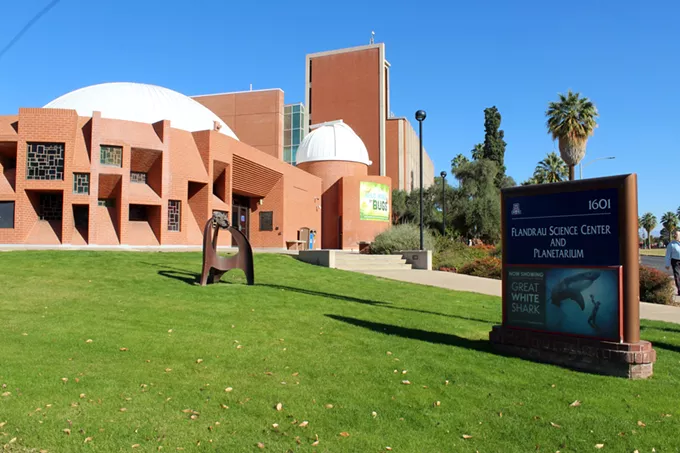 David Bowie said in "Space Oddity," "The stars look very different today."
Flandrau Science Center and Planetarium's Michael Magee and Shiloe Fontes are bringing music and planetary stars together to introduce new generations to classic rock and science through its programs.
"We're getting a brand-new generation into the dome to hear and see really cool visuals and music," Fontes said.
"I try to understand it as best I can because I grew up on that music when I was in high school and beyond," Magee said.
One of the oldest shows is based on Pink Floyd's "The Dark Side of the Moon," which has been featured since the late 1970s. From Queen to "Stranger Things"-themed shows, Flandrau keeps various shows in rotation. Once COVID-19 started to "fade a bit" toward the end of 2021, early 2022, shows were often at capacity.
"People were just craving that sort of entertainment after COVID because everyone was so limited in what they could do during that period," planetarium director Magee said.
The Netflix show "Stranger Things" created a stir among Metallica fans — new and old — and resurrected retro gems like Kate Bush's "Running Up That Hill." Now it's being told to lasers, thanks to a leasing arrangement with Laser Fantasy.
At first Magee was unsure of the appeal of "Stranger Things," but he quickly learned.
"They said it was really popular with most of their groups," Magee said.
"We didn't know what to expect (or) what the demographic would be for that show. We were pleasantly surprised."
After each season, the show is updated to reflect the soundtrack, characters and graphics associated with the series. The planetarium is up to season three.
"At some point we're hoping to get season four, which, of course, includes everyone's favorite Kate Bush song," said Fontes, who works on designing and creating planetarium exhibits as well as building, training and overseeing operations.
"Laser Metallica" hadn't been that popular, but fans get into the metal band's tracks like "Master of Puppets" during "Laser Stranger Things."
Magee said planetarium staff tries to figure out which demographic would watch a particular laser or astronomy full-dome show. "It seems hit or miss," he said.
The planetarium director
Magee began studying astronomy in 1980 at the UA. As a student employee in 1981, he started running Flandrau's planetarium shows as a console operator, also serving as a floor supervisor for a couple of years.
Switching from astronomy to chemistry and biology while contemplating medical school, he ended up studying audiology in the College of Speech and Hearing Science.
In 1984, he was hired as a full-time planetarium technician at Flandrau, maintaining various components of the planetarium system, productions and the Minolta Star Projector, known as "Hector Vector Star Projector," the planetarium's original opto-mechanical star projector.
"Because I ran so many different shows, I developed an appreciation for the different styles of music and shows that we either programmed or leased from other companies," Magee said.
"I would say to this day, 'Dark Side of the Moon' is still my favorite."
Every time he ran the show, he made it look different.
In 2000, Magee was officially named the planetarium director. That same year, he upgraded the planetarium audio system, from analog reel-to-reel tape to a digital audio deck. He said that analog reel-to-reel tape would degrade, whereas digital would maintain high-quality sound.
"When I talk to our student staff members and they express interest in some of the older rock music, they seem to describe the reason why they like it in terms that are very similar to why I used to like that music," Magee said.
He chalked it up to its high quality of the music and lyrics.
"The young crowds are really pleased and I'm happy to see that happening," Magee said.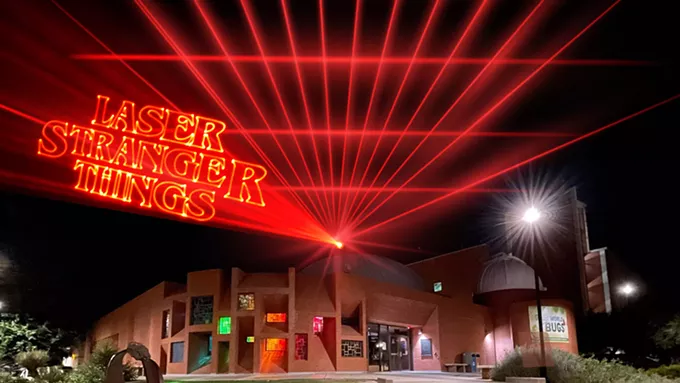 The next generation
Not all student employees at Flandrau have backgrounds in astronomy. The planetarium accepts students from all different degree programs.
"Our question to them when we hire them is, 'Do you think you would be able to learn the basics of astronomy, the night sky and constellations?'" Magee said.
Currently, about 12 to 15 student employees run planetarium shows and films and give Star Talks. In total, a little less than 40 students take on various tasks.
Irene Meikle is a graduate student studying teaching who has been working at Flandrau as a planetarium operator for about three years. She said she saw the job posting and applied after watching a laser show with her roommate her freshman year.
"Any science education, that's kind of my jam," said Meikle, who teaches biology at Palo Verde Magnet High School.
As a planetarium operator, she gives 10- to 55-minute talks about the planets, night sky, Milky Way or universe.
"Our training goes anywhere from a month to a semester," Magee said. The process varies from person to person. "One of the more satisfying parts of my job is getting to see people come through and learn," he said.
Appealing to many areas of science, the planetarium staff often complements its exhibits like "Sharks: Magnificent & Misunderstood" and "Wild World of Bugs" with shows. The majority of the audience tends to be families, school groups or university students.
"When we first opened, we had an employee who worked for Tucson Unified School District and their job was to arrange for school kids of different class (and) age levels to come in and see our programming and learn about astronomy and whatnot as part of their science learning," Magee said.
"We did that for many years and those programs have continued over the years in various forms."
Many young children are coming in to learn about black holes.
"We try to make sure we're highlighting any research that's being done at the UA, as it has been a part of so much when it comes to astronomy," Fontes said. Most recently, the UA just finished helping image the two black holes, M87* located at the center of the Messier 87 Galaxy and Sagittarius A*, which is at the center of the Milky Way Galaxy. Asterisk represents a star.
Future of Flandrau
Fontes said it's tough to predict how shows are going to be received.
"We're really pleased that shows pretty regularly have been sold out," Fontes added.
"Personally, I love it. I think shows with bigger audiences are generally more fun as an operator, because I become an entertainer and I feel more comfortable because the (audience) kind of conglomerates," Meikle added.
This year marks the 50th anniversary of "The Dark Side of the Moon." Fontes said the planetarium hopes to offer a nice tribute to Pink Floyd.
Magee said he hopes to see the Flandrau produce its own shows entirely in house to save money. One show can cost up to $20,000 to lease for about three years. Independent production would allow the planetarium to highlight UA's ongoing research and allow scientists to assist with scripts.
"We're always on the lookout for new donors to help us with small projects or getting a new show or exhibit in," Magee said.
While Flandrau has offered laser light shows since "practically forever," Magee said, a new demographic has emerged in attendance, identifying with music from the 1970s and beyond. To increase public understanding and appreciation of science, the planetarium continues to serve diverse audiences with its spirit of creativity and innovation.
"I think if people like science or if they want to see cool things, come to Flandrau," Meikle said. "It's for everybody."
UA Flandrau Science Center & Planetarium
1601 E. University Boulevard, Tucson
520-621-4516, flandrau.org