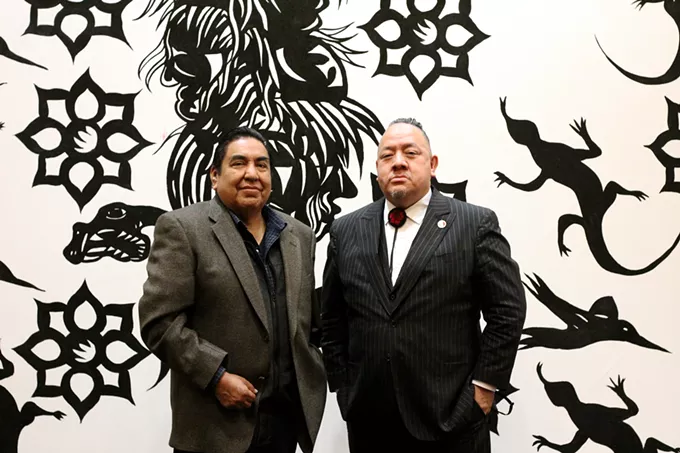 The Pascua Yaqui Tribe plans to build a third casino near West Grant Road and Interstate 10 following federal approval of the "Old Pascua Community Land Acquisition Act."
Known as H.R. 4881, the bill places the culturally significant land known as "Old Pascua" into trust for the Pascua Yaqui Tribe of Arizona. President Joe Biden signed the bill into law Dec. 27.
The "compact-designated area" of approximately 30 acres, includes the area south of West Grant Road, east of Interstate 10, north of West Calle Adelanto and west of North 15th Avenue in Tucson, according to the bipartisan-backed bill.
It was first introduced by Rep. Raúl Grijalva (D) in July 2021, before passing through Congress toward the end of 2021 and unanimously through the Senate on Dec. 19, 2022.
Sacred and ceremonial grounds that have belonged to the Pascua Yaqui Tribe since 1921, include the adobe chapel at the west end of the Pascua Cultural Plaza as well as the abandoned Century Park 16 movie theater, a prospective location for the third casino.
"The department of the interior still needs to take the land into trust, a process that could take six to 12 months," said Kim Van Amburg, chief executive officer of Casino Del Sol.
The Pascua Yaqui Tribe owns and operates two casinos, Casino Del Sol and Casino of the Sun; a potential third casino would create approximately 500 to 600 jobs and invigorate the intersection, Van Amburg said.
"To have a casino at Grant and I-10, close to central Tucson (and) a lot of people is going to be a game changer for the tribe and also a benefit to that intersection in terms of the vibrancy of it," Van Amburg said.
"That piece of property where the church is at, I think, was set aside a long time ago by our ancestors and started doing ceremonies there for hundreds of years," said Pascua Yaqui Chairman Peter Yucupicio, who was born and raised in the Old Pascua area.
Yucupicio said that Yaquis from many different communities visit the church property to practice their faith and culture.
"I think it's a great opportunity for us to continue working together, providing not only for Yaqui but for a lot of members that live in the west side or in Tucson to come help us build their economic base," Yucupicio said.
Alfred Urbina, attorney general for the Pascua Yaqui Tribe, has worked with the tribal council on the "gaming compact" that flows from the Indian Gaming Regulation Act 1988. That lays out how the state of Arizona and tribes in Arizona will work out how Indian gaming will occur in the state. It also identifies how many table games, slot machines or casinos that each tribe has.
"Gov. (Doug) Ducey initiated these compact negotiations in 2016 and it took us until 2021 as a group of tribes, the governor and Arizona legislative body to work out this compact," Urbina said.
While tribal members look forward to the potential economic development, Urbina said that the church prioritizes it, culture, language and preservation of the community.
"It's almost like a restoration or a renaissance, now that we have an opportunity to go back and protect some of our churches and communities and provide either jobs (or) housing," Urban said.