There's a tendency with a restaurant like Veg in a Box to think of what isn't there, and it's true: doing an all plant-based, gluten free restaurant is no easy feat. Once you've taken away meat, dairy and bread, you've likely lost a solid handful of potential diners. So, doing a restaurant of this variety can truly be thankless work.
For the segment of the patron population who hold those specific dietary restrictions and preferences, though, a restaurant like Veg in a Box is a haven.
In my experience, there are two kinds of vegan restaurants: there are the ones that go for animal-free versions of classic comfort foods, often utilizing meat-like substances to stand in for the main event, and there are the ones that choose to instead just serve up plates that have nothing to do with other dishes. Veg in a Box stands somewhere between the two.
Veg in a Box began as a food truck. Now, with a brick and mortar outpost and a few months in, the downtown restaurant offers a full menu of appetizers, sandwiches, salads and other entrees, alongside freshly baked treats, smoothies, juices, kombucha and more.
To start, butternut hummus ($6), a selection of grilled seasonal vegetables called the "grilled plethora" ($7) and the potato medley all offer vegan fare without the past-dining pandering. However, the latter of the three is unfortunately a rather unimpressive mix of griddled potato, bell pepper and onions. It's the kind of dish you'd enjoy if you made it at home, but not exactly restaurant quality. On the other hand, the patacones and guacamole ($8) serve up a unique flavor combination of crispy fried plantains with a tangy avocado-based dip.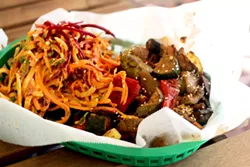 Salads include the brightly colorful Captain Crunch Greens ($9) with raw butternut, beet, broccoli, carrots and more as well as a quinoa kale salad ($9) with nopales and a mixed fruit and nut salad ($8 for a large, $5 for a medium).
Veg in a Box shines brightest on its sandwich offerings ($9.50 with a side), though, with some more familiar (to meat-eating diners) options all served on gluten-free bread and buns from Sami's Bakery in Florida. The restaurant offers two burgers, one beet-based and one mushroom-based, as well as a grilled "ham" and "cheese" and a "veg-ball" sub. The ZLT, or zucchini, lettuce and tomato, became a fast favorite here with its charred zucchini slices as a replacement for bacon and the creamy house sauce, which serves as a vegan stand-in for the ubiquitous special sauce at many burger joints. Best of all, the gluten-free sourdough bread that its served on is pretty much a doppelganger for its gluten-filled progenitor. After a quick press on the grill, the bread is crisp and "buttery," bringing you back to the classic diner fare it's supposed to recall. Paired with the house sweet chile French fries, which are crisp with a tangy coating, the meal is satisfying in both flavor and portion size.
However, not all of the callbacks were so successful at Veg in a Box. The squash fettuccine pomodoro ($9.50 with a side) fell flat in concept from the start. The squash fettuccine noodles were crisp and substantial, working as a decent stand-in for actual wheat-based noodles. Unfortunately, since vegetables are inherently more watery than noodles, the lightly seasoned pomodoro sauce didn't deliver enough of a punch to stand up to the veggie noodles. Instead, the dish was like a cold salad topped with a bland tomato sauce and didn't really mimic pasta at all.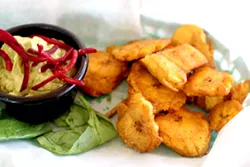 While the sandwiches did a decent job of resurrecting old favorites in the scope of vegan and gluten-free eating, which is due in part to their smart GF bread sourcing, the raw entrees do better when they're not trying to be something else. Broccoli couscous with almonds, dates and parsley and Thai peanut couscous with ginger, cilantro and lime ($9.50 each with a side) manage to find their flavor footing much more successfully than the pomodoro.
To finish, cookies, brownies, muffins, Rice Krispies and cupcakes (all about $3 per) present unique, sweet treats that change up all the time. Think matcha cupcakes with a thick avocado frosting or black bean and chia brownies here. The creative use of typically savory ingredients as a way to achieve texture is pretty impressive, though you shouldn't expect typical flavors here.
Like the sweets, Veg in a Box also offers rotating specials for the main menu. "Ceviche" with beets and cauliflower, herb patties with blue corn and butternut squash and more serve as incentive for fans of the spot to keep coming back to see what's new in the kitchen.
While not everything that Veg in a Box dishes out would satisfy a carnivore's palate (or maybe not even a vegan's), where the restaurant succeeds is offering healthier alternatives to what you'll usually find downtown. It might not be exactly guilt-free, but it's a lot closer to it than getting another street Sonoran dog.