Gucci Mane coughed up with all the ingredients for proper street cred: a shitty home life, an easy-money mentality, and the pure capitalist belief that too much ain't ever enough. Eight years of slinging crack and a two-year bit in a federal pen later, Gucci earned a fat Warner Brothers record deal and a huge hit album. Now unpaid child support keeps his name in the headlines, puts a price on his offspring, "ain't worth 20k." Gucci Mane is a new world rapper, no gangs or bitches needed, just cold, hard cash. A mostly slow-flow emcee with mad Southern swagger, he peppers that shit talk with just enough ruthless krunk. Gucci is the bridge between gangsta and its new incarnation, trap. If he is truly a "human roll of hundreds," let's hope he samples Robert Johnson on that inevitable soul-for-sale track. With Smokepurpp on Saturday, Dec. 1. Tucson Convention Center, 260 S Church Ave. 9 p.m. All ages. $30-$125.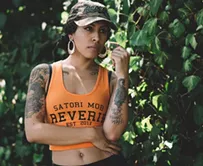 Reverie is wise beyond her years. She's got an old-school, laidback Latifah-style command, with Princess Superstar diction and a fast-spit flow. She has a self-awareness of her place in female musical history, and samples greats like Billy Holiday to emphasize her roots. And she's got real reverence for the Church—hip hop saved her life. Born in Highland Park, she came up in gangs and drugs, expecting to be incarcerated and die young. Her poetry, graffiti art and rap gave her a creative outlet and kept her conscious of her own self-worth. "Watch me shine/Watch me grow/Represent our generation/Watch me glow." Reverie's deep and real—about her drug abuse stemming from depression, her best friends OD'ing and all the fake-ass people she's slowly eclipsing by being a woman of substance. If this is where hip hop is headed, the underground might just save us all. With Cash Lansky on Saturday, Dec. 1. Solar Culture Gallery, 31 East Toole. Doors at 7 p.m. All ages. $11. gldnartistgroup.bandcamp.com
Eyedress aka Idris Vicuna takes familiar U.S. genres, like soul and indie rock and throws them back at us through a Filipino filter. The result is a mesmerizing blend of R&B and shoegaze (yes, R&B and shoegaze!), with a surprisingly literate twist. For example, the title tune on his new album, Sensitive G, finds Vicuna employing the poetic form of sestina to end each fixed verse with the same word, but a very different meaning. Vicuna's voice is a breathy falsetto, which lobs staccatos above the lounge-y peddle-swirl of his guitars and jazzy bass. Raised for seven years in Phoenix, Vicuna clings to familiar Arizona icons, like the Diamondbacks and Suns logos—revamped to rep Eyedress of course. There's something charming and sincere about this student of American culture; in his second language lyrics, there is precision and truth. With The Trees and Oolalong on Sunday, Dec. 2. Club Congress, 311 East Congress. Doors at 8 p.m. $10. 16+.