Paper Foxes. Paper Foxes (PF) play throwback dance punk. With the forward momentum of Gang of Four refracted through the modern lens of Les Savvy Fav, this Phoenix combo nail down a basic rhythm and build momentum with syncopated guitars. Mildly atonal synths dissolve during bridges and reconstitutes beneath Interpol-y (or John Foxx-era Ultravox, for you oldsters) vocals, which band members trade off. Each musician is accomplished but choosing to play with great restraint, keeping melodies all singsongy, grooves in pocket, and never exceeding a sustainable pop-length song. Wisely attacking subjects that merit and mirror their musical repetition like, "Not Over Yet," and "Devil on My Shoulder," the lull of richly sung, heavily-reverbed lines drones on and on, contributing to the overall danceability and well-executed hypnotic mental state. With The Happy Fits, Crystal Radio, Actual Wolf and Juju Fontaine. Saturday, Oct. 6. Cans Deli, 340 N. Fourth Ave. Doors at 8 p.m. $5, 21+.
Niki J Crawford sings gospel-rooted soul pop with the comfortable Afrocentricity of a kid who grew up on Stevie Wonder's Innervisions and the streetwise authenticity of Lauryn Hill. Hailing from the tiny town of Springhill, Louisiana, Crawford's take on the mighty "Elay" and big city life is that of a knowing outsider, "it's the Dream that holds us here." In four minutes, Crawford reminds us that we are all unified, and should be rising together, with a little help from the super natural. The band slides and grooves beneath her, as she belts and testifies across psychedelic lounge, late-'70s funk and early-'80s radio-friendly reggae backbeats with equal confidence and merit. Crawford keeps it positive without ever going didactic. With her natural hair and Dashiki chic, she is a role model for generations of young women to come. Saturday, Oct. 6. Monterey Court Studio Galleries, 505 West Miracle Mile. Doors at 7 p.m. $10 online, $15 at door. All ages. Brownpapertickets.com
Metal Fest XIV featuring Broken. Broken laces the aggressive precision of old metal with the catchy, uplifting choruses of the nu, through heavy, frog-ass tight musicianship. Hailing from Wakefield, U.K., Broken has absorbed American rock influences: the intelligent lyrics of Lamb of God, the operatic melodies of System of a Down and the unbridled energy of Limp Bizkit. But the way this talented quintet blends those disparate influences together is original and stunning. The rapid-fire double bass pedal and rat-a-tat snare work by drummer Mark Greenwood is as precise and memorable as Metallica's "One"—on every single track. The dueling guitars go chugga-chugga too, and wind serpentine around one another, with the flying-V leading the charge. And Fraser James and Paul Johnson somehow sample the U.S.'s worst ever musical contribution—rap metal—without lapsing into parody. Broken plays metal because they have to—and that passion and catharsis is contagious. With Drop D, Push, Beyond the Firewall, and The Billy Moon Project, Friday, Oct. 5. Rialto Theatre, 318 E. Congress. Doors at 6:30 p.m. $5-$8, All ages.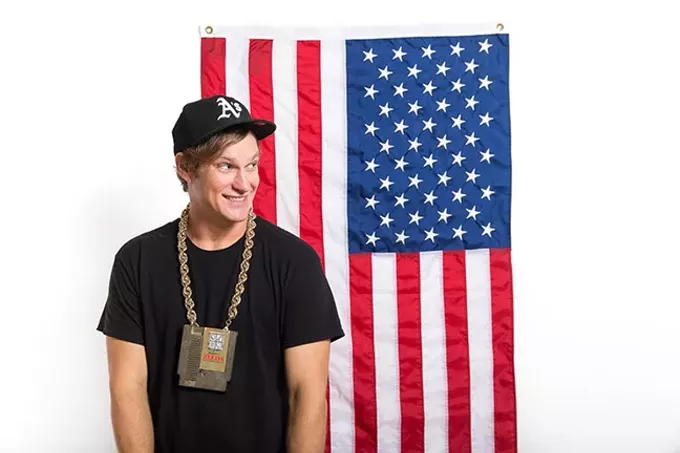 MC Lars aka Andrew Nielsen is a wildly imaginative rapper. And he may be the inventor of a new genre: "lit-hop." Referencing writing giants like William Shakespeare and Edgar Allan Poe instead of the usual Pac and BIG, Nielsen is a self-described member of the "igeneration." Though a Stanford grad, he is by no means pretentious. In fact, on tracks such as "Flow like Poe," he explains meter and advanced poetics with the pithy precision of a School of Rock professor, complete with a sexy backup singer, "going hard on that trimeter." Nielsen has made a career out of his wacky, intelligent rhyming, founding indie record label Horris, creating his own cartoon strip and then rapping about the strip's characters atop samples of post-punk and emo. Hailing from Berkeley and its psychedelic East Bay scene, he has mad rap cred (he's opened for Lupe Fiasco, Nas, Snoop) and endless access to inspiration with all that NoCal sticky green. With MC Frontalot & Mega Ran and Schaffer the DarkLord. Tuesday, Oct. 9. Cans Deli, 340 N. Fourth Ave. Doors at 8 p.m. $12-14, 21+. —B.S. Eliot