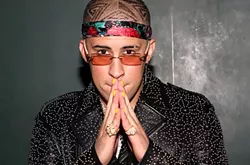 Bad Bunny. Thick-tongued Puerto Rican Spanish offers a Caribbean uplift to Bad Bunny's trad street trap. Benito Ocasio, aka Conejo Malo (Bad Bunny) opens his corazon and a floodgate of pining and regret pours fourth. This one's into fessin' not frontin', a lover not a fighter all the way down that well-straddled reggaeton-trap line. On "Estamos Bien," Conejo Malo rises to sing, not to sling and though he is vo-coded it's more reflective of a lovesick sweat than a coked-out bender. The romance language raices run deep and Bad Bunny takes full advantage of the sonic beauty of his native tongue. "Ya me cansé," he is already too tired of playing games. Every breath catch feels like Michael Jackson meets John Legend, as hypnotic string and piano strikes swaddle his voice with melody. He is turning ghastly trap on its head; this could be a love/sex/sweat/dance music for the ages. 8 p.m. Friday, Aug. 24. Tucson Convention Center, 260 South Church Ave. $39-$100. All ages.
—B.S. Eliot
Rodrigo y Gabriela. With just two Flamenco guitars, Rodrigo and Gabriela manage to channel and send up an entire Latin espectáculo, no drummers, dancers, singers or fancy costumes required. First, she is the rhythm, teasing and building tension around his artful, showy lead. Then they switch and she furthers the melody, filling in his ritmo with her perfectly-picked cumbia, flamenco, jazz and even heavy metal. He takes control once more and she answers with stomps, knocks and vocal ah-ha's, a percussive climax so heavy they were forced to cancel tours from resulting stress injury. One can anticipate the other's response before a note is ever sounded, so they carry the torch of classic Flamenco music to major motion picture soundtracks and private concerts for the President. But really it is Rodrigo and Gabriela's open hearts as much as their technical prowess, that bring to vibrant life the beloved music of Spain, by way of modern Mexico. Doors at 7 p.m. Saturday, Aug. 25. Rialto Theatre, 318 E. Congress. $40-$54. All ages.
—B.S. Eliot
Turquoise Jeep and Flynt Flossy. Flynt Flossy and his record label mates at Turquoise Jeep grew up with tongue-in-cheek nasty-ass rap culture. Think Candyman "Knockin' Boots," and all those off-color Wayans Brother yucks. Flash forward 20 years and Flossy's gone viral, rhymin' of stretch pants for christssakes. His girl's got "Cavities with all that chocolate in your mouth," and when said mouth is not filled with his choad, she best shut it to hear his lame-ass excuses: "She don't compare to you/You're my lifie, Boo." Inscrutably ironic, one part Tone Loc, one part Peaches, Flynt Flossy uses humor and deceptively simple lyrics to call out what he's doing while making tasty retro cuts. "Drop It Low Like a Discount" indeed. Be it self-aware bangers, or sophomoric sex groaners, Flossy's irreverent genius could be to pre-gangster rap what Zappa's Cruising with Ruben & the Jets was to doo wop. With Yung Davon on Sunday, August 26. 191 Toole, 191 E. Toole Ave. Doors at 7 p.m. $12-$14. 21+. —B.S. Eliot
The Swingin' Utters. For the last quarter century, The Swingin' Utters have been burping up two-minute working-class anthems on punks and shucks across the globe. Not exactly The Clash or Sham 69, more Flogging Molly and a touch of Op Ivy. See, The Swingin' Utters pair Celtic gusto with Santa Cruz grit. The resulting catalogue is well worth drinking, smoking and bruising in the pit to celebrate—consequences be damned. After a seven-year hiatus, frontman Johnny Bonnel came back, um, swinging, spitting and sometimes even crooning his way into the next generation's heart, with three new long-players and the, dare we say, killer single, "Undertaker, Under Take." Bonnel's gotten a touch more kinder/gentler with tunes like the acoustic folkie "Glass House," but he's managed to age with the same verve and authenticity that keeps classics like "Pills & Smoke" in our heads, "Some think I'm angry and mean, hell I'm only 18." With The Endless Pursuit, Lost in Society, and Bordertown Devils on Wednesday, August 29. 191 Toole. Doors at 7 p.m. $13-15. 21+.
—B.S. Eliot