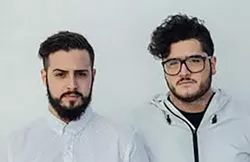 Boombox Cartel. If trap music – its creation and appeal—reflects the coming-of-age isolation and despair of this craptastic modern world, then trap concerts are its antidote. Seriously. Throngs of disparate masses, all races, genders and classes, jump and shout along as one. At the center of Tucson's Trapfest are two DJ/producers who embody the challenges of border living in Trump's America. Born in Mexico, now hailing from L.A., Boombox Cartel are self-aware of their cultural-and-class straddling and weave that tension throughout their low-end/trap/hip-hop grooves. Tunes like "Whisper" conjure an after-hours world weariness, but most joints have them clearing a channel through the crowd right down the middle so everyone can jump before, "fucking going crazy." Seriously. Jorge Medina and Americo Garcia have set EDMers ablaze all over the world with their signature deep bass grooves that grip the skull till the screeching speeds up and then BAM! Here comes that drop. TRAPFEST featuring Boombox Cartel with Bailo, Barely Alive and Yehme2. Friday, July 27, Rialto Theatre, 318 E. Congress. Doors at 8 p.m. $30-$55, 18+. —B.S. Eliot
Bryan Thomas Parker is pretty much an idea man, an armchair philosopher setting thoughts to tunes. In these trying times as a thinking person, he's pissed, shouldn't we all be? In "First World Problems," he demands, "Have you ever had to ask for help? Or wear secondhand shoes?" He'll accompany himself with DIY, stripped-down aplomb, comparing and contrasting the "Prophets and Profiteers," challenging the "Sheeple's Choice," and offering his sweet populist blend of Tucson folk punk rock. Parker's extremely prolific, and often records with his voice wrapped in heavy reverb and distortion, so this is a chance to get his lyrics in plainspoken sing/speak. Like the Hold Steady or the Rugburns before him, or even old Tim Hardin, his songs will make you laugh, clench fists and sometimes blush. Dude's tapping into the full dimensionality of human folly. Reilly's Beach Club featuring Bryan Thomas Parker with Brooke Povadora, Associations and Kimberly Scarsella. Sunday, July 29, The Rock, 136 N. Park Ave. 5-10 p.m.
Free. All ages. —B.S. Eliot
Kurt Braunohler pens PG-13 observational humor, with or without the foul words. His standup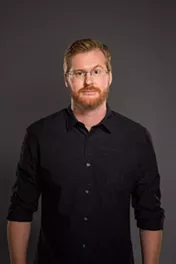 has appeared on Jimmy Kimmel and Conan and though a charming "everyman," his humor is neither edgy nor particularly smart. Braunohler's main asset as a performer is high relatability—he's the Bill Pullman of TV comedy, with his jokes about PT Cruiser drivers and doorknob inspirational signs. There is an urgency in his humor to fight against middle-aged mediocrity that anyone over 35 can understand—a need to stay relevant and make people laugh. Braunohler's charm is his openness about expressing this vulnerability—one sketch has him slaving to make the Uber driver smile. His standup is less about zany humor and more about barenaked humanity. In this age of Shakespearean-level tragedy, the court jester is once more a hero, distracting us, pointing out our flaws and perhaps lightening the weight of the world for just a few minutes. Sunday, July 29, 191 Toole, 191 E. Toole Ave. Doors at 7 p.m. $12-$15, 21+.
Beach House pen cool, dreamsicle pop for summer. For whatever season, listeners are transported to beach land, Cali or Brooklyn, sand in hair, waves breaking offshore with every repetitive melodic synth line. For 14 years, Beach House have been materializing the ethereal into those rolling sonic waves of instant nostalgia, sped up and slowed down in the way that memory alters time. Victoria Legrand and Alex Scally spin music that floats, drifts or dreams its way into listener psyche—and makes them feel like it's been there all along. Fans of Tame Impala and Yo La Tengo will appreciate the dynamic dude-chick interplay of chi and the soft, gentle builds that mimic euphoria while interjecting a subtle longing—if only moments like this could last. With Ed Schrader's Music Beat
Thursday, Aug. 2, Rialto Theatre, 318 E. Congress. Doors at 7 p.m. $30-$45. —B.S. Eliot