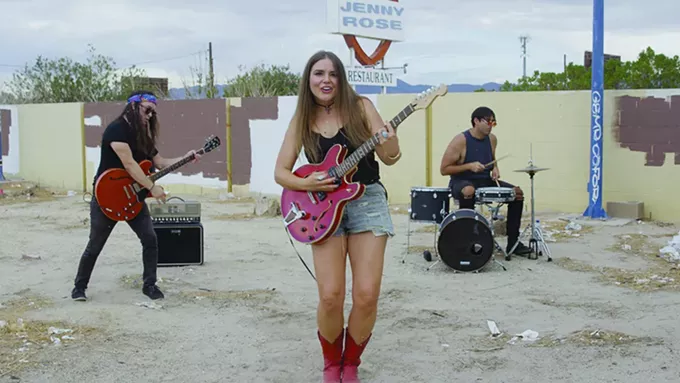 Growing up in Tucson, singer/songwriter Courtney McKenna loved music.
Now the artist is pursuing her dream in LA, living in Manhattan Beach.
McKenna will return to Tucson to perform as a duo with drummer Diego Rodriguez at Bacio Italiano on Wednesday, Nov. 23. They plan to perform covers and acoustic originals. Frequently, she joins the San Diego-based Sweet Myths.
"I think we inspire each other. They have their own solo project, but then we work really well together," McKenna said.
McKenna was born in Orange County and raised in Tucson. She attended Catalina Foothills High School and the University of Arizona.
McKenna's newest song "C.S.R. (Corporate Social Responsibility)" was released Nov. 9. The grunge-rock tune is about the protests over building the Dakota Access Pipeline and corporate greed in general.
"For me, I've worked in and out of corporate jobs as I've been pursing music," McKenna said.
"It just feels like we have technology, so it shouldn't be as much of a grind as we are forced into… Socially, we are going through a point of change on so many levels. The corporations really run this country and the globe. I just wanted to bring awareness to that."
In September, McKenna released the single and corresponding video for "galaxies collide," which was inspired by the film "Leaving Las Vegas." She premiered the video at The Federal in North Hollywood during a Virgo Birthday Party, which she hosts each year. The song shares her experience with her father's alcoholism.
She shot the video in Barstow, California, to capture desert scenes similar to Tucson. In it, McKenna dons boots she has had since she was 16.
"In high school, we used to wear them every Friday. It was a thing. My Tucson roots came out in the wardrobe," McKenna said.
Drone shots captured at Joshua Tree National Park also reminded her of Tucson.
"That's one of my favorite parts about Tucson is the sunsets and the mountains. That to me was reminiscent of being home," McKenna said.
The video has shots of McKenna and her band performing at the Jenny Rose Café, an iconic spot featured on Sheryl Crow's debut album "Tuesday Night Music Club."
This year, McKenna also released "Save Yourself" and the corresponding video. It was also inspired by her relationship with her father.
McKenna said writing personal songs are difficult and emotional, but cathartic.
"The songs definitely take on new meaning as I continue to play them," she said.
"At first, it's that initial release. And then I grow and heal from these things…I'm into personal development. I love journaling. I also work with different healers and therapists because I want to be my best for other people and show up in the world."
She hopes her listeners connect with the songs.
"I don't want to be just another pop writer," McKenna said. "I want my music to actually challenge people but in a good way, just to help people think and let them know they aren't alone. For me, that was the biggest part about living with my father, who was an alcoholic. I felt like I couldn't talk with anyone else."
McKenna is working on her first LP, which will feature her most recent singles. They carry the sounds of pop-rock, psychedelic, classic rock and country-blues-inspired sounds. The tunes will delve into different topics, including romantic relationships.
"It's good to have the different emotions. That's the power of music. You can really go through everything…. I want people to feel refreshed, inspired and have a new perspective," McKenna said.
Growing up, McKenna sang in a church and school choirs. She played the clarinet and soccer, too.
She tried to learn the guitar in middle school but struggled. McKenna didn't get serious about it until after college.
"Anytime you are starting out on guitar, it's hard. Your fingers need strength to get used to it," McKenna said.
McKenna graduated from the UA, where she studied consumer science and retailing. She started out as a business major. Upon graduation, she moved to New York, where she lived for nine years. It was in New York that she started to find her voice and aesthetic as an artist.
"I really loved singing, and I never really knew any musicians who were on that path to make a career out of it," McKenna said.
"When I got to New York, my first boyfriend out there was a musician. I started playing his guitar, and then I taught myself. I had always written songs, but it took years to really decide that this was something I could do. I met a lot of other artists that were doing it. I always say I got my rock 'n' roll education in New York."
While in New York, she performed at venues like Rockwood Music Hall and Bowery Electric and took part in community events such as the Lower East Side Songwriting Contest and the "A Revolutionary Woman" podcast launch.
The artist went on her first tour and released a mixtape of original songs in 2017. The following year, she offered a three-track Christmas EP.
She moved to California in 2019. For a time, she split her time between California and New York as she was a tour manager for the Gary Douglas Band.
Singing backup for them allowed her to get road experience.
"I got to meet all of these amazing musicians who we were opening up for," McKenna said.
In LA, McKenna tries to organize community events that bring together local musicians, including her series "We Are Everyday Sunshine."
Getting her footing has taken some time because of COVID-19. During the height of the pandemic, she organized outdoor patio concerts at Goat Hill in Manhattan Beach and Hangar 24 in Irvine.
"It was mostly the neighbors coming out. We would invite other local artists. Sometimes, we would have bands from the Eastside, Santa Clarita or San Diego. I think that really helped me to get plugged in here because there was not that much going on," McKenna said.
Right now, she is a part-time musician, working also in marketing.
"Music has always been a priority for me because it fuels me. It's my therapy. It's my love," McKenna said.

Courtney McKenna
WHEN: 7 to 9 p.m. Wednesday,
Nov. 23
WHERE: Bacio Italiano,
943 E. University Boulevard, Tucson
cost: Free admission
INFO: courtneymckenna.rocks