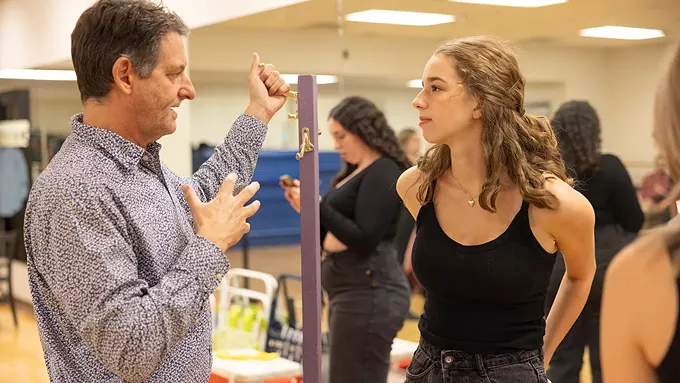 Dennis Shepard takes exception to calling Oct. 12 the "anniversary" of his son Matthew's death. He prefers "25th remembrance."
"We're not celebrating anything," he said.
Matthew was a gay University of Wyoming student who was beaten, tortured and left to die, hanging, near Laramie, Wyoming, on Oct. 6, 1998.
He died six days later from severe head injuries at Poudre Valley Hospital in Fort Collins, Colorado. It became one of the highest-profile hate crimes at the time. Aaron McKinney and Russell Henderson were convicted of the murder, and each of them received two consecutive life sentences.
The University of Arizona School of Theatre, Film & Television will open its 2023/24 theater season with a production of "The Laramie Project."
Performances of "The Laramie Project" will take place in the Tornabene Theatre on campus from Thursday, Oct. 12, to Sunday, Oct. 22. Dennis and his wife, Judy Shepard, will take part in a post-performance discussion on Friday, Oct. 20.
Written and performed by members of Tectonic Theater Project, "The Laramie Project" is drawn from over 200 recorded interviews that the members conducted with the citizens of Laramie after Shepard's death. The resulting play — a portrait of an American town forced to confront itself — helped to change the way hate and love and acceptance are discussed in this country.
"The Laramie Project" will be directed by the school's assistant professor, Greg Pierotti, who, as a member of Tectonic Theater Project, is one of the play's co-writers and an original cast member. "The Laramie Project" debuted in Denver in 2000.
"When we were first working on the project, the Shepards didn't really want to speak with us as participants," Pierotti said."But we did not want to produce the play without their blessing. And in the end they did in fact give us permission to write the play."
Judy added, "In the fall of 1999, the University of Wyoming campus told us what they had been doing. They didn't know what it was going to turn into. I asked, 'Are we or Matthew in this play?' They told us, 'No.' I said, 'Good. Have at it.' I had no idea what it was going to turn into. It turned into something great."
Today, the play continues to sit at the center of cultural debate and controversy, he added.
"Productions are often banned by school boards or protested by hate groups," Pierotti said.
"On Jan. 30, the play was banned from curriculum and school libraries by the Lansing, Kansas Board of Education. Tectonic Theatre Project responded with an open letter to students in Lansing offering free copies to any student requesting one. Many have been requested."
Judy added, "'The Laramie Project' continues to be relevant today, as hatred and division cloud our efforts toward equality. Yet, it is the courage of the performers to engage in what can be an emotional and sometimes controversial process that helps sustain my optimism and ignite my eagerness to continue this critical advocacy work."
"The Laramie Project" is divided into three acts, and eight actors portray more than 60 characters in a series of short scenes.
"We are opening 25 years exactly to the day he passed away at the hospital," Pierotti said.
"What's been so disappointing to me is it's more germane than ever. It's not a play about transgender people. There are no trans people in this play. Today, we have the same feel of aggression and political strategy. Since I pitched this, there have been 27 anti-trans bills on the floor of the Arizona State Legislature. The transgender community is part of the family. This play is speaking to those same issues."
A junior UA acting major, Isabella Russo plays four roles in the play. That includes Catherine Connolly, a Laramie resident and a faculty member at the University of Wyoming. According to Connolly, she was the first openly lesbian faculty member at the college. Catherine attended Aaron McKinney and Russell Henderson's arraignment.
"I've always been very intrigued by it," Russo said. "It's such an interesting style. I thought it was an interesting piece. It's a story that I think a lot of my generation isn't familiar with.
"It's powerful for me to see our cast learn about this story and share this story with a group who isn't really familiar."
Besides the play, the school and the LGBTQ+ Institute present "Matthew Shepard's Legacy: Then and Now," an in-person conversation with the Shepards, with panelists including local community advocates for transgender youth and families, Lizette Trujillo and her son, Daniel Trujillo.
The free event on Thursday, Oct. 19, from 7-8 p.m. at Gallagher Theatre, will be moderated by Carol Brochin — associate professor, teaching, learning and sociocultural studies and affiliate faculty.
Since their son's murder, the Shepards have worked on legislation to protect LGBTQ+ people.
"Trans kids are easy targets. (Opponents) think they're going to sneak into the bathroom and molest somebody or use that to ban books or anything else. It's totally asinine," Dennis Shepard said.
Judy added, "I hope audience members realize they can take action; people should speak out and not stay silent. Silence equals death."
"People are tired of this hate," Dennis Shepard said. "They will continue to fight. The question of lesbian/gay issues has largely been settled. They just will not stand for it.
In Arizona, the Trujillos have been on the front lines fighting for the protection, recognition and inclusion of the transgender community.
Pierotti said he was impressed by Dennis and Judy Shepard.
"They're incredible people," he said.
"The Laramie Project"
WHEN: Various times Thursday, Oct. 12, to Sunday, Oct. 22
WHERE: Tornabene Theatre, The University of Arizona, 1025 N. Olive Road, Tucson
COST: $32, with discounts for students, seniors, military and UA staff
INFO: https://bit.ly/TheLaramieProjectUA