Molecular Gastronomy is a term that began to catch on in the 1990s after a couple of European physicists were messing around with the science of food sometime in the '80s. Essentially, molecular gastronomy is the discipline of physical and chemical transformation of what could happen to ingredients when you cook. For example, the art of "spherification," through which, with the use of chloride and alginate, you can make liquids and juices remain perfectly round, which is fun to eat and look at. Or how many different ways can you make an egg float and change shape, color or texture. It's a culinary art form that was at first a show-offy curiosity and then became the bane of up-and-coming chefs when they had to include some kind of kitchen wizardry because chocolate fog and nitro-fruit foam were in such high demand.
Luckily, through the years, the molecular mania has quelled a bit and what remains is solid technique with just a slight hint of sideshow geekery. We've had our fair share of such sorcery here in Tucson, usually at events or high end whimsical culinary affairs, but a new food truck offers up street food done in the condition of non-exact science and kitchen craft gone properly haywire.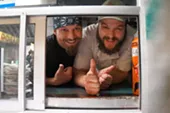 Brian Lee and Jacob Wahl met while cooking at Café Torino and on their spare time would experiment with unorthodox methods of cooking up comfort food staples. It was a fateful night in Jacob's home kitchen that the idea for Molecular Munchies was born.
"We got this cheap sous vide machine and just started messing around with proteins," Brian says. "So, we sous vided this burger patty, which is basically vacuum sealing it and letting it slow cook in warm water for a bit, which helps lock in the flavors, then we finished it on a grill. It was literally the best burger we had ever had. From there we just started to experiment with different techniques and ideas."
The two left Café Torino when they found a great truck for a great deal and started to put their business plan together. Turns out the deal was a bit too good to be true.
"When we first got a walk through on the truck it looked OK," notes Jacob, "but when we got it a few months later like nothing worked. We had to totally rebuild almost everything from scratch and we were running out of cash."
It was around then that Jacob started working at Fiamme Pizza and Brian headed back to Café Torino to try and make ends meet. By early autumn, the Molecular Munchies truck was ready to go, so they hit the streets with their unique—and sometimes complicated—eats.
The response to their edible erudition was an almost immediate thumbs up. Patrons of local breweries and beer houses began to line up when they saw the curious new van painted with dancing molecules, knowing they would be getting something familiar yet vastly transformed thanks to the use of lab gadgets and imagination.
When I bit into their Sriracha Burger ($9), my senses collapsed and tingled all at the same time. The immensely juicy meat sat atop a homemade brioche bun. Paired with crispy fried leeks and a house garlic aioli, it was a wild flavor combination made in Frankenstein's laboratory—that is, if the doctor had a penchant for cooking food rather than reanimating the dead. The Sriracha was there but not in liquid form.
"We actually make 'sauce slices,'" says Brian. "By the use of agar, which is a jelly substance made from algae, we can mess around with different sauces to turn them into a sort of cheese. It's definitely different but so good."
What also set my taste buds into orbit was their Garden Greens Salad ($6), which, from its simple approach, was both meaty and full of life. By adding champagne pearls (again, spherification) and a drizzle of hearty olive oil, the entirety of the dish went from wonderfully basic to fantastically vibrant. Their proteins are delicious, but this salad almost turned me vegan because it was so earthy and crisp, letting you savor the flavors of Tucson-produced produce mixed with a wink of gastro-alchemy.
Brian and Jacob are going to rule the summer streets because they have at their disposal an anti-griddle, meaning a flattop device that gets below -30 degrees allowing them to create ice cream treats from scratch. They pour the flavored cream mixture on the griddle, which immediately begins to freeze, so after a few turns and scrapes you are offered up a denser, and more frigid, version of your favorite frozen dessert. That, or some carbonated fruit if you just want a quick fizzy cool bite.
Their ingredients change with the seasons, but the artistry will remain the same. So, if you're like me, a lover of food and a believer in science, you'll be curious to what these bearded prodigies have bubbling in their rolling lab of edible whimsy. ■