Art Brown, Nicholas Sakellar and William Wilde are known as the three architects who brought early modernist architecture to Tucson.
But there's a designer who's arguably entitled to turn that trio into a quartet: Sylvia Wilde.
Sylvia Wilde worked with her husband, William Wilde, from the time of their marriage in 1928 to her untimely death in 1954, at the age of 47.
"You can see her influence in his work," says Demion Clinco, executive director of the Tucson Historic Preservation Foundation, the group that sponsors Tucson Modernism Week, a 10-day cornucopia of architecture tours, lectures, movies and art openings that starts this Friday, Oct. 5.
The buildings Sylvia helped shape, Clinco says, were "more exuberant and more expressive" than William's later solo works; he became known for such brutalist structures as the downtown police headquarters and the firehouse now housing the museum MOCA-Tucson.
A house that shows off Sylvia's more sprightly aesthetic will be on the modernism house tour Sunday, Oct. 14. Called the Spaceplanner III Concept House, Clinco says it was "one of the first houses in Painted Hills," a Tucson Mountains neighborhood north of Speedway. "It's highly expressive."
A house of brick and glass, it "captures the views of rolling hills," he notes. "It has movable walls and flexible interior spaces. It's focused on an indoor/outdoor way of living." Though the house was built in 1958, four years after Sylvia's death, both Wildes get the credit.
"It came out of the design philosophy developed by both of them," Clinco says.
The Wildes had a circuitous route to Tucson. The pair were born in the Ukraine, then part of Czarist Russia, William in 1904 and Sylvia in 1907, but they didn't meet until they were young adults in the U.S., Clinco writes in a short bio on the foundation website. During the upheaval of the Bolshevik Revolution, William fled to western Europe, while Sylvia's family escaped the war by going East. She lived for a time in Japan, a nation that would strongly influence her future work.
In a later interview, Sylvia marveled over "those wonderful, airy buildings in Japan! Movable partitions, whole new conceptions of living space, clean, sweeping lines. They opened up a whole new world to me."
When Sylvia finally came to the U.S., she settled in Providence, Rhode Island, where William was studying architecture at the Rhode Island School of Design. The two met and married, and in 1934 chose New Jersey to begin their architectural and industrial design business. They quickly won a reputation for their sensitive merging of the daring new international style with local traditions; their Mary Ellis House in Rhode Island, 1936/1937, is still highly regarded.
Arriving in Tucson in 1946, the partners took on many projects, including "a community of affordable houses where the Doubletree Hotel is now," Clinco says, on Alvernon south of Broadway. The project was funded by the federal government, and vets returning from the battlefields of World War II got first dibs on the smartly designed low-cost rental homes. Unfortunately, like many of their early residential projects, the small brick-and-glass houses have long since been demolished.
The Wildes didn't design just buildings.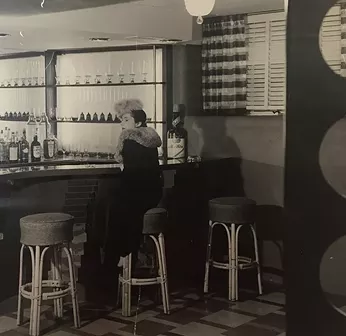 "They were almost always focused on designing furniture for their houses, and even dishes," Clinco says. For their 1951 Rappaport House, still extant but not on the tour, they didn't just provide their client with Japanese-style like moveable walls and broad planes of glass: Sylvia also custom-designed the dishes and silverware.
She was also adept at creating furniture and fabrics. Her fan, Cele Peterson, the grande dame of fashion in those years, declared that "the way Sylvia Wilde accepts the new...it's tomorrow just talking to her! Her whole vision is marvelous, daring, foresighted."
The Wildes' Painted Hills house is just one of six on the Modernism Home Tour. One is a 1963 house remodel by William Wilde, who lived on until 1984. William added a major addition to the midtown Salonic House, enhancing a plain ranch house with his trademark window walls, cast concrete and flow between inside and out.
Another stop on the tour is a "beautiful, really swank house" by Charles Cox. The 1963 Foothills house, inspired by the Frank Lloyd Wright Palmer House in Ann Arbor, Michigan, is a "rumination on the triangle," with triangles here, there and everywhere. Even the concrete floors are scored in triangles. Today it's a family home with "lots of 1950s and 1960s memorabilia, including things from the Nixon era."
Cox is probably best known in town for a church on Country Club Road whose soaring white roof looks like it will launch the faithful directly to heaven. Built in 1958, the midtown church whose roof is what Clinco calls a "hyperbolic paraboloid" is now named the Christian Faith Fellowship Chapel. The church is not on the tour, but it will be open to the public for a free modernism lecture at 6:30 p.m., Friday, Oct. 12. Monica Obniski, a curator at the Milwaukee Art Museum, will discuss "The Serious Play of Alexander Girard," a designer given to whimsy.
For the 1962 Beck House, in midtown near the Arizona Inn, architect John Beck used pre-cast concrete, and arranged for "living space around an atrium and courtyard," Clinco says. "It's wonderful."
Tour-goers can also get a rare glimpse of a Paolo Soleri project, his only work in southern Arizona. Famed for the Arcosanti community well north of Phoenix, Soleri created a nondenominational chapel for the original UA Cancer Center in 1986. The room, not typically open to the public, is "a concrete jewel box with barrel vaults," Clinco says; it's now used for offices and storage. But at least "it wasn't removed. This is a wonderful opportunity to see it."
The 1965 Casa La Paz, the handiwork of Bernard Friedman, is a two-story condo complex on seven acres near the Benedictine Monastery. Built of mortar-washed brick, each of the 17 apartments has two private patios, enhancing, like most of the era's designs, indoor-outdoor living.
Finally, a non-residential bonus building, Betts Printing will offer demos of printing techniques used in the 1950s and 1960s. In business since 1942, at a different location, the enterprise is now in the South Park industrial zone.
To purchase tickets and get a map for the $30 self-guided home tour, visit the foundation website.