It was Nov. 9, 2016, the day after Donald Trump had been elected President of the United States. Molly McCloy distinctly remembers passing out papers in a class she was teaching and the teardrops of one of her students falling onto the paper as she accepted it. It was, needless to say, a rough day for many.
McCloy was scheduled to appear at a storytelling event that night. She decided to take something of a risk and open her story up with a joke about the people Trump had already selected for his cabinet: Jian Ghomeshi, Brock Turner and Bill Cosby. To her relief and delight, everyone laughed.
"I thought that was going to be way too fucking dark," she says, "But people needed that."
Rory Monserat was in the first stable job he could get his hands on after college, one that turned out to be what he calls "soul deadening."
"I just got more and more bitter, and I was trying to find stuff that made me feel good," he says. He started listening to a lot of comedy, then started thinking it might be something he'd do well at. "My girlfriend at the time said, 'No, you wouldn't be good at that,' so I left her and went into comedy."
Roxy Merrari was unemployed, raising her daughter and taking a pottery class to pass the time when a friend mentioned she wanted to try stand-up and invited Merrari to come along.
"It didn't ever occur to me that I could do it," she says. "But it never occurred to me not to do it once I started doing it. I'm addicted to laughter."
Comedy is powerful stuff. And Tucson is going to get a whole lot of it at the CAT Comedy 520 LOL Crawl this week (Sunday, Jan. 27 through Saturday, Feb. 2), which will feature events ranging from a throwdown between cartoonist David Fitzsimmons and Mayor Jonathan Rothschild to Mo Urban and Steena Salido's C*nts Being C*nts Talking About C*nts show.
"It's a condensed version of everything Tucson comedy has to offer," said Eli WT, the producer for the alliance's CAT Talks, monthly educational events for the Tucson comedy community on subjects like how to keep a show running long term or how to promote diversity in local scene. "All of the comics that perform are going to be performing at some point."
While comedy can be powerful and healing and, of course, hilarious, it's not always a funny business. Sure, there are times where a stand-up comic isn't getting any laughs. (Comedians like to say you consistently bomb shows for the first few months that you're doing them. Some say the first few years.)
But there's also all the blood, sweat and tears that go into the art for some comedians. Decisions about whether to keep day jobs. A competition for slots in local shows that isn't necessarily cutthroat, but is still, by its very nature, a competition. There's a theme of self-deprecation amongst stand-up comics in particular—Monserat says he got into comedy not only because he loved it, but because he'd failed at so many other things in life.
"Hell yeah," he thought. "Something I'm expected to suck at for five years?"
And, while there are clusters of camaraderie among local funny people, not everyone knows each other. There's also something of a divide between the world of stand-up comedians, who write and perform their material solo, and improv comedians, who, well, improvise their comedy, often in a group setting. Rich Gary, who does both locally, affirms that he feels like he's doing two completely different activities.
That's why the Comedy Alliance of Tucson (aka, CAT Comedy, or CATcomedy520), founded in December 2017, was created: to help expand the city's comedy scene by bringing everyone involved in it—the comedians themselves, the groups they work in (including groups like Tucson Improv Movement, Unscrewed Theatre, the Fringe Festival and FST/Odyssey storytelling), venue owners and fans who just love watching comedy—together. Linda Ray, the executive director of CAT 9 (and the Weekly's Laughing Stock columnist), is particularly proud of the organization's Facebook page, which features every single comedy event in Tucson.
"The goal of CAT Comedy is to expand the comedy economy and get more money into the hands of the comedians and make it a more professionalized scene," says WT.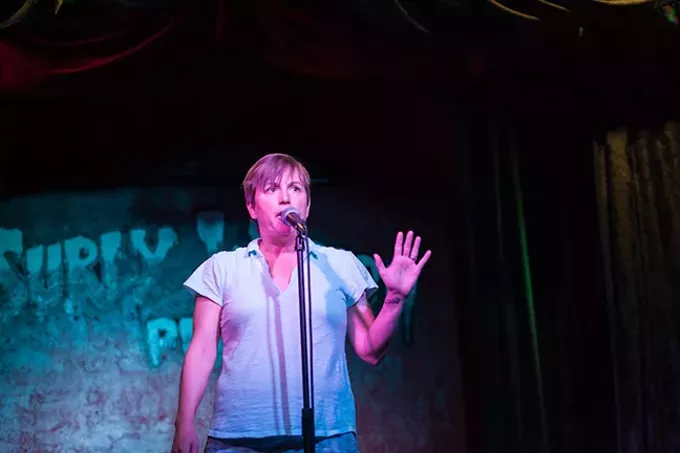 More than 25 comedy events, ranging from storytelling to short films to stand-up to improv, make up the LOL Crawl, and most are events that take place either weekly or monthly at places throughout Tucson. Laughs for HOPE kicks the whole thing off at 6 p.m. on Sunday, Jan. 27, at Laff's Comedy Café. The $10 tickets benefit Hope, Inc., a Tucson-based organization that provides peer-driven support for people in recovery. This is also the night where David Fitzsimmons will face off with the mayor.
On Monday, the city's three longest-running independent comedy shows are all up: Brew Ha Ha at Borderlands Brewery, Comedy at the Wench at Surly Wench (both stand-up showcases, hosted by Monserat and Merrari, respectively) and The Switch, at which stand-up talent performs improv based on audience suggestions. Tuesday brings a Female Storytellers performance and a new showcase hosted by tucsoncomedy.com. Wednesday is Rebecca Tingley's Let's Talk About Sex and C*nts Being C*nts Talking About C*nts. Thursday, Tempest du Jour is hosting her Retro Game show, and Laffs is having its traditional free open mic. Friday has performances at the Fox, Laffs, at least two shows at each of Tucson's improv theaters and First Friday Shorts at The Loft. Saturday's big event is hosted by Tucson Improv Movement's ¿Cómo Se Dice?, the only Spanish-speaking improv team in the state, and will feature local lots of local comedians and an abundance of bilingual laughs.
And that's not even all of it. You'd be pretty hard-pressed to get through this entire weekend in the Old Pueblo without laughing. After all, comedy has room for everyone. Maybe you're not quite ready to bare your soul and your insecurities onstage, but you are someone who likes to binge watch stand-up comedy routines on Netflix. Maybe you don't like having to think on your feet when you're trying to have a good time, but you've spent your share of evenings scouring the internet for "Best of" clips from the pinnacle of improv comedy, "Whose Line Is It Anyway?" This weekend, dedicated to the art of comedy and the people who love it, will have something to offer you, just as it has something to offer the people who are making it happen.
"We get to talk honestly about stuff that we don't really get to talk honestly about," Monserat says. "It's like an invitation to talk about those things that are hard to talk about."
He pauses, backs up. Using that justification, he realizes, makes it sound like he might enjoy a good therapy session just as much as doing a stand-up routine. But comedy is different.
"We get to do it in a fun way," he explains. "And we get to invite people in and connect our experiences to other people's experiences and do it in a joyful way."
Comedy allows us to make light of the darkest times, and to make the worst experiences into the best jokes. All it asks of us in return is a good, old-fashioned belly laugh.