Our 12th Local Heroes issue. This could be our last. Of course we said that last year, remarking that perhaps this is getting boring. Perhaps its time to move on to some other feel-good idea to carry us through the holidays. However, reading the heroes picked by staff and contributors, there are people in this issue you should know about and they should be recognized for their contributions to the community.
Another year. Another Local Heroes issue. We hope it inspires you Tucson, and who knows, perhaps you'll be featured in a future issue for doing good.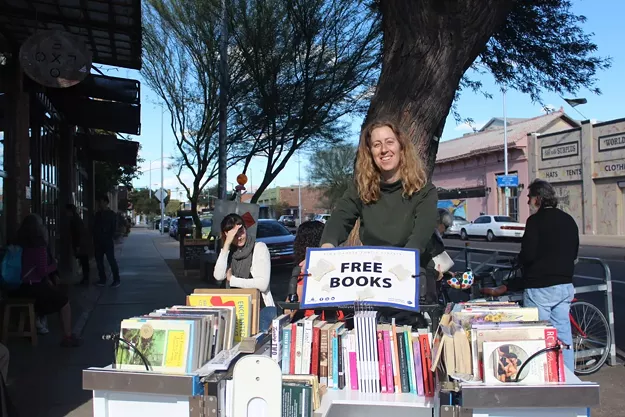 Karen Greene
It's a warm winter afternoon and inside downtown's Exo Roast Co, the sounds are just the occasional hiss of an espresso machine and the strumming of instrumental Brazilian music from an acoustic guitarist. Nearly every table is full, but there's little of the chatter you might normally hear in a bustling coffee shop.
Instead, people are burying their noses in books, drawing sketches or playing games.
This is Analog Hour, a new monthly tradition at Exo and its neighboring wine-and-beer bar, Tap & Bottle.
In just a few months after its debut, Analog Hour is a hit: The third Sunday of every month, the two cafes fill up with readers seeking a communal spot to crack open their hardcovers for a few hours of old-fashioned reading.
Analog Hour is the latest brainchild of Pima County librarian Karen Greene, who is out on the sidewalks with one of the library's three new book bikes, ready to hand out a free used book to anyone who wants one. She's thrilled to see Analog Hour taking off.
"My heart still kind of pitter-patters when I look and see that both bars are filled with people reading or people talking quietly so they didn't bother the people sitting nearby who are reading," Greene says.
And so far, she hasn't had to shush anyone, even though one week the bar did get a little noisy. "I went in and it was kind of loud and I did feel the need to shush, but I didn't," she remembers. "I kept that inside."
She readily admits to stealing the idea for Analog Hour after hearing about sessions in Seattle and Brooklyn.
"I'm a big copier," Greene says. "I tend to find ideas that I like and think, Tucson should do that."
Greene did the same thing for the library's three book bikes, sturdy cycles that resemble the bikes that paleta vendors use to keep their popsicles cold. But instead of a cooler on the front, there's a big wooden box that unfolds to reveal a treasury of books for the taking.
Greene first saw them being used in Chicago about four years ago. "I thought we should have it here and the library thankfully went along," she says.
Greene, who has worked as a librarian for more than two decades, has always been a big fan of the book. "I was told many times as a kid that I needed to go outside and play," she says.
When she was in her early 20s, a librarian helped her find an old childhood favorite after she described it to her and she decided that was what she wanted to do for a living.
Besides getting the wheels rolling on the book bike and launching Analog Hour, Greene helps manage a library program that takes books to homebound Tucsonans who can't get to the libraries, as well as a team of volunteers who are growing corn, okra and other fruits and vegetables outside the main library. The produce is available to anyone who wants to pick it, although Greene warns: "I highly suggest washing it off before eating it."
And in her spare time, Greene has organized a monthly adult spelling bee that is moving from Sky Bar over to Tap & Bottle next year.
Amy Rude, who owns Exo Roast Co with her husband, is thrilled to be working with Greene on Analog Hour.
"I love Karen's enthusiasm for literacy," Rude says. "It's not just about books, it's about engaging the public. It's about meeting people where they are. It doesn't have to be boring."
Rude's appreciation of Greene goes back to her days as a teacher before she opened Exo. She remembers sending Greene an email asking about a book recommendation that would challenge a particular student. Greene wrote back a long list of suggestions.
Greene says her big hope is that she'll find the right book for you.
"I want to match you up with a book that is going to make you so happy to be reading," she says.
—Jim Nintzel