The presumed frontrunners in the crowded Congressional District 2 race did not fare well with the left-leaning crowd at a forum last week.
Ann Kirkpatrick—who mostly recently represented the neighboring Congressional District 1 and who has, until her decision to seek the CD2 seat, called Flagstaff and Phoenix home—was outright booed for some of her moderate positions. And only 7 percent of those who filled out a post-debate survey said that Matt Heinz, the physician who lost the CD2 race by a wide margin two years ago, was their choice in the upcoming Aug. 28 primary.
Admittedly, the crowd at the forum presented by Represent Me AZ, is not a representative sample of the Democratic voters who will go to the polls next month. But they clearly favored two of the underdogs who were among the six candidates on the stage: political newcomer Billy Kovacs and former state lawmaker Bruce Wheeler.
Kovacs, a 31-year-old entrepreneur who has been involved the restaurant and hospitality sector, received the most exuberant cheers. The crowd applauded Kovacs' comments on environmental issues such as climate change and opposing the Rosemont Mine. Kovacs took his mining opposition a step further and said that Arizona should get rid of mining all together and instead put money into precious metal recycling centers, which he says would be less costly and more sustainable.
"We don't need to be doing the old idea," he said. "We need to make sure that we have new ideas."
Among other important issues, Kovacs supports a $15 minimum wage, abolishing ICE, Medicare for all and tribal sovereignty. He promoted Arizona's economy as ambassador to the Arizona Technology Council. And as an ambassador with Tech Launch Arizona, he worked to connect talented UA graduates to programs and resources meant to retain young professionals. He's mentored students and can usually be found supporting youth at political action events.
Kovacs received a 4.5 GPA, a solid A, in the post-debate survey. Audience members were asked to rate candidates on an A-F scale and share who they would vote for. More than 42 percent who pledged support to a certain candidate chose Kovacs.
The runner up was Wheeler, who served in the Arizona Legislature in the 1970s, the Tucson City Council in the late '80s and early '90s and then again in the Legislature until last year. Wheeler earned an A- from the crowd, with a 4.2 GPA and 36 percent of participants pledging their vote. Wheeler was the winner of the previous CD2 forum held by Represent Me AZ.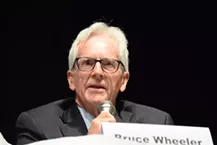 Like Kovacs, Wheeler falls on the left side of Democratic values, raising his hand to abolish ICE, legalize weed, strengthen Dodd-Frank and of course, support universal health care. His Medicare for All plan worked like this: The United States spends $3.2 trillion on healthcare; 27 million Americans remain uninsured; and the cost of Medicare-for-all $1.38 trillion. And yes, he has a plan on where that money will come from.
Wheeler supports policies that would regulate the rising cost of prescription drugs. He's for restricting the use of school vouchers and fully funding public education. Among other issues he supports are low interest rates for college loans, investing in renewable energy, and fair and humane immigration policy.
The tension was thick between former state lawmaker Heinz and former Congresswoman Kirkpatrick, who have led the polls that have been released so far in the race for the seat now held by Rep. Martha McSally. McSally is now seeking a U.S. Senate seat, leaving the highly competitive District 2 seat open in the November election.
Survey participants gave Kirkpatrick a 2.5 GPA, or a D. Heinz received a 3.3 GPA—an average C-. Only 8 percent of participants plan to vote for Kirkpatrick. An even smaller number pledged to vote for the other two candidates on the stage, retired Assistant Secretary of the Army Mary Matiella and Barbara Sherry, who describes herself as an "LGBT mortgage-broker-turned-rancher."
Represent Me AZ, who hosted the event, revoked an invitation to the seventh candidate, Yahya Yuksel, for the way he handled rape accusations at a press conference earlier in the week. Forum moderator Marion Chubon said Yuksel's behavior lacked responsibility following the allegations. Yuksel, understandably, wasn't on the survey at all.
Although Represent Me AZ called their survey "very scientific," the group's members were being sarcastic. The 215 participants who are motivated enough to attend a primary forum are not a scientific sampling of the 133,300 registered Democrats in the district.
On paper, Kirkpatrick and Heinz would appear to be the strongest candidates. They have raised more money in this race than their opponents, with Kirkpatrick raising more than $1.76 million and Heinz raising nearly roughly $850,000 ($375,000 of which he loaned himself). Matiella is next with roughly $257,000, followed by Kovacs with about $72,000.