It's a flicker of recognition that makes us laugh when we watch "Impractical Jokers." The way they mess with each other, teasing, daring, being silly and laughing at everything — it's like watching kids on the playground.
It's what friends do. And now we are all in on the joke.
"Think of it as an island of positivity in an otherwise cynical world," said James "Murr" Murray. "My job is to make my best friends laugh. And if they're laughing — they're the funniest guys I know — I believe that America will be laughing too.
"And I think we also bring people back to their friends growing up and what they were like, and how they used to have these friends that they played jokes on, like the more innocent time of all of our lives."
Now, here they are, 25 years later. "I'm 47 years old. I'm not going to go out and try to meet new best friends. Now I'm stuck with the guys that I've got, unfortunately," he said, laughing.
"Impractical Jokers," grew out of an improv group, The Tenderloins. It was formed by kids who met in a Catholic boys' high school and joined an improv club to meet girls. After graduation, the boys all went to different colleges — for Murray, it was Georgetown University — but they stayed in touch. After graduation, the Tenderloins turned pro. Their show had all the teasing, poking and having fun they'd shared in high school, but they also toured.
With the "Impractical Jokers" concept, they isolated and amplified the teases and dares that had made the Tenderloins a hit, and added production values, rough story lines and technology, all of which required a bit more planning. It's been a surprise hit.
"When we created the show, I honestly thought it would be middle-aged dudes watching it," Murray said. "I never imagined it would be families and kids that have now grown up on the show. At the show on the 18th, you'll see as many kids and families as there are adults that are my age or older."
In his solo show, he shares inside stories about fellow jokers and stories about his own life. True fans will remember episodes in which his two lives have overlapped. The Jokers pranked him at his wedding and his wife has since been an occasional feature in pranks. "There's no barrier between what's going on in real life anymore and what we actually put on television."
Then there are the videos. "There's a lot of video," he said. "I recorded a bunch of hidden-camera challenges that you can't see anywhere else."
To close out the show, Murray invites an audience member to do a prank live. Asked what audience member has surprised him most, he recalls a Louisville prankster.
"The person I chose had the chutzpah to stand on top of a bar nearby and take his shirt off and start shouting, 'Spring break in '98!' He got the entire bar to cheer along. I couldn't believe he did it!"
In and around production for "Impractical Jokers," and touring with his solo show, Murray writes books for young adults. He's just published his third book in a series under the title "Area 51 Interns." The stories follow a group of intrepid high-school kids through summer internships at Area 51, a storied, somewhat secret enclave of the U.S. Air Force. It's long been believed, and always denied, that the base hosts high-tech research into paranormal phenomena
"In every single book something goes haywire and ends up with these kids saving the day," Murray said.
"The first book is about (space) aliens. The second book is about mythical creatures. This book is about time travel. Every book stands on its own, though." Think "Nancy Drew" or "Miss Peregrine's Home for Peculiar Children." He's also writing a series of thrillers. The third title will be released next fall.
James "Murr" Murray, 7 p.m. Saturday, Nov. 18, Linda Ronstadt Music Hall, 260 S. Church Avenue, Tucson, tickets start at $30, www.ticketmaster.com
OTHER SHOWS THIS WEEK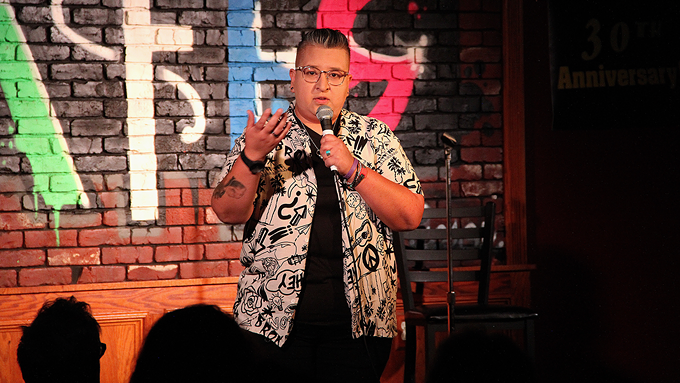 Button Brew House, 6800 N. Camino Martin, Suite 160, Tucson, 6:30 p.m. Saturday, Nov. 11, free, Mo Urban hosts, Priscilla Fernandez headlines, Max Adler, Jona Hopa and Nicole Riesgo round out the bill.
Chuckleheads, 41 Brewery Avenue, Bisbee, 8 p.m. Friday, Nov. 10, $15, 41 Brewery Avenue, Bisbee,
www.chuckleheadsaz.com, Reena Calm leans into her lifelong eccentricities.
Corbett Brewery, 309 E. Seventh Street, Tucson, 7 p.m. Friday, Nov. 10, free, "Off the Deep End Comedy," Phoenix comic Floyd Hass headlines; Connor Hanna, Rory Monserat and Ash Loca fill out the bill. Cory Lytle hosts.
Coyote Trail Stage, 8000 N. Silverbell Road, Marana, 7:30 p.m. Friday, Nov. 10, $10, www.maranalaughs.com/shop, "An Intimate Evening with Paul Green."
D'Lux Lounge, 1901 S. Fourth Avenue, Tucson, 8:30 p.m. Friday, Nov. 10, free with canned food donation, "Get Stuffed Comedy Show," Anthony Jenkins hosts, Paul Fox headlines, Brady Evans features, also Whittles and Vizzy Thicc
Fox Tucson Theatre, 17 W. Congress Street, Tucson, www.foxtucson.com, 7:30 p.m. Sunday, Nov. 12, tickets start at $20, Amy Sedaris
Hotel Congress, 311 E. Congress Street, Tucson, www. hotelcongress.com, 7:30 p.m. Wednesday, Nov. 15, $15, Lady Ha Ha presents "Shits & Giggles," a comedy show about bathroom humor,
tinyurl.com/PoopShow, with Lux 'Shree, Priscila Harris, Irma Gherd, Iona Hoya, Morgan Huehn, Paul Katona, hosted by Mo Urban and Priscilla Fernandez.
Laff's Comedy Caffe,
2900 E. Broadway Boulevard, Tucson,
www.laffstucson.com, 8 p.m. and 10:30 p.m. Friday, Nov. 10, and 7 p.m. and 9:30 p.m. Saturday, Nov. 11, $15, $20 preferred seating. Cory Michaelis has 80 million views of his special, "Bad Teacher."
O'Malley's Bar & Grill, 247 N. Fourth Avenue, Tucson, 7 p.m. Thursday, Nov. 16, $15, www.tinyurl.com/Comedy4Charity, Miracle en el Barrio presents headliner Priscilla Fernandez and host Dave Membrilla with Elliot Glicksman, Mo Urban, Phil Gordon, Steve Nuñez and Floyd Hass
Unscrewed Theater, 4500 E. Speedway Boulevard, Tucson,
www.unscrewedtheatre.org, $8, live or remote, $5 kids. 7:30 p.m. Friday, Nov. 10, Not Burnt Out Just Unscrewed (NBOJU); 6 p.m. Saturday, Nov. 11, Student Showcase: Genre Improv; 7:30 p.m. NBOJU, 9 p.m. NBOJU and The Big Daddies