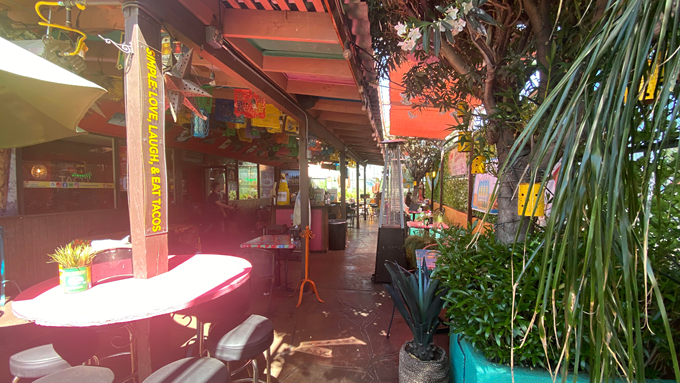 For almost 14 years, La Botana has served relaxed Mexican cuisine in the heart of Tucson. Owner Arnold Silva credited the restaurant's success to its ability to stay relevant.
"We're always trying to keep up with the trends, as far as drinks and food," Silva said. "We're always updating our menu to cater to anything out there that's popular."
La Botana is known for its daily specials and giant margaritas, and for Cinco de Mayo, it's taking them to the next level. The restaurant will also provide a DJ or live entertainment and will give out gifts to customers throughout the day.
Silva explained they will have Dos Equis and their well-known variety of margaritas available, as well as other cocktails and drinks on tap. The restaurant's liquor and beer vendors provided Cinco de Mayo-themed gifts to give out to participating customers during the day's festivities.
Their food menu features Mexican fusion dishes to the likes of Chicano comfort food, along with a salsa bar with assorted sauces and toppings. From nachos-gracias to the pizzadilla and mini chimis, La Botana aims to create a casual environment with its food and atmosphere.
"We're not a traditional Mexican restaurant, it's more of a relaxing experience," Silva noted. "We have specials throughout the day and cater to any type of customer. We just want them to have a good time with their friends and families."
One of the restaurant's big draws, according to Silva, is its large outdoor patio space. The area is closed off with a permanent roof and high screen walls, letting the sun in and the heat out. Fans circulate cool air and allow customers to enjoy their food and drinks in comfort.
The space was inspired by the popularity of patio-style restaurants in Mexico. Plants drape along and around the space, coupled with traditional decorations and pottery. For cooler nights, La Botana has heaters strewn throughout, along with a functioning bar in the center for weekend and dinner rushes.
"We decided to have it as big as we could to have our guests enjoy the outdoor dining experience," Silva said. "It's welcoming for families and anyone who wants to have a nice lunch, dinner or happy hour at our restaurant."
La Botana has offered easy and delectable dishes for over a decade and prepares to expand with a relocation almost 100 feet away from the original building. Silva explained the need for a bigger patio and a full-functioning bar to entertain guests, along with the bandwidth to provide a new breakfast and brunch menu.
The restaurant will meet with contractors in June and will likely move in the next year or so after construction is finished. Silva stated the restaurant will remain on First Avenue and continue to serve customers in its current location.
Gearing up for Cinco de Mayo, Silva directs customers to check out their restaurant and catering menus. The owner also encourages people to take a look at their daily specials post-celebration, full of taco Tuesdays, military discounts, large lunches and half-off happy hours. For those new to Mexican cuisine, Silva assured it's worth the visit and the price.
"We're creatures of habit, we like to go to the same places and order the same things," Silva said. "I would challenge anyone to come and check us out and try something different."
La Botana
3200 N. First Avenue, Tucson
520-777-8801, labotanatacos.com