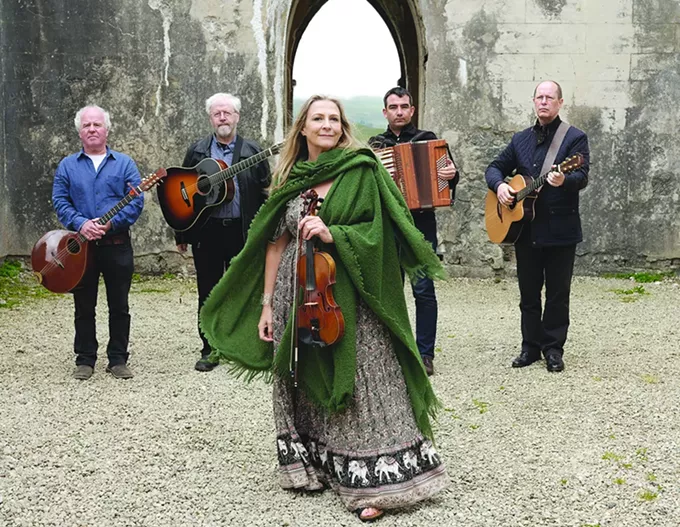 Altan, one of Ireland's foremost traditional bands, is at long last here in the United States.
"We started on the East Coast and creeped our way across America to the West Coast," says Máiréad Ni Mhaonaigh in her brogue. "Finally, we're coming. It's happening."
Altan, four members strong, will perform Saturday, Nov. 19, at the Fox Tucson Theatre.
Back in March 2020, the band was ready to perform at the Fox near St. Patrick's Day — until COVID-19 came raging in.
The concert was canceled, like most of the arts in Tucson and beyond. The musicians fled back to Ireland before lockdowns were imposed on both sides of the Atlantic.
Since then, Celtic fans in Tucson were told that the band was returning, but the pandemic spoiled plans time and again.
Thanks to promoter, Don Gest, their Tucson audience will see them on their first tour back in America. "We are delighted," Ni Mhaonaigh said. "Don had great faith in us."
Ni Mhaonaigh, a renowned fiddler and Gaelic singer, said Altan went to London last St. Patrick's Day for a few shows.
"The band has not been performing until this tour started in mid-October," she said. "This is our first time around since the pandemic started. Everybody's been well, and we've seen old friends."
Joining Ni Mhaonaigh on stage are Ciarán Curran on bouzouki, Daíthí Sproule on guitar, and Martin Tourish on accordion. Sproule and Tourish are singers, too. And Tourish also is a celebrated composer.
She's really excited about "an amazing young musician," their guest artist, Clare Friel, who accompanies the group as a fiddler and singer.
"She's a family friend. I've known her since she was a baby," Ni Mhaonaigh said.
In 2018, Friel was named Young Artist of the Year by TG4, the Irish national public television station. She also plays in a trio with her sisters, part of a new generation of Irish traditional musicians.
Although the women grew up in Scotland, their parents were from County Donegal and Friel plays in that tradition.
Ni Mhaonaigh, born and bred in Donegal to a musical family, had Irish as her first language and learned her songs and tunes from family and neighbors.
In the show, "Donegal to Tucson," "you will see traditional tunes as we are known for that. We have collected tunes from lots of the old fiddle players, and we also compose our own."
Ni Mhaonaigh especially sings the praises of Tourish "as a great young composer. He will be singing some beautiful songs." And Irish step dancers from Tucson's Celtic Steps Irish Dance school will kick up their heels on jigs and reels.
Altan's repertoire of songs celebrates the Irish language, Ni Mhaonaigh's native tongue. ("Altan" is Irish for "stream.)
"I will sing lots of songs in Irish. I grew up with it, speaking with neighbors and even using it shopping for groceries. But you'll not understand a word I say," she said with a chuckle.
One happy consequence of the pandemic was that it gave Ni Mhaonaigh and her peripatetic bandmates time at their homes to work on new music and some solo projects. She, for example, recorded online lessons of some 32 tunes for aspiring fiddlers.
"When we settled into COVID, it was quite nice to be at home for that period of time." She found peace amid the beautiful landscapes of Donegal, where she was born. And, she joked, "I got to know my daughter again." Her daughter, Nia Byrne, is also a fiddler and singer. (She was with the band when they fled Tucson in 2020.)
Altan's final show, right after Tucson, will be in Scottsdale. In her lilting Irish, she tells me "On the 22nd, we are going straight back to Ireland. It's back to work to be honest, but it will be nice to be back home."