Jon Jost went to prison for refusing to fight in the Vietnam War. In the mid-'70s he lived in a Montana cabin with no heat or running water. He was expelled from college and currently stays in cheap motels when he travels. He's also won filmmaking awards all over the world, been shown at Sundance film festival, and has a spot on 1001 Movies You Must See Before You Die.
"I have no interest in belonging to any collective or group." Jost, 74, says.
Despite this, he's been lauded again and again, getting praise from Jean-Luc Godard, Roger Ebert, and more. Now for the first time, he's coming to Tucson for a retrospective screening.
With a filmography of more than 40 movies, spanning a half century, and multiple genres, a full retrospective of Jost's work is difficult if not near impossible—even for himself.
"I've seen my films too many times, I don't know what to think of them," Jost says. "I don't have a favorite film of mine. I view my films as children, and if you're picking favorites as a parent then you aren't a very good parent."
He's a self-proclaimed workaholic. Jost averages a full-length film every 18 months, with plenty of shorts sprinkled within. It's a rate of filming he's currently trying to stop, but, in his own words, failing at. He says the temptation to create is just too great. (All of this not even mentioning the hours and hours of unedited footage he captured in the '90s. There are probably another four or five films trapped in there.)
"If you're a musician and don't practice every day, you'll be a shitty musician." Jost says. "I get people telling me that they want to make a movie, but don't know what to make it about. I tell them just to go out and shoot something. It doesn't cost you anything but your time."
Jost is a self-taught filmmaker. He began shooting shorts in 1963, and released his first feature-length film in 1974. Since then he has devoted himself to the making of a wide-ranging series of movies: essay films, fictions, documentaries, experiments.
"Some of them are pretty damned abstract," Jost says. "I don't think when I make movies. I don't have ideas and think about them and say 'oh, I'm trying to express this'. I just get together enough pieces to make a movie and then make the movie, and find out whatever was in it."
In addition to this he rarely, if ever, scripts his films. He just shoots with some friends or like-minded cohorts and it ends up being a movie.
"Shoot every day," Jost says. "You'll be surprised how much reality can teach you if you actually look."
Marianne Dissard, French singer and filmmaker, orchestrated his upcoming retrospective at EXO Bar.
"I absolutely adore the place," Dissard says. "It's a natural fit for him and his movies."
She met Jost in 1989 while she attended the University of Southern California, and has kept in touch with him ever since. She's worked on films with him, been to his screenings, and even incidentally and independently moved to a small city in Italy he was already living in.
Dissard has also, of course, spent her fair share of time in Tucson. Some years ago when Casa Video expunged their VHS collections, she jumped at the chance to purchase all the Jost movies she could.
"They give a feeling unlike much else," Dissard says. "Some of them I have no idea what he's talking about, but they affect me so deeply — kind of like poetry."
Jost's films often depict interpersonal relationships and America. He says many of his films are funny, although he does have a pretty black sense of humor.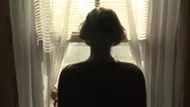 "I don't believe light exists without serious as counter," Jost says. "Light without dark is trivial."
If someone wants to watch a film of his, they first must decide what kind of movie they want to view: an American road movie? Last Chants for a Slow Dance. A quiet comedy about friends? Rembrandt Laughing. An arthouse essay film? Plenty to choose from.
"I don't think of it as my career, it's my life." Jost says. "I don't really make money off of it. I do what I want and I pay the price. I'm not independently wealthy from filmmaking, I'm independently poor."
He says he understands that generally you have to jump through institutional hoops to get ahead, but he doesn't agree with it.
"To make it in the art world, you have to network — and I don't network."