Earth's Extract V-Pod and Purple Punch 1000mg cartridge
If we were limited to only three words for this review, they would be: Simple. Discrete. Powerful. There's just no better way to describe our general reaction to Earth Extracts' new V-Pods, available at Earth's Healing.
The battery and smoking device itself is nearly air light and easy to pocket, with a magnetic catch where the cartridge slides in. The V-Pod is button-free, and activates when you breathe in. Aside from its sleek design and lightweight, we experienced no heating issues and the device never grew too hot from a long draw.
The one downside reported by the review team: The airflow seems a little restricted through the cartridge, probably from the small diameter of the airway—but it's not a serious enough issue to raise any alarms.
As for the strain, Purple Punch is known throughout the toking world for its indica-heavy effect and relaxing high. The product of Larry OG and Granddaddy Purp, this sweet leaf is a perfect after-dinner smoke for those looking to kick back, enjoy some TV and forget for a few hours that the world is kind of a nightmare right now.
Expect a very sweet taste and an immediate weightiness.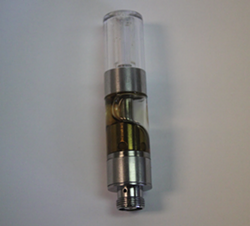 IO Extracts 500mg Cartridge
A new brand available at Nature Med, the makers of IO extracts say they pack up to 90 percent THC into the cartridge. We found the flavor to be mellow and smooth and the liftoff to be one of the best of any cartridge we've tried. (As longtime cannabis smokers, we find many cartridges may be discreet enough for public use but the medicinal effect tends to be less intense than smoking flower). We'd definitely recommend IO to anyone looking for a new cartridge experience.
Cannabliss Gummies
With the non-psychoactive CBD acting as the new kid on the block compared to the classic THC, cannabis consumers can be unsure which compound will get the job done best. Luckily for the indecisive, Cannabliss is making some tasty gummies offering a quality amount of each medicine. The Cannabliss "Daily Dose" High CBD Gummies feature a one-for-one mixture of medicine: 7.5 mg of CBD and 7.5 mg of THC. These little stars are infused with enough cannabis to hit quick but last for multiple hours, and the double compound formula means you're sure to experience a nice balance of head and body relaxation, with the reduction of pain and anxiety that CBD is praised for. Our tester reported a mellowing effect with those initial stages of heady relaxation enjoyably lasting a bit longer than other edibles. Cannabliss' double-whammy "broad spectrum" therapy gummies come in packages of various sizes, from only two gummies to more than a dozen, but those rich little stars remain the same: powerful and reliable.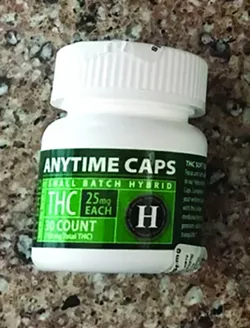 Uncle Herb's Chill Pills Anytime Caps
Once these 25 mg capsules dissolve, you are treated to a hint of spicy, cannabis flavor. You might wake up a little groggy in the morning after ingesting before bed, but that's easily shaken with a nicecup of coffee for a mellow start to the day. More than one at a time can make going to the bathroom in the middle of the night an adventure, especially if you have cats.
Higher Level Brands Budderscotch Caramels
These caramels come in 60 mg doses in a variety of flavors, including the tasty Dulce de Leche and Fluffer Nutter. You should know your own dose before eating one of these, but we advise cutting them into thirds (at least) unless you want to be glued to the floor for several hours. Tasty, mellow buzz that will let you wake up feeling rested and refreshed. One of the mysteries of the universe: Why are edibles so delicious when cannabis makes you so hungry?
Uncle Herb's Full Spectrum Berry Jellies Candy (Hybrid Blend)
Uncle Herb delivers a pretty good berry flavor, with only a hint of "weedy" flavoring. There's a mellow intensity that's good for getting basic aches and pains to go away. Only downside is they do get hard pretty quickly.
WYLD Sativa Enhanced Cannabis-Infused Raspberry Gummies
These soft gummies have a delicious raspberry flavor and the canister keeps them from getting hard. Mellow intensity that is great for reducing back, joint and headache pain without too much of a high.
Baked Bros Quality THC Gummies (Peach Rings)
These have a strong flavor with very "weedy" undertones. Basically, it tastes like you just took a hit, and the flavor gets worse if you let them sit too long. If you can get over that, or it doesn't bother you, the high is pretty good. You won't feel any pain, but it is a much stronger high than some edibles. Don't make many plans if you're a lightweight.
Infusion Bakery Peach Rings
Great flavor with only a slight "weedy" taste. Infusion, which does high-quality but very sweet candies and baked good, delivers peach rings that taste like the ones you get out of the candy aisle with plenty of euphoric effects.
Canna Confections Daily Dose Vanilla Caramels
It turns out that heavy cream and vanilla pair really well with cannabis extract. These vanilla caramels carry very little cannabis flavor but at 15 mg, they're surely enough for most people's daily dose. It's also a bargain, with two caramels—for a total of 30mg—retailing for $5. Visit the Green Halo—home dispensary for Canna Confections—on a Monday for 35% off that low price.