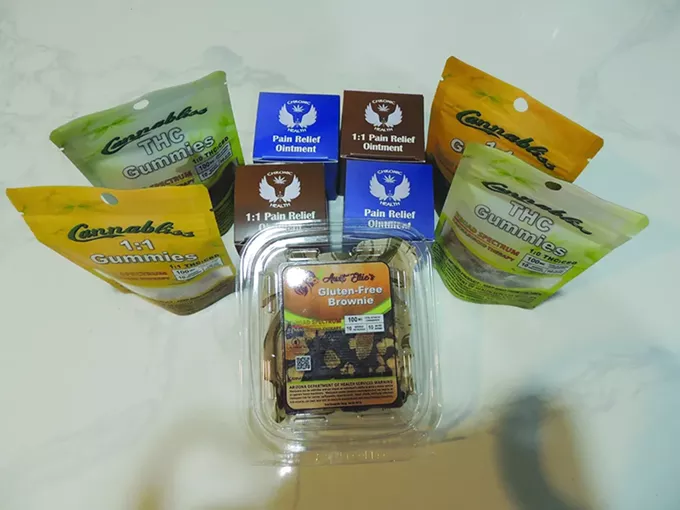 There's no better way to let go of that holiday tension than with the gift of ganja. And with the relentless innovation in the cannabis industry, there is a cornucopia of options to choose from for everyone on your shopping list. Here are some of the finer products on Tucson's dispensary shelves:
Store 1
Healthful Flowers
5460 E. Speedway Boulevard
healthfulflowers.com
CBD Delta 9 Mixed Gummies
Strain: WNC CBD 3:1
CBD: 75 mg CBD, 8 mg CBC
THC: 25 mg Delta-9 THC, 18 mg Delta-8 THC
For a CBD edible, this gummy has unexpectedly strong results. The effect hits about 30 minutes after consumption, for a mildly euphoric, but noticeable high without any fatigue.
Delta Extrax Gummies
Strain: Sour Peach Lights Out Gummies
THC: 125 mg Blend of Delta 9 THC, THC-h, THC-jd, THC-p, Live Resin Delta-8 THC
These Lights Out Gummies contain newer THC cannabinoids (THC-h and THC-jd), and the effects are impressive. This edible is advertised as a sleep aid, so take it about an hour before bedtime. The effects take about 20 minutes to set in, which is quicker than most edibles.
Healthful Flowers CBD Flower
Strain: AC/DC-Flower-Hybrid
CBD: 12.884%
THC: Delta 9 THC, less than .3%
Uplifting and energetic, AC/DC has a fruit-forward, peppery quality. Combined with a citrus rind element, the result is in an excellent smokeable flower. The medium-high density buds emit a citrusy smoke and taste. For dosing, it's recommended to roll about three mid-sized buds into a joint. It's also good for use in a bong, pipe or joint.
Stardust CBG Hemp Flower
Strain: Stardust-Alternative strain
CBG: 12.538% CBG
The 2020 Queen City Cannabis Cup Winner for best terpene bouquet and alternative strain, the Stardust CBG Hemp Flower contains 12% to 14% CBG and less than 0.1% THC. With frosty, milky trichomes covering the bright green hemp buds, these CBG-rich hemp buds have a citrusy and hoppy aroma. Great for joints, wraps, pipes and bongs.
Store 2
Halo Cannabis
7710 S. Wilmot Road
thegreenhalo.com/menu
Halo Infusion Live Resin Batter Bucket
Strain: Platinum Purple Candy-Hybrid
THC: 80.64%; CBD: 0%
The Halo Infusion Live Resin Batter Bucket has an extremely smooth and pleasant taste when smoked. It's mildly sweet with a nice mix of terpenes for a tasty dabbing experience. This is an 80% product, so dose sparingly. The effects are that of Indica-leaning hybrid, with immediate relaxation for a body-focused high.


Halo Infusion Live Resin Batter Bucket
Strain: Grape Cake - Hybrid
THC: 77.31%;
The Halo Infusion Grape Cake-Hybrid is a smooth smoking experience from start to finish. The effects are immediate, with a heady start moving to an overall body high. With 77% THC, this resin is less potent than most on the market, giving it a clean, manageable high even with a greater dosage. Expect happy and somewhat sleepy effects.
Store 3
Downtown Dispensary
221 E. Sixth Street, Suite 105
thedowntowndispensary.com
Zenzona Vegan Pineberry 100 mg RSO Indica
Strain: Wedding Cake - Indica
THC: 100 mg total
A full spectrum, Indica dominant RSO, the Zenzona Vegan Pineberry 100 mg RSO Indica Wedding Cake strain is known for its euphoric and calming effects, as well as therapeutic benefits for pain relief, insomnia or appetite loss. About 2.5 mg takes 20 to 30 minutes to set in. Consumers with a low-THC tolerance should sample wisely. This product is also vegan, made from pectin in Tucson.
Roaring '20s Six-Pack Pre-Rolls 3 g - Zacks Cake
Strain: Zacks Cake - Hybrid
THC: 20.60%, 0.5 mg per pre-roll
For the stoner on the go, this 50/50 hybrid is perfect to pass around at parties or other daytime activities. The Roaring '20s six-pack pre-rolls contain the strain Zacks Cake, which is known for its earthy, spicy taste.
iLAVA Lumen Budder 1g - MAC Stomper
Strain: MAC Stomper - Indica Hybrid
THC: 78.9%, 1 g THC, 0.34% CBD
iLAVA Lumen's MAC Stomper Lumen Budder is for the connoisseur who prefers more translucent products. It offers a mellow lung reaction compared to live resin, carrying a citrusy hint throughout each hit. The extract offers a slow-creeping euphoria, starting from the chest up to the head. This is one of the first products in the country to combine top-shelf raw materials with a sophisticated extraction process, and long solvent purge times, in a recyclable and biodegradable materials.
Store 4
Earth's Healing North
78 W. River Road
earthshealing.org
Earthgrow Pre-roll pack (7) 3.5 g
Strain: Rainmaker - Sativa
THC: 21.2675%, 0.5 g per pre-roll
"Free your mind, one puff at a time," with Earth's Healing's Earthgrow pre-roll pack. EH's strain, Rainmaker, offers a burst of happy, creative energy. Floral on the nose, these pre-rolls are perfect for packing along on a hike or enjoying the outdoors. Activation time is roughly 5 minutes and can last up to a few hours.
Earth Extracts Live Resin Golden Strawberries Badder
Strain: Golden Strawberries - Hybrid
THC: 77.2%, LHR 1 g
Earth Extract's Live Resin Golden Strawberries Badder is a hybrid concentrate that is soft and buttery in texture with an earthy, wet wood aroma. This concentrate has a smooth-hitting, creamy, vanilla flavor that provokes a creative high.
Earth Extracts X - Pod Battery
Name of Product: Earth Extracts Live Resin X Pod Lemon Headz
Strain: Lemon Headz
THC: 83.83%, CBD: 0.12%
For the stoner on the go, Earth Extracts X - Pod Battery cannabis vaporizer is a great way to consume discreetly. Requiring a vape cartridge, the concentrated cannabis oil is heated by the battery and vaporized for inhalation. This method is extremely potent. Try the staff's choice, Lemon Headz, for a calming sensation. This hybrid is a cerebral, happy high, with a tangy citrus taste.
Store 5
Nature Med
5390 W. Ina Road
naturemedaz.com
IO Extracts Strawberry Shortcake Distillate Syringe 1 g
Strain: Strawberry
Shortcake - Indica
THC: 92.6%
Get medicated with IO Extracts' Strawberry Shortcake Distillate. While concentrated cannabis products can come in a variety of consistencies, potencies and compositions, this euphoric Indica strain can relieve symptoms of insomnia, pain, stress or anxiety. A hearty, strawberry flavor, this concentrate is ideal for nighttime use as it can have a heavy head high.

IO Extracts: THC Diamonds
Strain: THCA
THC: 87.7%
Made by live resin extractions, THC Diamonds are THCA crystals separated from terpenes that have grown into diamond-like structures. Resembling quartz crystals, IO Extracts' THC Diamonds are odorless, with a strong diesel flavor, producing an uplifting, mood enhancing body high. For users with a dab rig or those who want to sprinkle a little something extra on their flower, this product is great for smoking first thing in the morning.
Kiva Confections Terra Espresso Bites: 100 mg
Strain: Hybrid
THC: 100 mg, 0.5 mg per bite
Kiva Confections Terra Espresso Bites are the perfect bite-sized pick me up, with 0.5 mg of THC in each dark chocolate-covered espresso bean. This hybrid product is an excellent recommendation if you love coffee and are looking for an alert high. Nature Med also offers Kiva Milk Chocolate Blueberry and Kiva Milk and Cookies Chocolate.
Stiizy: 2.5 g - Multipack pre-rolls - Blue Burst
Strain: Blue Burst - Hybrid
THC: 41.66%, 0.26% CBD
If you're looking for a pre-roll with higher potency, Nature Med's Stiizy - 2.5 g - Multipack Pre-rolls - Blue Burst were made for you. Pre-rolled and ready to smoke, these joints have 0.5 g of theBlue Burst Hybrid, as well as an extra 40% THC. They are kief coated, terpene enhanced and infused with special live resin.
Golden Vape: 500 mg Vape - Jelly Belly
Strain: Jelly Belly
THC: 67.58% CBD 0.28%
Just in time for the holidays, Golden Vape's 500 mg cartridge in the flavor Jelly Belly, available at Nature Med is fruity and juicy, tasting almost like a Lip Smackers watermelon lip balm. This strain is good for socializing, and staying upbeat and alert.
Sweet Dreams Vineyard: 100 mg to
187 ml Cannabernet
Strain: Hybrid Nano THC
THC:100 mg
A nonalcoholic wine beverage infused with THC, Sweet Dreams Vineyard's Cannabernet is a great way to uplift your mood or chill out after a long day. A favorite by medicinal marijuana patients, Cannabernet brings about relaxation, and stress relief. Its unique flavor profile is a mix between pepper and vanilla, which is alsofound in a Cabernet Sauvignon. Cheers!
22Red: MAC Pre-Roll 1 g
Strain: MAC - Hybrid
THC: 27%
MAC, aka "Miracle Alien Cookies," comes in a single, pocket-size pre-roll. A potent-smelling flower, this strain gives a smooth orange flavor with an earthy finish. After a couple of hits, you'll feel uplifting and inspiring effects for an active night out.
22Red: G-Runtz Live Resin Sauce
Strain: G-Runtz - Indica Dominant Hybrid
THC: 78.88%
G-Runtz is an Indica-dominant Hybrid that is perfect for recreational use, that is full of flavor. The strain is a mix between Falcon 9 and Runtz. This resin is recommended for night-time use and will have a drowsy effect.
22Red: Shred 22 - 3.5g
Strain: Sour Diesel - Sativa Dominant
THC: 30.41%
Since the early 1990s, this popular Sativa has been called dreamy, cerebral and energizing. 22Red's Shred 22 Sour Diesel flower gives off a pungent flavor that really does smell like diesel fuel with a hint of pine, or even "fresh cut grass." It is also known for its medicinal properties that help relieve symptoms of pain, depression and stress.
22Red Papago Punch Indica Hybrid Live Resin Badder: 1 g
Strain: Papago Punch - Indica Hybrid
THC: 65.03%
With strong notes of "deep purp terps," 22Red's Papago Punch Live Resin Badder is a concentrate that consists of three exotic purple strains. The Indica-dominant hybrid packs a punch of flavor thanks to Modified Grapes, Grape Milkshake and Purple Apricot. The concentrate resembles a golden butter or a gooey caramel. You'll smell hints of lemon or grapes as you consume for a relaxing high. Set yourself up for success with a movie on cue and prepare yourself for a "body blow of euphoria." This concentrate can be heated up on a dab rig or live resin vaporizer.

22Red K9 - Hybrid Live Resin Sauce: 1 g
Strain: K9 (Valley Wowie) - Hybrid
THC: 78.26%
The22Red K9 Live Resin Sauce will put some pep in your step with its juicy pineapple flavor. A unique twist on the classic Valley Wowie or Maui Wowee, it is a true 50/50 hybrid made up of Triangle Kush and Josh DOG. This live resin is also 100% derived from some of 22Red's other flower strains and cryogenically frozen to preserve its terpene and cannabinoid content. This ideal to enjoy in nature with a balanced head high and lung reaction. It is also known to have "plenty of bark" with an "aggressive bite."
22Red La Crème: 3.5g
Strain: Ice Cream Cake - Indica Dominant
THC: 23.87%
La Crème is the icing on the cake. 22Red's Indica dominant strain, a mix of Wedding Cake and Gelato No. 33, has a vanilla-sweet flavor profile. Its calming effects are just as sweet and have been reported to help medical marijuana patients with anxiety, pain and sleep. La Crème is ideal for relaxing, watching TV, or any other mellow activity.

Store 6
Halo Infusion
haloinfusions.com
Cannabliss Spicy Halo Infusion Gummies
Strain: Broad Spectrum/Hybrid
THC: 100 mg
These gummies start out spicy and get down to a sour sweetness, like a gummy worm candy. These are perfect for those who just want to chill and play video games, or watch a good comedy. You will be laid-back without any anxiety, loopy feeling, or extra energy, for a nice mellow high.
Aunt Ellie's Gluten-Free Brownie
Strain: Broad Spectrum/Hybrid
THC: 100 mg - 10 servings, 10 mg each
These brownies are rich and luscious, dense and fudgey. After about half an hour you will feel a relaxed and very happy high. Onset starts after about 20 minutes. For dosing, make sure to cut your brownies in 10 pieces for 10 mg each. Please keep out of reach of children. These are great for beginners who want that laid back high.
Cannabliss THC Gummies
Strain: Indica Blend
THC 100 mg, 1:0
These gummies don't have a strong taste but do have a pleasant smell. The high for these edibles was mild, which is good for macrodosing. The high only lasts 15 to 20 minutes, and gives you an active, clear mind. Each gummy comes in a convenient 10 mg THC star shape dose. The effects are not overly sleepy, even though it is an Indica blend. This would be good for an end of the day, relaxed feel that Indica blends often give.
Cannabliss 1:1 Gummies
Strain: Heavy CBD Blend
THC 100 mg, 1:1; 0.5mg THC, 0.5mg CBD per serving
These gummies are not very heavy flavor, with a light blueberry taste and pleasant smell. These take over an hour for the effects to be felt. This is a CBD blend, so the effects come on slowly. But is a very mild, mellow high. Really not much of a high, but definitely a sleep aid and did help with headaches.
Chronic Health Pain Relief
Strain: Broad Spectrum - Topical 3.5 g flower
THC: 1:1; THC 175.0 mg and CBD
175.0 mg
Award-winning 1:1 Chronic Health High CBD Ointment is infused with 350 mg of THC and 350 of CBD, plus other activated cannabinoids. This cream can help with arthritis, dry skin, eczema, rashes, insect bites and minor burns. It also relieves pain from muscle soreness, skin inflammation, psoriasis, bacterial infections or sunburns. Made from High CBD-expressing medical marijuana flower, the ointment has a light, oily feel, but blended well into the skin. Apply to the affected areas, such as the hands for arthritis for near immediate relief from pain. For larger areas, expect pain to be dulled, with greater effects with more applications.
Store 7
Hana Meds Green Valley
1732 W. Duval Commerce Point Place, Green Valley
hanadispensaries.com


Dutchie Duos Two-Pack Pre-Rolls
Strain: Granddaddy Purple-Indica
THC: 21.1%; 0.5 g each pre roll
This pre-roll is recommended for pain relief and night time use. It is quick to take away any aches or pain. Granddaddy Purple is a very popular Indica strain with a strong grape flavor that gives a heavy head and body high.
Dutchie Duos Two-Pack Pre-Rolls
Strain: OG Kush-Hybrid
THC: 23.98%; 0.5 g each pre roll
This has a pleasant floral smell and taste with some pine and lemon taste. This pre-roll brings on a nice high with an active feel, but without a heavy head feel. OG Kush will produce a happy, if not euphoric, feeling of well-being. A good choice for beginners starting their voyage into smoking.
Dutchie Duos Two-Pack Pre-Rolls
Strain: Blue Dream-Sativa dominant Hybrid
THC: 22.90%; 0.5 g each pre roll
Blue Dream gives a sudden, very strong high, but isn't trippy. It carries an ashy taste on the finish, with no overpowering smell. Blue Dream is a Sativa-dominant hybrid marijuana strain made by crossing blueberry with Haze. This strain produces a balanced high, along with effects such as cerebral stimulation and full-body relaxation. It's also great for fast pain relief. This potent strain is a fan favorite of both newbies and veteran smokers.
Dutchie Duos Two-Pack Pre-Rolls
Strain: Oracle-Hybrid 50/50
THC: 23.16%; 0.5 g each pre roll
Oracle is an extremely rare strain that often achieves very high THC levels. A premium phenotype of the rare Oracle strain will produce a strong, pungent taste and an extremely potent effect that can last up to three hours, sometimes longer. It has a heavy herbal smell and offers a very strong, trip high. Not for the timid or beginners wanting to just try a toke.
Dutchie Duos Two-Pack Pre-Rolls
Strain: Tangerine Kush-Hybrid
THC: 26.80%; 0.5 g each pre roll
While the effects of this strain are short-lasting, Tangerine Kush is potent with a quick onset. Providing stoners with a happy, body-heavy sensation, this strain is great for those looking for a lazy day at the beach. It has a strong high, minus the anxiety. It smells like tangerines and has a light sweet citrus taste. This joint burns fast.
Dutchie Duos Two-Pack Pre-Rolls
Strain: Holy Grail-Hybrid
THC: 22.4%; 0.5 g each pre roll
Holy Grail OG (sometimes called Holy Grail Kush) is an extremely potent hybrid strain that many patients and recreational users enjoy for its hard hitting, yet mellow effects. Holy Grail OG will be intense at first, then deliver a mellow sensation. It has a fragrant smell and light smoke taste. It hits with an uplifting, strong high and makes you feel goofy and giggly. A Holy Grail OG Dutchie is extremely potent and should be used very lightly by a beginner.
Dutchie Duos Two-Pack Pre-Rolls
Strain: XXX OG-Indica
THC: 22.65%; 0.5 g each pre roll
Described as so smooth at first and then quick high, but not jarring, this is a good choice for beginners. The pre-rolls have a slightly floral smell and taste and take a little while to reach full potency.
Store 8
Tucson SAINTS
112 S. Kolb Rd.
medicalmarijuanaoftucson.com
SAINTS Cornerstone
Strain: Cornerstone Flower-Sativa
THC: 25.2%; 1 g
This is a pure Sativa strain that smells like lemons and pine. The Cornerstone Flower is a consistent and reliable strain that hasn't changed much over the years.However, while smoking, this flower had a dank, earthy smell. There is minimal taste and a lightness to the smoke. The flower burned well, but the strain is potent, so dose sparingly. Activation time is roughly about 5 minutes and can last up to a few hours. This strand is a nice high for energy, focus and creativity.
Store 9
PURE Edibles
pureedibles.com/purchase/
All of the Pure Gummies come in Sativa and Indica.
PURE Gummies
Strain: Watermelon Gummies-Sativa
THC: 100 mg
This gummy has a nice watermelon flavor, with a lighter sugar coating. The gummies are smooth in the mouth and easy to consume. This edible gives an uplifting and motivating high and is recommended for daytime use. For beginners, there is an indent indicating where to cut the gummy for a 5 mg dosage.

PURE Gummies
Strain: Fruit Punch Gummies-Indica
THC: 100 mg
These gummies have a smooth mouth feel and a fresh fruit flavor. As with many Indica blends the high is mellow, mild, and comfortable. These edibles have a sleepy effect, so it's recommended to take at bedtime or for a daytime nap.
PURE Chews
Strain: Chocolate Chews - Hybrid
THC: 100 mg; 4 chews in each package. 1 chew (25 mg) has three servings of 8.3 mg each.
The bag contains four individual wrapped chews, but for dosing it is recommended to cut the chews in thirds. Each chew has 25 mg of THC, and each third of the chew contains 8.3 mg. This chew will give you a relaxed and happy high. For experienced marijuana consumers, it is recommended eating the chew multiple times during the day. For the beginners, start with a third of the chew and go from there. These chews can also be used as a sleep aid and can be melted in hot chocolate or coffee for an adult drink.
PURE Chews
Strain: Caramel Chews-Hybrid
THC: 100 mg, 4 chews in each package. 1 chew (25 mg) has three servings of 8.3 mg each.
This gummy tasted just like a real caramel chew, masking the taste of cannabis completely.
Like PURE Chew's the chocolate flavor chew, you can melt this in some coffee or hot chocolate for a comfortable day or night experience. The high is calming, relaxed, and balanced.
PURE Chews
Strain: Sour Blue Razz Chews-Hybrid
THC: 100 mg, 4 chews in each package. 1 chew (25 mg) has three servings of 8.3 mg each.
Sour Blue Razz Chews-Hybrid gives an uplifting and cheery high. This is a fun edible with great flavor for any time of the day.