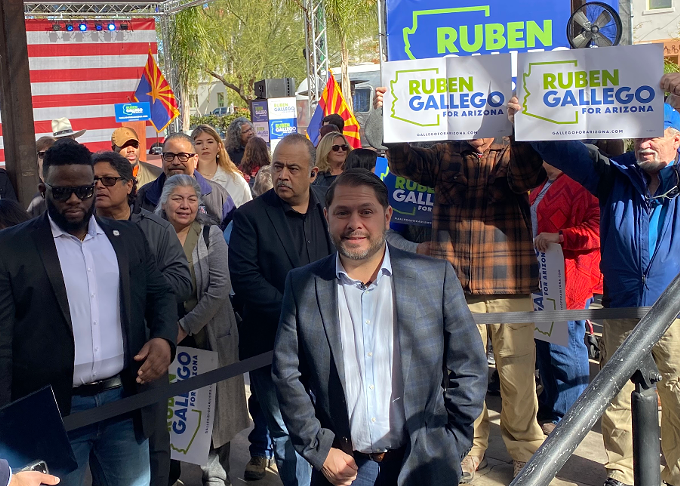 Rep. Ruben Gallego kicked off his campaign for senate with a launch event at Hotel Congress, gathering support for his race against incumbent Sen. Kyrsten Sinema.
Amid controversy over her party switch from Democrat to independent, Gallego's campaign took aim at her "lack of consistency" with everyday Arizonans.
"The problem with Kyrsten Sinema is not that she left the Democratic party. It's that she abandoned Arizona altogether," Gallego said.
"She broke her promise to the people of Arizona. She broke her bond with us."
On Jan. 28, Tucson supporters gathered to hear his plan to bring what friend and fellow Marine Corps veteran John Bailon called, "trust and ferocity to the position." The Democratic representative said he was using both in his roles as state legislator and congressman, and potentially, as the chosen senator in next year's election.
A line of speakers introduced the candidate, including State Rep. and the Rev. Stephanie Stahl-Hamilton and Rep. Raúl Grijalva.
"Much will be said on this campaign about where you end up on the spectrum of political thought," Grijalva said. "This isn't about tacking in different directions. This is about consistency.
After a final note from Bailon, Gallego discussed his upbringing as the son of a single, immigrant mother. He detailed his time at Harvard University and with the Marines, polishing it off with his work and accomplishments on the House floor. Gallego also touched on the recent tragedy of Tyre Nichols and demanded justice against police brutality across the nation.
Additionally, the representative addressed his position on the Democratic party's dilemma with Sinema. Gallego was a supporter of the incumbent senator, lobbying door to door in Phoenix for her campaign in 2018.
With election year around the corner, Gallego said he will unveil the faults in Sinema's time as an Arizona senator.
"The rich and the powerful do not need any more advocates in Washington, D.C.," Gallego said. "If you're spending more time meeting with the powerful than the powerless, you're doing this job incorrectly."
Sinema changed her affiliation from Democrat to independent last year, although she is still considered in the party's 51-seat majority. Democrats were also frustrated with Sinema's rejection of key issues in their agenda, although she made headway with legislation such as the bipartisan Respect for Marriage Act.
Gallego commented on Sinema's recent actions or lack thereof that have contributed to her low approval rating. The senator voted down the $15 minimum wage, protected tax loopholes that benefit the rich and supported the efforts of big pharmaceutical companies.
But the worst of her errors, Gallego said, is her disconnect with Arizonans.
"We don't know what she's thinking. We don't know her motivations," Gallego said. "She won't talk to Arizonans. She hasn't held one town hall in three years."
Comparatively, Gallego has worked in Arizona legislation for almost 13 years. He started as a member of Arizona's House of Representatives in 2010 and became the assistant minority leader. Gallego was then elected as a Democrat representative in Congress and has held the position since 2015.
In his seat, he's worked with committees like the House Natural Resources Committee and House Committee on Veterans Affairs to consistently further the Democratic party's agenda. Gallego highlighted one of his major victories of securing in-state tuition for Arizona veterans.
Gallego has also worked as a vice chair of the LGBT Caucus and a former chairman of the Subcommittee of Indigenous peoples, citing full support for the minorities of Arizona and the United States.
"When I was growing up, as bad as things were, I always felt like I had opportunity," Gallego said. "Now, people feel like the American dream is slipping away from them. People aren't working to get ahead—they're working just to survive."
Gallego is the only politician thus far to announce his race, and even the Republican party has yet to present a candidate for the Senate.