Sounds echo much more when the shelves are empty. And for a place like Tucson's final Kmart, only days from closing for good, echoes are abundant. Not only the echoes of noise, but of the past as well: An old software logo bounces around on a disabled help kiosk, the in-store Little Caesar's sits empty, rows of ancient litter line the former aisles where shelves used to stand.
The Kmart, located at 7055 E. Broadway Blvd., is one of 80 Sears-owned stores marked for closure in late December 2018. The retailer owned around 700 stores when it filed for bankruptcy in October 2018, and announced it would close more than 100 of its less profitable locations. These were followed by another 40 on the chopping block in November, and finally the additional 80 in December.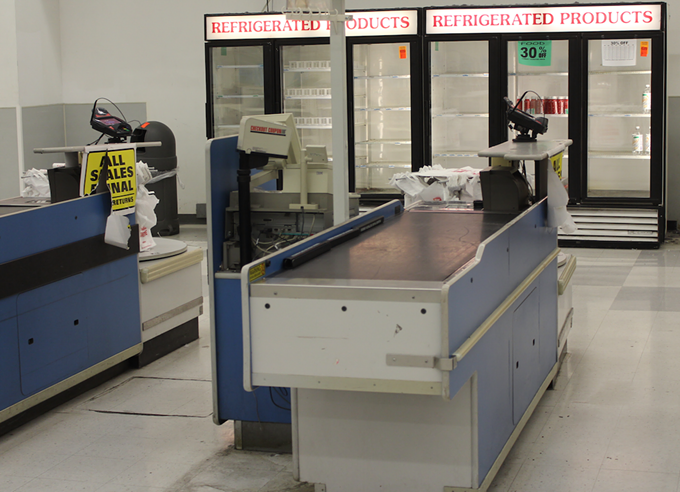 With the announcement, some employees immediately sought work elsewhere, and many of the store's roles were relegated to seasonal workers hired over the holidays. The front windows advertised "Earn Quick Cash" with "40+ Hours a Week Available." The majority of the remaining work, besides trying to sell the lingering inventory at up to 70 percent off, is to break down the shelving units and fixtures, and then try to sell those, too.
The remaining employees are hesitant to discuss the last days; the managers declined to comment, and the workers won't give their last names. But the employees who did speak described the store's final weeks as a peculiar combination of gloomy and touching.
"A lot of people are really sad to see this place go," Kmart associate Shane says. "A lot of people are blaming Amazon, but I don't think it's their fault. It's natural, we'll always progress into something different—things change."
Forgotten hits from the '90s, like Alice Deejay's "Better Off Alone," crackle over the loudspeakers which probably haven't been updated since the songs they're droning were first released. The lo-fi reverberations make a kind of incidental vaporwave. With the last employees busy tearing the store apart, hidden corners go even less noticed than before: A half-eaten pizza crust sits on an empty shelf, a children's toy fires off whirrs and flashes to no one, dust settles.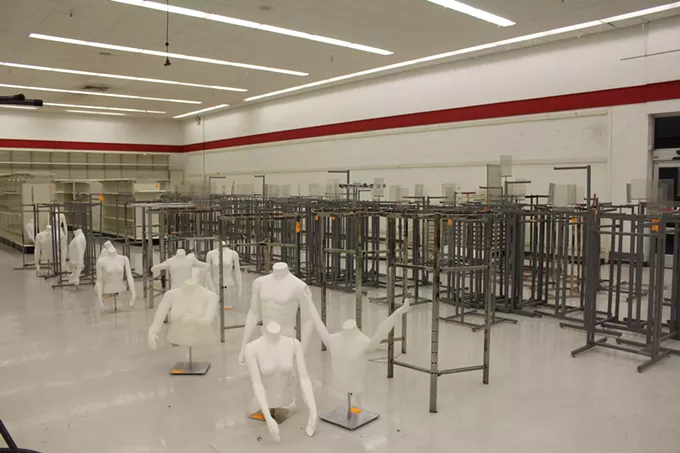 "It's mostly empty, but chaotic on the weekends," says Kmart associate Aliveanna, who was hired as a seasonal employee, but is staying through the end of the store closing. "It's kind of sad, because Kmart has been around for so long. People are saying 'Oh, I used to come here when I was a kid' ... Actually, I used to shop here when I was a kid, too."
For the Kmart brand, this closure has been a long time coming. For many years, Kmart stores were the country's second largest retailer, after Sears. But in 1990, Walmart passed Kmart to be America's second largest retailer, and in 1992, Kmart's sales peaked. With Walmart offering slightly lower costs, and Target offering slightly better products at a higher price, Kmart's sales tore in half. Kmart went from nearly 1,400 stores in 2006 to half that number in a decade.
This, combined with the financially unsuccessful acquisitions of Borders and other retailers, prevented Kmart from updating many of its facilities, resulting in the somewhat decrepit buildings we see today.
The remaining inventory is pushed toward the front of the store, and empty shelving units are broken down. When a section of the building is emptied, it is roped or fenced off, and sometimes no longer lit, resulting in an ever-encroaching void on the store's periphery.
"A lot of people have been coming in and sharing stories, some even crying," says Kmart associate Donna, who's worked at the Customer Service desk for five years. "They've been coming here for years and got to know the employees."
Donna says when the closure was first announced, the store saw an influx of visitors. She said the numbers were like on Christmas, and that people have even come up from Sierra Vista, just to pay the store one last visit. After the closure, the nearest Kmart to Tucson is in Lake Havasu City.
"I've gotten to know our regular customers, and some of the employees are like family," Donna says. "It's sad because they're used to seeing me, and I don't know if I'll ever see them again."
The employees say while some of the recent visitors are purchasing the dwindling inventory, many more are simply there for the nostalgia, wandering through the surreal landscape of empty aisles on listless weekday nights. It is not uncommon to see folks quietly strolling, peeking their heads into the absences where bathmats and candles used to be until so recently, all for that low Kmart price.
"We're mainly taking down the shelves, now," Aliveanna says. "We don't really deal with customers. They don't even ask questions anymore."
The remaining products, all absurdly marked down in hopes of swaying the wandering eye, are a strange mish-mash of everything Kmart has ever sold: Mexican flags, shampoo, funnels, underwear, Christmas decorations and more.
"Some people come in and are offering employment at other establishments," Donna says. "All-in-all, people have been really kind."
Beyond the shelves and mannequins, the dollies, forklifts and even the industrial-strength cardboard compactor in the back of the store now bear price tags. Everything is for sale, and all sales are final.
While always planned to close in March, the final day was "fluid" and depended on the rate customers bought the final inventory and fixtures.
"At one point, the date was set for March 24," Donna says. "But things sold better, so they moved it sooner, to March 3. I guess we did a great job."