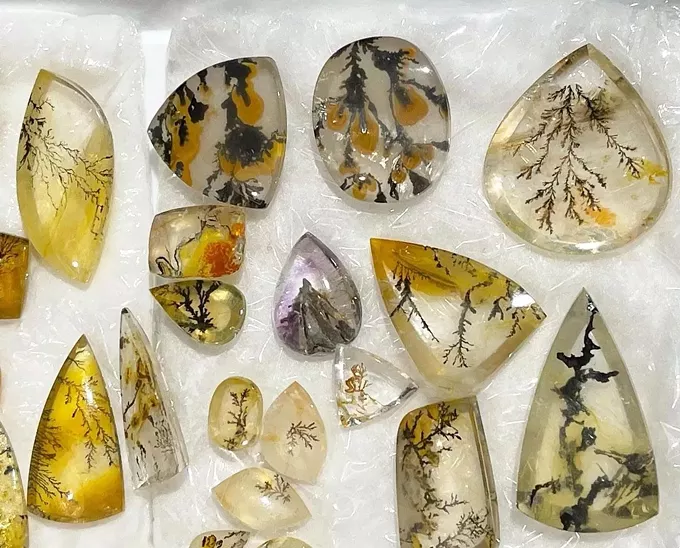 The hospitable Carmine Allocca enjoys sharing the stories behind his stones.
"Every stone is not just a stone," Allocca said. "It's the story behind it. I like the idea of the stone moving and connecting people. A stone comes with a whole set of stories, and I would say about my booth, it's not just business to business only. It's that (with) every lot I have the full information, and when someone gets a piece of that stone, they become part of the story."
Hailing from Italy, he offers coffee or a sip of wine to accompany the stacked, divided boxes crowding his tables. Shoppers can peruse his wares at Gems in Gems, held in a small white tent behind Ramada by Wyndham Tucson.
He sells inclusions, stones that as they were forming trapped matter inside them. The stone might have formed around stone fragments, gasses, water or petroleum. Whatever is inside the host stone, it makes for an interesting — if not stunning — sight.
"There is going to be a pretty amazing pink fire quartz," Allocca said. "It's a special quartz. The mine was discovered 10 years ago, and it became really, really famous…This mine is not producing anymore, but this old owner died, and we were able to get the last stock that was left, so it's probably going to be the best and last pink fire on the market."
Allocca's collection boasts Winsa sapphire from Tanzania.
"Normally, if you take this sapphire, you have a look at it, it looks like black or really dark blue so you cannot see through the crystal," Allocca said.
If it is sliced, there's a different structure inside of it that emanates red and blue.
Gems in Gems
WHEN: 9 a.m. to 5 p.m. Saturday, Jan. 28, to Sunday, Feb. 12
WHERE: Booth C-30, behind the Ramada by Wyndham, 777 W. Cushing Street
COST: Free