Whether you've morphed into one of those curmudgeonly folks rabble rousing over all of the darn kids in town, longboarding while under the influence of cell phone and crowding up your weekend watering holes, the fact of the matter is school is back in session. It might be easy to try to look down on these kids, but something pretty exciting is happening for a good portion of them right now.
Sure, college in itself is an invaluable, if not obscenely expensive, endeavor, but it's those first initial breaks out of the parental cocoon that expose us to a world of possibilities. Of course, I'm talking about food here. After all, it wasn't until college that I learned how to eat pho, how to cook vegan for 13 friends and that Latin American cuisines existed far beyond the scope of Taco Bell and Chipotle. For a college student, "ethnic" food serves as a study abroad program on the cheap, offering glimpses into new worlds and hopefully, if the old adage is true, allowing for some sort of affection for other cultures through their own stomachs.
That's why I really love places like Kababeque. The interior may be considerably more modern, clean and welcoming (despite having set fire last year) than the lovable dives I frequented in my school days, but the important thing here is what's being served. On the outside Kababeque admittedly looks like another corny chain, sandwiched between others along University Boulevard just east of Euclid Avenue. Inside, loud Bollywood music accompanied by video plays in the small, bright restaurant, outfitted with digital signage and a white and lime motif. The smell of the place is instantly alluring—a good sign for any restaurant.
Students and workers crowd in on weekdays around lunchtime, but there's really never much of a wait. Speedy, helpful service keeps the front of house running smoothly and orders make it out of the kitchen about five to ten minutes—just make sure to actually stay inside the building because they call out orders. All dishes are served in paper or Styrofoam take out containers for convenience, it seems, on either end, as the diners rarely finish full curry dishes and the staff is small. Kababeque also offers a takeout and delivery for folks who need their curry on the go.
Starting out, you can opt for items off the chef's specials or the sides section, where you'll find different spiced daal (lentil) or chana (garbanzo) dishes. Sides include several different naan options, veggie pakura ($3.99) and a pair of veggie samosas ($3.50). As far as the flatbread naan is concerned, plain, garlic, potato, cheese, jalapeno and even naan stuffed with bright red chicken tikka are all good pairings with main courses for $2.25 to $4.95, depending on which you order.
If you're looking for samosas, the samosa chaat ($6.50) under the chef's specials combines the crispy samosas with a spicy warm chana chaat topping. You'll also find the matar paneer ($8.50) on the chef's specials, which offers firm, homemade cheese and peas in a brightly spiced sauce.
The restaurant's namesake—kababs—are available in veggie shami, chicken tikka, marinated lamb, hariyali-style chicken and more. Indecisive diners will be happy to know you can also just get a sampler plate ($10.99) of the three aforementioned meats. The clear favorite was the lamb kabab here, as the chicken options were a bit too dry.
A sizable portion of the menu also offers a sort of build your own entree option with your choice of sauce and chicken ($8.50), veggie ($8.25), paneer ($8.50), shrimp ($9.50), lamb ($9.50) or goat ($10.99). To me, goat is a super underutilized protein, so I was glad to see its inclusion on the menu rather than beef. However, at Kababeque the goat is served with a warning—it is bone-in. While that's typically a selling point for me, here, it means your entree of choice will come with about 75 percent bone and 25 percent meat, so it may be best to stick to lamb.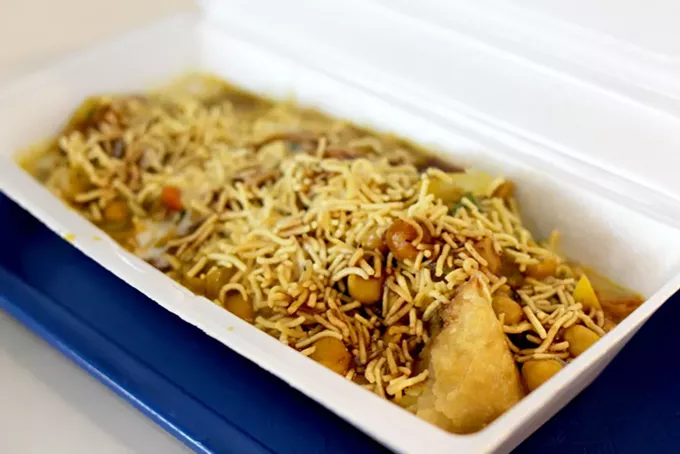 Of the sauces and curries that accompany your chosen meat, the aromatic makhani utilizes spices like cumin, fennel seed, cinnamon and more in a rich butter sauce. While my go-to for Indian cuisine is the spicy chile and vinegar based vindaloo, Kababeque's take was a bit watery and underwhelming. While it had the heat figured out, the dish unfortunately sang just that single spicy note.
As a whole, it seemed that some dishes shone with interesting, multi-dimensional flavors, while others were more bland takes on their namesake. While that might seem like a bit of a minefield to navigate, when Kababeque hits, it's worth the misses.
Back to my original point, though, $8 or $11 is a lot of a debt-ridden student to spend on a quick lunch, which is why it's great the spot also offers "Q-Rolls." Like an Indian-style pita wrap, you have your choice of chicken tikka, lamb, chicken curry, aloo and more all wrapped up and portable (kids like that, right?) for $4.75 for a single or $6.99 for a double in most cases.
While Kababeque may not be drawing any longtime, obsessed customers away from the well-loved Sher-E-Punjab off of Grant Road, consider that this spot is fighting the good fight: offering the diners of tomorrow a glimpse into something other than dining halls and food courts.