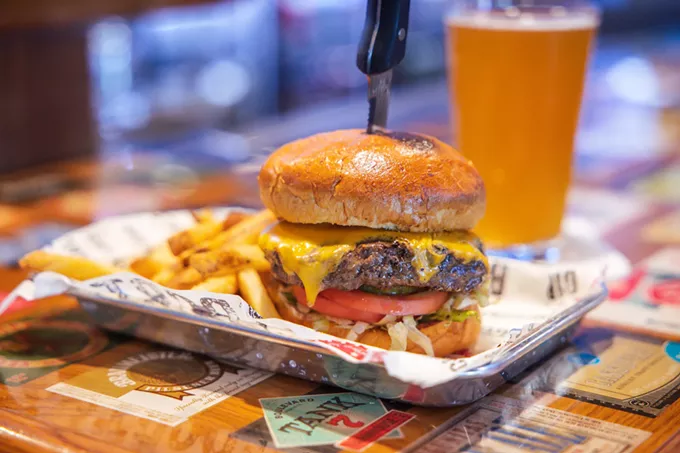 Oro Valley has embraced Cold Beers & Cheeseburgers since it opened, and now the Valley-based sports bar is hoping to give back to the community.
"It's been great," said Rick Cano, general manager.
"This community has embraced us since we opened. We have been very busy since we opened, and our goal is to continue to get involved here, too. We have a few ideas for that, like advertising with Little Leagues within the area, too."
The restaurant — at 7315 N. Oracle Road, Suite 141 — opened just in time for football to completely take over Saturdays and Sundays in the fall.
The restaurant has witnessed expansion during the past year. It started with the Chase Field location last September, followed by Maricopa this year.
A UA alumnus, Cano said he considers himself the perfect fit to be the Oro Valley manager. Formerly employed at the Maricopa store, Cano commuted there from the Tucson area.
"This worked out and was much easier for me," Cano said.
The restaurant's bread and butter is its burgers, and there are plenty of options to choose from. The menu ranges from the simple, the all-American and the Jucy Lucy (a cheddar jack-stuffed patty) to the bacon PB&J burger and the "mmmac & cheeseburger."
The restaurant offers nachos, which are piled on with beans and jalapenos. Chicken and chili can be added.
In addition to the burgers are the Nashville hot chicken sandwich and the Phoenix Philly, which can be prepared with prime rib or chicken. Lighter fare like Caesar, Asian chicken and Cobb salads can be prepared.
Its grilled drumettes put a new spin on wings. To complement the meals, guests can enjoy many of the 150 beers.
The Oro Valley location has a 3,000-square-foot misted patio with yard games, such as foosball, cornhole, giant Jenga and Connect 4.
"That's really been a difference-maker, and it helped fill a need for a family-friendly sports bar in the area," Cano said.
"That's a huge appeal for families and kids. The patio will get packed when we get busy."
Weekly specials are aplenty. Mac Daddy Mondays see the "mmmac and cheese bowls" for $16.50, with free toppings.
Tuesdays mean Cantastic Tuesday, when all cans of beer are $4, and all bottles of wine are half off. Kids 12 and younger eat free all day, and trivia competitions are hosted on Tuesdays, too.
Wednesdays are Pimp Your Burger, when burgers are $16.50 with free toppings.
Every day, guests can also get beer buckets with the option of "buy six, Save $6" or "buy 12, Save $12." Customers can mix and match from a selection of 100 canned and bottled beers.
Happy hour is 3 to 6 p.m. Monday to Friday. Other specials are offered during football games and other sporting events.
"It took over two years to get this location open and set up, and now it's great to see what it can be," Cano said.
"The Tucson community is great, and when it's game day for the University of Arizona, the crowds really show up here to watch the games and show their support."
Cold Beers & Cheeseburgers
7315 N. Oracle Road, Suite 141, Oro Valley
www.coldbeers.com
11 a.m. to 10 p.m. Monday to Thursday
11 a.m. to 11 p.m. Friday
Various hours Saturday and Sunday