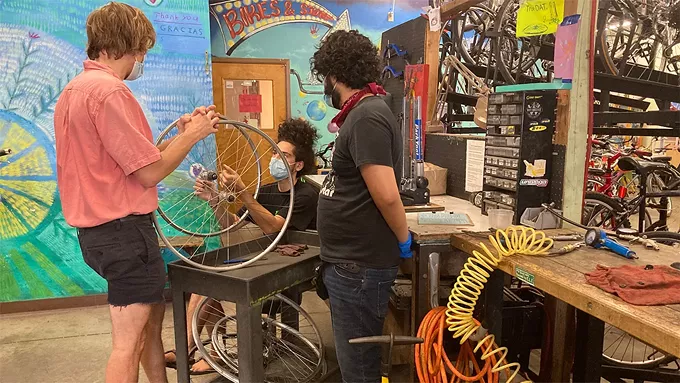 'THE LORD OF THE RINGS:
RETURN OF THE KING'
SEPT. 28
Casa Video staff manifests its impeccable taste in old movies nightly at its film bar, always with a tasty food truck serving as a refreshment stand. This Thursday's screening is the 2003 "Return of the King," the last of the "Lord of the Rings" trilogy. Grossing more than $1.1 billion worldwide, it was the highest-grossing film of 2003 and the second-highest-grossing film of all time. Casa Video will be screening the extended version. Check back every Tuesday for "Speedquizzing Trivia."
Casa Video, 2905 E. Speedway Boulevard, Tucson, free, 7 p.m.,
casafilmbar.com
CENTURY ROOM:
AARON GOLDBERG TRIO
SEPT. 29
Aaron Goldberg's fluid improvisation has made him a favorite collaborator of Wynton Marsalis and Joshua Redman, among others. He moved to NYC at age 17 to attend The New School for Jazz and Contemporary Music, but his destiny was set when Betty Carter tapped him at 18 to be a founding member of her Jazz Ahead residency program. Dozens of enviably distinguished awards and collaborations have followed.
Century Room, Hotel Congress, 311 E. Congress Street, Tucson, $20, 7 p.m., dice.fm
PRIDE PARADE
SEPT. 29
When the rodeo comes to town, Tucson takes legitimate pride in having the longest nonmechanized parade in the world. But there is no prouder, more colorful, happier parade in town than our annual Pride Parade, sponsored by the Southern Arizona AIDS Foundation. It's a celebration of love and the longtime importance of the gay community to Tucson's culture. This year's grand marshal is Lavina Tomer. Join anywhere along the route.
220 S. Fifth Avenue to Armory Park, 221 S. Sixth Avenue, Tucson, free, 7:30 to 8:30 p.m., saaf.org
'BAREFOOT IN THE PARK'
THROUGH OCT. 12
Rose-colored glasses turn crystal clear as newlyweds grapple with the realities of life in a Manhattan "fixer-upper," with an eccentric neighbor watching and a neurotic mother-in-law meddling. Is the thrill gone? The world first swooned over this Neil Simon play in 1963, when Robert Redford played opposite Elizabeth Ashley. It resonates through the generations with all its original charm.
Temple of Music and Art, 330 S. Scott Avenue, Tucson, tickets start at $25, various days and times, atc.org
TUCSON HUMANITIES FESTIVAL
OCT. 3
The UA Department of Humanities kicks off its annual series of events celebrating National Arts and Humanities Month with a film screening and discussion of "In the Mood for Love" at The Loft Cinema. Other programs elsewhere in the series include Tim Gunn presents "The Poetry of Fashion" on Oct. 11; "Hip Hop at 50: Global Culture, Global Voices" and "My Life in the Sunshine: Intersections of Family, Music & Race" on Oct. 17; and "Desert Symphony: Mobilizing Creativity and Stories for Social Change" on Oct. 24.
The Loft Cinema, 3233 E. Speedway Boulevard, Tucson, free, 7 p.m., humanitiesfestival.arizona.edu. See the website for times, prices and locations of other events in the series.
ARIZONA ARTISTS EXHIBITION:
DÍA DE LOS MUERTOS
THROUGH NOV. 5
To think of death in a celebratory context is a leap of faith or maybe even beyond faith. Certainly, it's beyond grief. El Dia de los Muertos celebrates lives past as they survive in the memories of the living, in the most joyful, brightest, most colorful and sometimes the silliest ways. A single day is never enough to hold it all. This exhibition shows artists' interpretations of the celebration's meaning in a range of media.
Tohono Chul, 7366 N. Paseo Del Norte, Tucson, $15 includes gardens, 7 a.m. to 5 p.m. daily, tohonochul.org
THE FRENCH CONNECTION
AND TUCSON FRIENDS: MASTERCLASS FINALE CONCERT
OCT. 3
Almost 30 years ago now, a musician exchange began between Tucson and Nantes, France. Musicians have since made lifelong friends, produced each other's music, traded culture-specific licks and often mind-melded over jazz, as well as rock riffs. A reunion of sorts takes place this weekend, culminating in a show featuring 12 of the project's finest musicians. Come practice your romance language of choice and listen to what all this cooperative learning has wrought in its unique musical geography. Performers include: Arthur Vint, John Contreras, Billy Sedlmayr, Tom Walbank and Vicki Brown, with all 12 of the French Masterclass musicians + DJ The French Tourist.
Hotel Congress Plaza Stage, 311 E. Congress Street, Tucson, $12 advance, $14 door, 7:30 p.m., dice.com
BICAS Art Mart at Dark
SEPT. 29 - It'll be a full moon on the evening when BICAS (Bicycle Inter-Community Art & Salvage) celebrates its "birthday" with an evening bike ride, barbecue, an art market and free activities for kids and families. The organization supports salvaging, repairing and maintaining bikes for people who might not otherwise have them. BICAS also encourages upcycling bicycle parts into art, and, along with jewelry, pottery, prints and other art, it's likely bike-based sculptures will be available at the art market. Attendees are encouraged to bring materials, bike art and donations to support BICAS programs.
BICAS Yard, 2001 N. Seventh Avenue, Tucson, free, 6 to 9 p.m., bicas.org
MASTER GARDENER
DEMONSTRATION GARDEN TOUR
SEPT. 30 - The Pima County Extension Master Gardener Program offers free tours of its 14 demonstration gardens, featuring native, non-native, and drought-tolerant plants. The gardens illustrate planting, irrigation and composting techniques that support desert landscapes. The tour is 90 minutes, all outdoors, so organizers recommend bringing a hat, sunscreen and a water bottle.
Pima County Extension Service, Master Gardens, 4210 N. Campbell Avenue, Tucson, free, 8 a.m. extension.arizona.edu
SCULPTURE IN THE PARK: JOSE SACAL
TO DEC. 31 - Born in Cuernavaca, Mexico, Jose Sacal learned painting and sculpture at the National Institute of Fine Arts there. Later, he studied medicine and traveled the world, living in marginal communities. As a Jewish American, he created works that radically amalgamate the spirit of historic figures with a geometric expression of their times.
Sculpture Tucson Headquarters, The Post House, Brandi Fenton Memorial Park, 3420 E. River Road, free, 10 a.m. to 2 p.m. Tuesday to Saturday, sculpturetucson.org