Art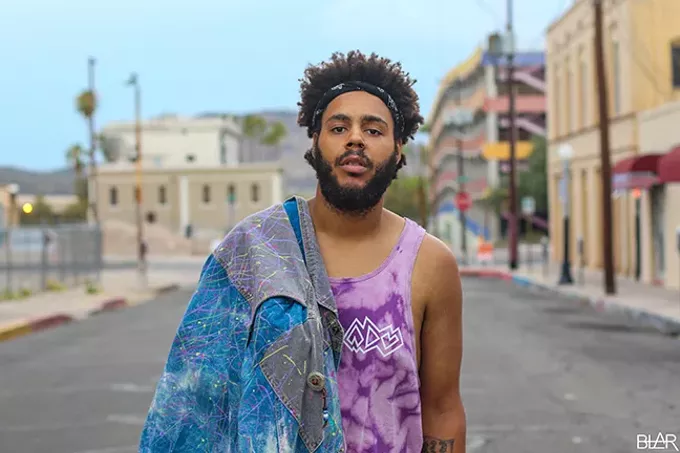 Black Renaissance.
Local musician seanloui put together this recurring event throughout the month of May to celebrate and shine a light on black creativity in Tucson! Many of us don't realize the influence black artists have on mainstream culture, and this is an opportunity for all of us to explore, learn and appreciate. Each week is centered around a different artistic theme, and this week is hip hop! The night features artists Jaca Zulu, Cash Lansky, Chakara Blu and Kazier. The audience features you! 8 to 10 p.m. Saturday, May 4. Hotel McCoy, 720 W. Silverlake Road.
Need2Nourish. Thinking about hunger in your local community is no fun. Sometimes it's so not fun that it can leave you feeling paralyzed by the possibility of trying to do anything about it. This event to support the Community Food Bank is your solution. It's an evening of interactive art, entertainment and food trucks coming together to foster an open dialogue about hunger in the community AND to support local artists. They created art with the theme "what is hunger" or "what is nourishment?" to get the conversation started. 6 to 9 p.m. Saturday, May 4. Steinfeld Warehouse Community Arts Center, 101 W. Sixth St.
PCC Digital Arts Media Fusion. There's a demand for creativity in every field, but in this community, there's an especial demand for creative workers to work in the areas of game design, animation, film and web design. Our local community college is determined to train people in just these areas, and this is your chance to see how some of their efforts are going. A main show will feature highlights in game design, animation and film, and a 6 p.m. preshow event will get the audience involved in interactive gaming and give them the chance to see some work not in the main show. Four-piece folk-rock band Smallvox, featuring faculty member Greg Loumeau, will play onstage before and after the event. 6 p.m. preshow, 7 p.m. screening. Friday, May 3. PCC Center for the Arts, West Campus, 2202 W. Anklam Road. Free and open to the public.
Evolution of a Modelmaker: John A. Ackerman's Fire Apparatus and Fire Stations. John A. Ackerman made his first miniature fire department using toy trucks and lead soldiers (which he painted to look like firefighters) when he was just a kid in the 1950s. Now, he's a noted modelmaker of tiny fire trucks and stations produced carefully to scale, who has displayed his work in several private fire museums. The former volunteer firefighter is also retired from his publishing career over in Green Valley, but he's still hard at work on his fun-sized firetrucks. Come see his work at the Mini Time Museum of Miniatures, on display through Aug. 18. Hours are 9 a.m. to 4 p.m. Tuesday through Saturday and noon to 4 p.m. on Sundays. Mini Time Machine Museum, 4455 E. Camp Lowell Drive. $10.50 GA, $8.50 senior/military, $7 youth ages 4-17 and free for kids 3 and under.
Gatos & Galleries.
Wow, need we even say more about this event than that involves cats and art? The Wilde Meyer Gallery and Jane Hamilton Fine Art will be hosting an evening of art, raffles, refreshments and—best of all—adoptable kitties! Second best of all? A cat mask contest, which makes this one of the few places where you can wear a cat mask and not only be accepted, but win a prize! The event benefits the Hermitage No-Kill Cat Shelter, and it benefits you too, because you get to hang out with cats surrounded by works of art. 1 to 4 p.m. Saturday, May 4. Wilde Meyer Gallery, 2890 E. Skyline Drive.
Get Moving!
Wake Up Your Weekend With Sunrise Pilates. Waking up early to do yoga is exactly the type of thing a lot of people like to think they will someday do, but don't get around to actually doing. Why not make this Saturday the day you actually do it? In honor of World Pilates Day, Body Works Pilates is hosting a 7 a.m. Pilates class in the courtyard at St. Philip's Plaza, followed by equipment demonstrations from 8 to 10 a.m. World Pilates Day is going to be your day! And then you'll feel energized and ready to go full speed ahead on the weekend. 7 a.m. Saturday, May 4. St. Philip's Plaza Courtyard, 1980 E. River Road.
Dr. Gann's Diet of Hope Cinco de Mayo 10K, 5K & FitKidz Mile. If you're going to do a 5K, you might as well do one that's been going on annually for 39 years, and which winds its way through the gorgeous area around Starr Pass. AND you might as well do it on Cinco de Mayo, so that you can enjoy a performance by the Cholla High School mariachi band afterward. There will be a jumping castle, piñatas and a water-balloon toss, among other activities, for the kids. And there will be post-race eegees and breakfast burritos from El Saguarito Mexican Food! 6:30 a.m. Sunday, May 5. Cholla High School, 2001 W. Starr Pass Blvd. $40, or $35 for Southern Arizona Roadrunners members (unless registering at packet pickup or day-of—then it's $40 for everyone).
Music & Theater
A Sea Symphony. Do you ever think about how common it s for writers and other artists to compare the journey of life to a journey at sea? It's a good metaphor: There are calm waters and stormy waters, and there's so much that's out of your control. But there is endless potential for adventure and beauty. Ralph Vaughan Williams' work, using text from Walt Whitman, is yet another example of a piece of art designed to recreate both the turbulence and tranquility of an ocean voyage. And the Tucson Masterworks Chorale, now in its 70th season, is sure to perform it beautifully. 3 p.m. Sunday, May 5. Grace St. Paul's Episcopal Church, 2331 E. Adams St. $18 in advance or $20 at the door.
Sounds of Spring. Have you heard of the Tucson Girls Chorus? Founded in 1985, the program works with girls in kindergarten through high school to make seriously beautiful music (go to their website, tucsongirlschorus.org to hear a sample of their advanced choir singing). The different levels will be performing as individual choirs and also as one big, soaring voice. Why miss a chance to hear some beautiful music and to support more than 200 young women and girls who represent our future? 3:30 p.m. Sunday, May 5. Fox Tucson Theatre, 17 W. Congress St. $15 to $18.
Tucson Boys' Chorus Pops Concert. 'Tis the season for the angelic voices of singing children, apparently! The Tucson Boys' Chorus was started about 80 years ago, when tenor Eduardo Caso came to Arizona to recover from his tuberculosis, and established the nonprofit educational organization. So, to open the show, they'll be singing the lively "80 Years of Song." All eight groups within the chorus, made up of boys and men ages 6 to 21, will be performing. And, since it's May 4, the Young Men's Ensemble will do a John Williams medley, including the Star Wars theme. Closing out the night is chorus members and alumni singing, "Tucson–Arizona's Favorite Child." 3 and 7:30 p.m. Saturday, May 4. Catalina Foothills High School Auditorium. $15 to $20, or $8 for kids under 12.
Mariachi Women's Festival. Hooray for strong and successful women! Especially those who have fought for more than a century to make their way in a male-dominated field. This could apply to all sorts of fields, but this week, it's about women mariachi performers. Come see stunning talent like two-time Grammy Award-winning Mariachi Divas (in from LA), Mariachi Rubor (in from Phoenix) and Tucson's very own Monica Trevino kick some ass and pluck some strings at this concert and celebration. 7:30 p.m. Saturday, May 4. Tucson Convention Center, 260 S. Church Ave. $30 to $75.
Pops in the Park. This annual event by the Civic Orchestra of Tucson features both popular music and classical music under the stars at Reid Park. On the program this year are pieces from Pirates of the Caribbean and Fiddler on the Roof, as well as Eric Coates' London Suite, Mikhail Glinka's Ruslan and Lyudmila Overture and Johannes Hanssen's Valdres March. Jacqueline Rodenbeck, winner of the junior strings division of the 2019 Young Artists' Competition, is the featured soloist, playing the first movement of Mendelssohn's Violin Concerto in E minor. 7 p.m. Sunday, May 5. DeMeester Outdoor Performance Center, 1030 S. Randolph Way. Free.
Sit Back & Spectate
Tucson Sugar Skulls vs. San Diego Strike Force. Tucson's favorite indoor football league is continuing their season with a San Diego team that's also relatively new. The Sugar Skulls had their first home game loss back in April, so you'd better believe they're not going to want it to happen again. So head on down to the Tucson Arena to watch the team get their sugary heads in the game for a taste of sweet, sweet victory. 6 p.m. Saturday, May 4. Tucson Arena, 260 S. Church Ave. $17 to $99.
May the Fourth Be With You. You know the twin suns on Luke Skywalker's home planet Tatooine? And the frozen snowfields on Hoth where the Rebel Alliance built their secret base? These planets beyond our solar system were imagined in the Star Wars Universe, but years after the original films came out, astronomers discovered exoplanets—planets orbiting other stars beyond our solar system, with properties similar to Tatooine and Hoth. Learn all about them in this show at Flaundrau, "Life Beyond Earth: The Search for Undiscovered World." Plus, check out special guided activities like building a glowstick light saber or a spaceship, and be sure to dress up as your favorite Star Wars character to be entered in a drawing for a family membership to Flandrau. 10 a.m. to 10 p.m., with special activities 1 to 4 p.m. Saturday, May 4. Flandrau Science Center & Planetarium, 1601 E. University Blvd. $4 exhibit admission and $4 for planetarium shows.

The Me Inside of Me. Every year, the Invisible Theatre's Pastime Players, an award-winning arts education program for mentally and physically challenged students, put on an original musical based on a year's worth of instruction in music, drama and dance. Some components are the same each year, but the flexible framework allows individuals to shine in their own way. This year's production, for example, features Shakespeare, an original rap, something called "The Pizza Song," and excerpts from Annie. Come support—and see in action—the idea that when people come together, they really can make a difference. 7 p.m. Wednesday, May 8. Doolen Middle School, 2400 N. Country Club Road. Free.

Kentucky Derby Party at Rillito. Put on your biggest, fanciest hat and grab yourself a mint julep, because the Kentucky Derby is here! Can't make it over to Kentucky? Rillito Race Track is bringing the festivities to you. They've got a southern style buffet, a hat contest (with categories for best western hat, best outrageous hat, best traditional hat and best kids hat) and a necktie contest (with categories for best Western/horse tie, best vintage/historic tie and best flamboyant tie. The post time for "Run for the Roses" is 3:40 p.m. 8 a.m. to 6 p.m. Saturday, May 4. Rillito Park Race Track, 4502 N. First Ave. Free and open to the public, or $50 to reserve a table in advance.
Odyssey Storytelling Presents: Heroes and Villains. Everyone loves a good hero and villain story—especially when the identities of the two are so obvious, like in Moses and the Pharaoh, or with SpongeBob and Plankton. But in real life, things are a little fuzzier: Sometimes you're the hero, but sometimes you're the villain. And sometimes, you feel like siding with the villain. Hear local storytellers telling you their hero and villain tales at this event! 7 to 10 p.m. Thursday, May 2. The Sea of Glass Center for the Arts, 330 E. Seventh St. $10 adults, $7 students.
Fun in General
FREE Family Friendly Cinco de Mayo Celebration. It's not hard to find a Cinco de Mayo celebration in Tucson. But a family-friendly one is a little bit of a specific ask. Tohono Chul has got you covered with this event, part of the Agave Heritage Festival. Check out the mariachi band performances, games for kids and a pop-up farmers market featuring food and art from vendors who are as local as they are lovely. And don't worry—there will still be agave spirit tastings. 10 a.m. to 2 p.m. Sunday, May 5. Tohono Chul, 7366 N. Paseo Del Norte. Free.
Ina Road Celebration Weekend. There are some axioms on which our understanding of the world is based: The sky is blue. A negative number times a negative number equals a positive number. A rolling stone gathers no moss. Until now, it felt like the phrase "Ina Road is closed" was an unchanging fact of life—almost comforting. This weekend, prepare to have your worldview shattered into a million beautiful pieces as we celebrate the reopening of the Ina Road Interchange and the Ina Road Beautification Project. A cake-cutting ceremony kicks things off at 9 a.m., followed by a weekend-long business block party full of celebrations and sales. 9 a.m. Saturday, May 4, through 5 p.m. Sunday, May 5. Cake cutting is at Lowe's Home Improvement, 4075 W. Ina Road.
Free Comic Book Day! Quick! Head over to Heroes and Villains Comic Book Store, because they're literally giving away more than 10,000 free comics! 10,000! Superhero, manga, action, comedy, adventure, you name it. They'll also have preview books for the summer's blockbuster event books from Marvel and DC, costumed characters and special figures available only that day. AND if you take a photo of yourself waiting in line before they open and post it to their Facebook wall, you'll be entered for a chance to win free comics for a YEAR. 11 a.m. to 7 p.m. Saturday, May 4. Heroes and Villains Comic Book Store, 4533 E. Broadway Blvd.
Stepping Stone Paver Workshop. You ever just get the urge to make your garden more welcoming to any potential fairies that might be considering settling there? If you don't, maybe you should! Green Things has got you covered with this workshop on how to make lovely, colorful stepping stone pavers that will add some oomph to your outside. The fee is $25 for one stepping stone or $40 for two, and includes all the materials you'll need. Noon to 2 p.m. Sunday, May 5. Green Things, 3384 E. River Road.