Art & Art-Making

Fiesta Sonora Show. Did you know there's a Southern Arizona Watercolor Guild? Now that you do, can you think of anything lovelier? If you've tried watercolor, you know how difficult and unforgiving it can be, but if you're good at it, or you know someone who is, you know how stunning the results are when it goes well. Come check out some depictions of the Sonoran Desert, and soak up the beauty just like a paper soaking up watercolor paint. Hours are 11 a.m. to 4 p.m. Tuesdays through Sundays throughout March. A reception is 5 to 7 p.m. on Thursday, March 14. SAWG Gallery, 5420 E. Broadway, #240. Free.
The Art and Life of E.A. Smith. It's easy to love the colors of the desert, but difficult to describe them. It is harder still to capture their beauty in a piece of art. Mrs. E.A. Smith, Arizona's first nationally known impressionist landscape painter, spent more than five and a half decades living in and painting the desert and mountain vistas of Cochise County. This year would have been her 150th birthday, and to celebrate, the Tucson Desert Art Museum is displaying some of her paintings, including many that have not been shown publicly in Tucson since the 1930s. The exhibition, "Effie! Plein Air Pioneer" is on display through April 28, but this Saturday, enjoy a talk by columnist Jan Cleere and EA Smith Archive curator Steve Carlson. 2 p.m. Saturday, March 9. Tucson Desert Art Museum, 7000 E. Tanque Verde Road. Included with admission: $10 adults, $8 seniors, $6 students, $4 youth, free for members.
Make a Soul Box. Gun Violence Prevention Arizona is leading the Soul Box Project, a creative and non-confrontational approach to reducing gun deaths. Attend this event and learn how to make a Soul Box, which will represent and honor people killed by guns in the United States, and join a community of people all over the nation working to do the same thing. The goal is to represent the scale by creating thousands of boxes to represent all the deaths. Instructions and materials will be provided, and once they're made, boxes will be sent off to GVPA's founder in Portland, Oregon. 11 a.m. to 1 p.m. Tuesday, March 12. Creative Tribe Craft Workshop, La Encantada, 2905 E. Skyline Drive. Free.
The All Artists Show. The Madaras Gallery is celebrating 20 years of art and philanthropy this year, which gives you a perfect chance to look back on the art Diana Madaras has created over the years, and to hear from her about her plans for the future. At this show, she'll be unveiling five new Spirit Animal paintings from her 20-piece series, inspired by her passion for helping animals. This also makes for a great opportunity to finally treat yourself to a Madaras original, so you can feel like a true Tucsonan. This show will also feature small works from six guest artists. 11 a.m. to 2 p.m. Sunday, March 10. Madaras Gallery, 3035 N. Swan Road. Free.
Second SundAZe Family Day at TMA. Another second Sunday of the month means another chance to head over to the Tucson Museum of Art for a free admission day! This month, help the museum celebrate its 95th birthday, making it the same age as Marlon Brando would be, if he were still around. Spend the day creating birthday-themed art, and enjoy a workshop in dance, costume-making and theatrical performance from Artifact Dance Project. Head on over to the museum! It's only going to turn 95 once. 10 a.m. to 5 p.m. Sunday, March 10. Tucson Museum of Art and Historic Block, 140 N. Main Ave. Free.
Festivals
Tucson Hip Hop Festival. Did you know the four fundamental pillars of hip hop culture are DJing, MCing, breakdancing (or b-boying) and writing? If you know, you know, and if you didn't, now you do. Everyone involved with the Tucson Hip Hop Festival is passionate about hip hop and about representing and showcasing these four pillars. At this weekend full of movie screenings, panel talks, fundraising, local vendors & food, photography, and beat production, you'll find yourself right at the intersection of learning and partying. And really, what more could you ask for? 6 to 10 p.m. Wednesday, March 6, at La Pilita, 420 S. Main Ave.; 7 to 11 p.m. Thursday, March 7, at Monsoon Collective, 127 S. Fifth Ave.; 8 a.m. to 7 p.m. Friday, March 8, at Hotel Congress, 311 Congress St.; noon to midnight Saturday, March 9, at 191 Toole. $10 to $100, depending on which events you attend.
Children's Day Festival. Japan has been celebrating the strengths and personalities of children, as well as wishing for their good health, with this holiday since 1948. Though it actually falls on May 5, Yume Japanese Gardens is holding it early to beat the Tucson heat. So bring the children in your life for a day full of enjoying nature; traditional Japanese decorations and dress, game and activities; and plenty of savory Japanese snacks. Why wouldn't you want to celebrate the innocence, brightness and sense of wonder that come with childhood? 10 a.m. to 4 p.m. Saturday, March 9. Yume Japanese Gardens, 2130 N. Alvernon Way. $15 adults, $5 for kids ages 3 to 15.
Music

The Willie Green Project. Willie Green just graduated from Loyola University in 2015, but considering he's been playing the drums since his early childhood, perhaps it's not surprising that he's already played at jazz festivals all over the world, and is now on tour with his jazz group for their debut album, Love Will Find A Way. Green drums and composes, while Taylor Mroski plays bass, Andrew McGowan plays piano and Trevarri Huff-Boone is on sax. Together, they make up some of New Orleans' most promising young talent. 7:30 p.m. Friday, March 8. Sea of Glass–Center for the Arts, 330 E. Seventh St. $13 advance/$18 day of show for ages 16 and up. $10 advance/$15 day of show for ages 12 to 15. $4 for ages 4 to 11.
Scholl and Karamazov: Airs and Fancies. Andreas Scholl is one of the world's leading countertenors, and has numerous awards, including the ECHO Award for his composition for an audiobook of Hans Christian Andersen's "The Emperor's New Clothes" and "The Nightingale." Edin Karamazov was once a classical guitarist, but now is more known for his virtuosic performances on the Baroque lute, garnering rave reviews throughout Europe and America. At this event, they team up on works by Dowland, Campion, Handel, Caccini and Bach, as well as some folk music for added variety. 3 p.m. Sunday, March 10. Grace St. Paul's Episcopal Church, 2331 E. Adams St. $25
Gomez Plays Mozart. Maestro José Luis Gomez seems to like Tucson—after all, he just signed an extension to his original four-year contract with the Tucson Symphony Orchestra, so he'll be here until at least 2024. He said in a press release, "In these first two seasons we have made such great music together, why would we want to stop?" Don't miss his Tucson performing debut as first violin in Mozart's Serenade for Strings. The night also feature's Mozart's "Nacht Musique," and Haydn's "Drumroll," the second movement of which was so popular at its premiere in the 18th century that it was performed twice. 7:30 p.m. on Friday, March 8, 2 and 7 p.m. on Saturday, March 9 and 2 p.m. on Sunday, March 10. Catalina Foothills High School, 4300 E. Sunrise Drive. $27 to $64+.
Silent Night. This Pulitzer Prize-winning opera, with music by Kevin Puts and a libretto by Mark Campbell, takes place during World War I. And not just any ol' day during World War I: It takes place on Christmas Eve, 1914, the date of the Christmas truce, during which 100,000 soldiers briefly put aside their weapons in no-man's land. This exploration of the human cost of war is worth singing about—in five different languages, no less. Don't miss the Arizona Opera's production of the show! 7:30 p.m. on Saturday, March 9 and 2 p.m. on Sunday, March 10. Tucson Music Hall, 260 S. Church Ave. $25 to $120.
PCC Music presents the Wind Ensemble in concert. There are all sort of performance art coming out of our local community college lately. On the docket for this week: a little mid-semester concert featuring music from Germany, Ireland and the United States. You'll hear Beethoven, classic Irish tunes by Percy Grainger and music by baroque composer Johann Christoph Pezel, for example. And John Philip Sousa's immortal "El Capitan" march closes out the night. (You've heard it, trust us.) 7:30 pm. Thursday, March 7. PCC Center for the Arts, 2202 W. Anklam Road. $5 to $6.
Theater & Dance

Richard III.
Ah, Richard III. Shakespeare's second-longest play, after Hamlet. The one where the line "the winter of our discontent" came from. The one with Shakespeare's most notorious villain! The Duke of York, who is just about as ugly on the inside as he is on the outside, conspires and kills his way to the throne. But will the skeletons in his closet/ghosts from his past/fallen enemies/whatever you want to call 'em let him keep the throne? There are lots of ways to find out the ending to this show, but the best way is to go see it live at the Arizona Repertory Theatre. Tuesday, March 12, through Monday, April 1, with shows at 1:30 and 7:30 p.m. Preview shows are 7:30 p.m. on Monday, March 11 and Tuesday, March 12. Marroney Theatre, 1025 N. Olive Road. $28 GA, $26 senior/military/UA employee, $15 students.
Dance & Dessert 2019. You're bound to like at least one of those two things. And, with a troupe of dancers as talented as the men and women over at Ballet Tucson, you're bound to like both. At their spring concert, see the premiere of La Dame aux Camélias, a show that brings Alexandre Dumas' 1848 novel to life on stage. The Tucson premiere of Donizetti Variations, with music from the opera Don Sebastian and choreography by George Blanchine, the father of modern ballet, is another part of the night to look forward to. The dancers will also perform other selections from their repertoire, and the audience can enjoy gourmet dessert tastings at the conclusion of each performance. 7:30 p.m. on Friday, March 8. 2 and 7:30 p.m. on Saturday, March 9. 1 p.m. on Sunday, March 10. Stevie Eller Dance Theatre, 1737 E. University Blvd. $45 GA or $40 for seniors/students/military.
American Mariachi. In this play by José Cruz González, Lucha is looking for a way to break free from the monotony of caring for her sick mother. And what's less monotonous than starting your own mariachi band? The only problem? It's the 1970s, and girls can't be mariachis. Instead of dropping the idea, Lucha and her cousin face disapproving relatives, the struggle to find other bandmates, and practices and performances when they decide to start an all-girl mariachi band anyway. Heartwarming, hilarious and full of kick-ass live mariachi music, this show is a must-see at Arizona Theatre Company. Runs Saturday, March 9, through Saturday, March 30, with shows at either 2, 7 or 7:30 p.m. throughout the week. Temple of Music and Art, 330 S. Scott Ave. $41 to $66. (Or $25 to $50 for preview shows).

Tucson Tango Festival. They say it takes two to tango, but what they really mean is that it takes AT LEAST two to tango, because this festival is going to feature dozens of tango experts teaching classes that range from 101-level to advanced. Whether your questions are "What do I do with my arms?" or "What sort of step embellishments can I do with complex rhythmic musicality?" someone at the festival will have answers for you. You can also check out musicality lectures and a session led by DJ Ashvin on the role of the tango DJ in "managing music, mood, movement and momentum." Thursday, March 7, through Sunday, March 10, with classes and workshops at various times. Casino del Sol Resort, 5655 W. Valencia Road. Prices range from $15 for some classes to $580 for a lead/follow pass for the whole festival. Full-time student prices range from $15 to $300. See tucsontangofestival.com for more info.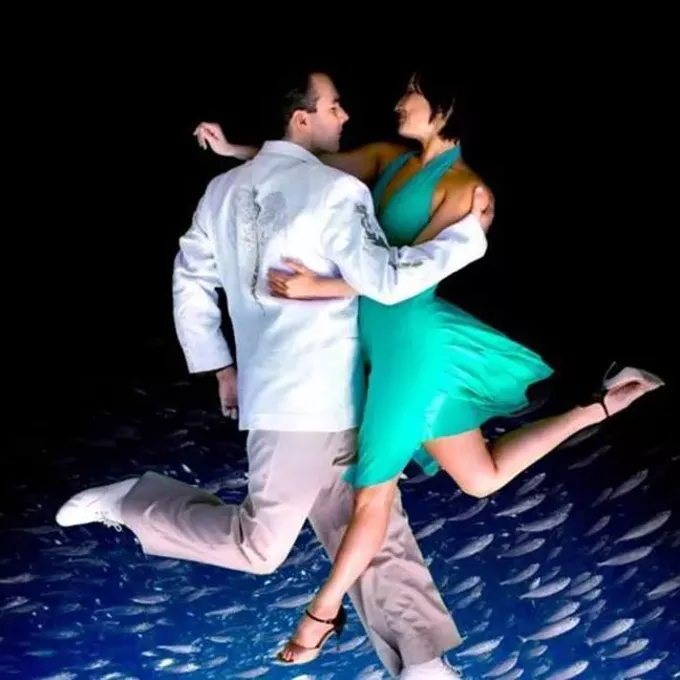 Comedy & Sports
Laugh About It. There are some people who tell you to laugh at life's problems instead of cry over them, and there are some people who say that who make you want to punch them in the face. What do they know? Well, Josh Novey is an Iraq war veteran, so he has good standing to talk about facing hardship and laughing in spite of it. He's performed his clean comedy act all over the United States, and now it's yours and your family's turn to see him live. Paul Loh hosts and comedian Ali Musa is also featured. 7 to 9 p.m. (doors open at 6:30 and lobby opens at 6) Saturday, March 9. The Screening Room, 127 E. Congress St. $20.
Tucson Roadrunners vs. Ontario Reign. This week, the Tucson Roadrunners are at an admitted disadvantage: The rival team's mascot is a snow leopard, and snow leopards are much more in their element in icy environments than roadrunners. But realistically, our home team has more wins under their belt than Ontario Reign. So come take your pick of when to watch the Roadrunners strut their stuff on the ice: Friday is Arizona Daily Star Community Night, where the first 2,000 fans buying individual tickets get 'em for 10 bucks, and Saturday is Shane Doan Bobblehead Night, where everyone gets a Shane Doan Bobblehead, and they're running a Roadrunners Party Pack special (two center ice tickets + two beers for $59). 7:05 p.m. on Friday, March 8, and Saturday, March 9. Tucson Arena, 260 S. Church Ave. $7 to $61.
Tucson Sugar Skulls vs. Bismarck Bucks. There are only a few teams in the United States' indoor football league, and the Tucson Sugar Skulls is the newest one of them. Named for the colorful skulls used to celebrate the lives of lost loved ones in central Mexico (and in the Old Pueblo's All Souls Procession), the team is all about honor, celebration and tradition. This week, they face off against the Bismarck Bucks, who are also pretty new to the league, in a home game. It says this on the Bucks' own website, so we shouldn't be shy in announcing that the buck stops here, because the Sugar Skulls are going to stop it. 3 p.m. Sunday, March 10. Tucson Arena, 260 S. Church Ave. $17 to $99+.
Marana Laughs. Lookin' for a night of clean comedy, and the chance to step outside (but not too far outside) Tucson? Look no farther than the Marana Laughs comedy showcase. We've got Mike James, who's appeared on Comedy Central and The Tonight Show with Jay Leno, who likes to make audiences laugh about family, faith, work and aging. Then, Brian Kohatsu, who spent 20 years as a film director before starting his comedy career, and has now been teaching improv for more than a decade, will take the stage. 7:30 p.m. on Friday, March 8 (doors open at 6:30). Coyote Trail Stage, 8000 N. Silverbell Road. $10 individual, $20 VIP, $30 family package, $97 for 13 people.