Art
Copper State. We all know Arizona's 5 Cs, and we all know that if we had to pick just one C to represent our desert state, it would be copper (with climate in a close second, probably, though that's debatable). After all, in the mid-19th century, a quarter of the state's population were miners! Even today, Arizona accounts for about 60 percent of copper production in the United States. To celebrate all the color, history and importance of copper, Tohono Chul asked artists to create pieces that reflect all of that, in any medium they choose. See some beautiful art, take a stroll in the gardens and reflect on what a neat state we live in. Reception is 5:30 to 8 p.m. on Friday, Nov. 16, and exhibit runs through Feb. 6, 2019. Tohono Chul Main Gallery, 7366 Paseo del Norte. $13 adults, $10 military/student/senior, $3 kids 5 to 12 and free for members and kids under 5.
Free Third Thursdays at MOCA: Oracle Cards and Meditation. It's the third Thursday of the month again already?! Nuts. That means it's the penultimate third Thursday event of the year! To find out what next year holds, head to MOCA to make your own oracle cards with the staff, or get a free one-card tarot reading from the Ninth House. You can also enjoy a facilitated meditation in the South Galleries amidst some art by Alison Blickle. Of course, there's always a cash bar and food trucks at these MOCA events as well, and you don't need any oracle to tell you that. 6 to 8 p.m. Thursday, Nov. 15. 265 S. Church Ave. Free.
Shows and Performances
Hellzapoppin FREAK SHOW. Did you think freak shows weren't a thing anymore? So did we. But the world's largest touring rock 'n' roll circus freak show, thrill show, side show and stunt show extravaganza is coming to town. You might have seen them on America's Got Talent, the Discovery Channel or NatGeo, or maybe you've heard of the Lizard Man from Ripley's Believe It Or Not—he's the guy with the split tongue, implanted horns on his head and arms and an entire body tattooed in green scales. You can also see the world's smallest "midget escape artist," Nik Sin, and Short E. Dangerously, a "half-man" (he has no legs) who's also featured in the new Ripley's Believe It Or Not. You'll see beds of nails, acrobats, sword swallowing and more. 7 to 11 p.m. Wednesday, Nov. 21. The Rock, 136 N. Park Ave. $10 to $12.
Danny Lyon: The American Southwest, and Mexico. If you're a fan of Etherton, you've probably seen some of this renowned photographer's work. But this exhibit, featuring photos from his Southwestern Portfolio taken between 1967 and 1983 and photos from his international traveling retrospective, will include more than a dozen of his works that have never been seen before. And if that doesn't excite you enough, then how about the fact that Danny Lyon himself is coming to Tucson for the West Coast debut of his new film Wanderer, the fourth in a series he began back in 1971, and to offer an artist talk for the public with Rebecca Senf, the chief curator of the Center for Creative Photography? Photography exhibit opens with a reception from 7 to 10 p.m. on Saturday, Nov. 17, at the Etherton Gallery, 135 S. Sixth Ave. Film screening starts at 6 p.m. on Friday, Nov. 16, at the Center for Creative Photography, 1030 N. Olive Road. But try to get there at least half an hour early if you want a seat.
Bette Davis Ain't For Sissies. Here at the Weekly, we love a good one-woman show. This 90-minute performance, written by and starring Jessica Sherr, tells the story of 1930s actress and icon Bette Davis on the night of the 1939 Academy Awards. Davis was nominated for best actress in the film Dark Victory, but the LA Times leaked the names of the winners early (we won't say who—we don't want to spoil it in case you didn't pick up the Times that day). Defiant and disillusioned, Davis straight up just walks out of the Oscars, a moment that is only a part of the story of her battle against Hollywood studios. 7:30 p.m. on Friday, Nov. 16, 3 p.m. and 7:30 p.m. on Saturday, Nov. 17. Invisible Theatre, 1400 N. First Ave. $35.
All Right Now Dance Party with the Rillito River Band. If you haven't heard the Rillito River Band play yet, where have you been? These long-time Tucsonans cite influences ranging from Cream to the Cure to Van Morrison to James Taylor, and you might hear songs by all of those artists, along with a few originals. If you like three-part harmonies, touching love songs or totally raucous rock 'n' roll (so, if you're a human who likes any kind of music), this is a show for you. Get ready to dance, because they're clearing a space for those of you who will hear this music and not be able to stay off your feet. 7 to 9:30 p.m. Friday, Nov. 16. Gaslight Music Hall, 13005 N. Oracle Road. $12.50.
The UA Chemistry Club Fall Science "Magic" Show. Did you have one of those cool chemistry teachers in high school who did neat tricks with fire that came with an explicit "don't try this at home, even though you wouldn't be able to because you don't have the necessary chemicals" warning? If you did, this is going to make you nostalgic. If you didn't, now's your chance to finally live this little slice of the American Dream. The UA Chemistry Club is hosting this free event, full of excitement and education, to remind us that there's nothing quite so magical as pure, unadulterated science. 11 a.m. to noon. Saturday, Nov. 17. Chemistry Building, Room 111, 1306 E. University Blvd. Free.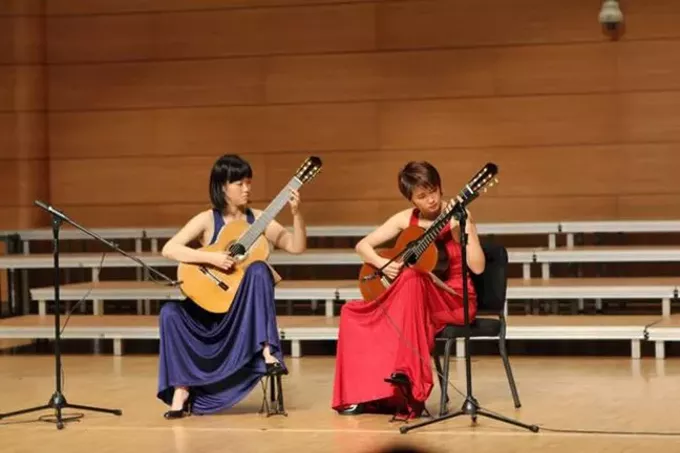 Beijing Guitar Duo. Two of the most outstanding guitarists of their generation, Meng Su and Yameng Wang, are returning to the UA to perform at Crowder Hall, and you don't want to miss it. Before the two women were a duo, they were outstandingly successful solo players, Su winning the Vienna Youth Guitar Competition and Christopher Parkening Young Guitarist Competition, and Wang being the youngest guitarist to win the Tokyo International Guitar Competition at age TWELVE. Seriously, they're talented. And they're going to be playing music that will blow you away. 7:30 p.m. Thursday, Nov. 15. Crowder Hall, 1017 N. Olive Road. $14 to $45+.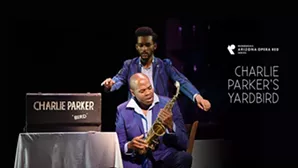 Charlie Parker's Yardbird. The Arizona Opera is taking us on a journey through the mind of one of jazz's greatest legends this week, the man who said beautifully simple, intensely powerful stuff like "don't play the saxophone. Let it play you." The show is told through a series of connected scenes following his death, about Parker attempting to compose his final masterpiece while also facing some of the very demons that made him such a master. One hour before each performance, there's a lecture on the historical and musical context of the show, and after the Sunday show, there's a talk back with composer Daniel Schynder and librettist Bridgette A. Wimberly. 7:30 p.m. on Saturday, Nov. 17, and 2 p.m. on Sunday, Nov. 18. Temple of Music and Art, 330 S. Scott Ave. $25 to $110.
On the Verge, or The Geography of Yearning. This production is the next installment in the UA School of Theatre, Film & Television's Studio Series, in which theater students put on original, contemporary productions with a bare-essentials production model, so as to keep the work of the students a focus. The idea is for viewers to enjoy the collaboration, innovation and process unfolding before them, rather than just the product. In this show in particular, three women come together to explore Terra Incognita, the last unexplored territory. Along the way, the reflect on past and future, their inner and outer selves and what makes them human. 8 p.m. Thursday, Nov. 15 through Saturday, Nov. 17 and 2 p.m. Sunday, Nov. 18. Harold Dixon Directing Studio, Drama Building (Room 116), 1025 N. Olive Road. $7.
On Your Feet! If the very thought of Emilio and Gloria Estefan is enough to make you want to get up on your feet, then this is a show for you. We all know about the part where they ruled the pop music world, but not everyone knows that, just when they thought they had it all, they almost lost everything. This show takes viewers behind the music and shows them how this record-making, ground-breaking, hip-shaking couple ended up on their feet. Two-time Tony Award winner Jerry Mitchell directs, Olivier Award winner Sergio Trujillo choreographs and Academy Award winner Alexander Dinelaris wrote the book. Get on your feet! 7:30 p.m. Thursday, Nov. 15; 8 p.m. Friday, Nov. 16, and Saturday, Nov. 17; 2 p.m. Saturday, Nov. 17; and both 1 p.m. and 6:30 p.m. on Sunday, Nov. 18. $19 to $125. Centennial Hall. 1020 E. University Blvd.
Fall Ikebana Floral Festival. It's hard to find a sweeter way to spend a fall afternoon in Tucson than strolling through Yume Japanese Gardens. And that's just on a regular day. During this festival, they'll have dozens of flower arrangements on display in five different styles of Ikebana (Japanese flower arrangement), which will have you feeling all harmonious and Zen and lovely. While you're there, check out their newest museum gallery, with more than 200 Ikebana vases made of bamboo, bronze, lacquer, clay and glass—some more than a century old, and some contemporary. To make sure things stay tranquil, just be sure not to park on East Hampton Place—there's parking inside the main gate and on East Justin Lane. Tuesday, Nov. 20, through Wednesday, Nov. 28, except for Thanksgiving. Yume Japanese Gardens, 2130 N. Alvernon Way. $15 adults, $5 kids under 15.
Party Time
El Tour Fiesta. We're not going to suggest participating in the actual El Tour race this weekend as a spur-of-the-moment weekend activity. If you're going to do the tour, you've probably known that for a while. If you're not, you can still decide to head downtown for the after party! Cheer on the finishers, visit the Children's Museum and nearby art galleries and check out the El Tour Exhibitors. The Michelob Ultra Garden, with food and drink, opens at 11 a.m., and there's family-friendly entertainment in the downtown area all day until 5 p.m. Registration for the El Tour Fun Ride begins at 7:30 a.m., the first 100-mile finishers are expected around 11 a.m., and the party goes until 5 p.m. Saturday, Nov. 17. Armory Park, 221 S. Sixth Ave.
Family Festival in the Park. Tucson Parks and Rec is partnering with Cigna for the 13th annual iteration of this event, full of games, prizes, crafts, face painting, tennis, disc golf and that most coveted of childhood event attractions: inflatables. Admission to the Reid Park Zoo will be just $1, with proceeds benefiting the zoo's conservation fund, and the Edith Ball Adaptive Recreation Center will host free swimming with an inflatable obstacle course. Plus, you can tour the park's rose garden, enjoy free entertainment and chow down on food from local vendors. Give back to the community by bringing a canned goods donation for the Community Food Bank of Southern Arizona. 10 a.m. to 2 p.m. Saturday, Nov. 17. Reid Park at 22nd and Country Club. Free, but please bring a non-perishable food donation!
Hotel Congress Centennial: Copper Jubilee. So, Tucson's most beloved hotel was actually established in 1919, but—and this is part of the reason why we love the people at Congress so much—they did some digging and found out there was a soft opening on Nov. 18, 1918, which means we get to kick off the birthday party early! Tour the hotel, check out the 100-candle birthday cake, enjoy a John Dillinger gun show, listen to poetry readings by UA Poetry Center contest winners and sip on some specialty cocktails. And bring something to put in their time capsule, which they plan to open in another 100 years! There are few places quite so special and universally loved, so why wouldn't you want to celebrate? 2 to 6 p.m. Sunday, Nov. 18. Hotel Congress, 311 E. Congress St. Free.
Holiday Magic
TMA Holiday Artisans Market. OK, you have just over a month left to get your Christmas shopping done, and way less than that if we're talkin' Hanukkah. So put on your shoppin' shoes, roll up your sleeves and head over to TMA. You can support local artists by buying their gorgeous handmade jewelry, artwork, textiles, crafts and other gifts for your loved ones to wear, hang up and use every day. What's a better gift than the kind that will have the recipient constantly fielding questions like, "where did you GET that?" and "How can I get one of those?"? When you're done with a full day of thinking about others, you can treat yourself to something nice right at the same market. Plus, there's family-friendly activities all day! And a vibraphone! 10 a.m. to 7 p.m. Friday, Nov. 16, and 10 a.m. to 5 p.m. Saturday, Nov. 17, and Sunday, Nov. 18. Tucson Museum of Art, 140 N. Main Ave. Free.
Holidays Around the World and Throughout Time. Well, is your interest piqued just by the name of this art exhibit? If not, here's a little more info: Each holiday season, the Mini Time Machine Museum of Miniatures transforms itself into a Wee Winter Wonderland. This means not only decorating the lobby and galleries, but decorating more than a dozen of the miniature fixtures from the permanent collection. The scenes will be decorated to match the style and era that the miniature is depicting, which means twinkly light-strung cacti in the Southwest miniature, Hanukkah decorations in the Kupjack Georgian Dining Room, bamboo and pine decorations for Japanese New Year (aka Shogatsu) and a very traditional Christmas look in the German dollhouse. Happy teeny-tiny holidays! Tuesday, Nov. 20 through Sunday, Jan. 6. Hours are 9 a.m. to 4 p.m. Tuesday through Saturday and noon to 4 p.m. Sundays. Closed Mondays and major holidays. Mini Time Machine Museum of Miniatures, 4455 E. Camp Lowell Drive. $9 GA, $8 senior, $6 students/youth 4 to 17 and free for kids 3 and under.
Lights of the World. This holiday season, treat yourself to something that you may not have realized you wanted, but that you almost definitely do: This enormous light festival, with all the wonder and glory and magic of Disneyland's "It's a Small World," without the grating music. There's going to be carnival rides, acrobatic performances and more than six million lights. SIX MILLION. And the lights are covering 45 big, beautiful light displays, including a dragon, a whole zoo full of animals, a Christmas tree, the Eiffel tower and several palaces. Shows and rides are all free with general admission, and for a few dollars, you can enjoy food, carnival games and arts-and-craft opportunities as well. Showing every day except Monday from 5 to 10 p.m., now through Wednesday, Jan. 2. Kino Sports Complex, 2500 E. Ajo Way. $24.99, or $19.99 for seniors/military, plus a $6 parking fee.
Fun in General
Tucson Roadrunners vs. Stockton Heat. This week, the Roadrunners face off against the entity of heat itself. (Fun fact: The Stockton Heat's team name was the result of a team-naming contest when the Adirondack Flames first moved to Stockton, and the other four finalists were Blaze, Fire, Inferno and Scorch.) Unfortunately for the Heat, this is our home turf, and the Roadrunners (and all Tucsonans) are experts at beating the heat. There are two games this week, but if you catch the Wednesday one, you'll be there for Kids Free Night (kids 12 and under free with a paid adult) and the 1-2-3 food promotion night: $1 sodas, $2 hot dogs, $3 beers. Now that's a hockey game. 7:05 p.m. on Tuesday, Nov. 20 and Wednesday, Nov. 21. Tucson Arena, 260 S. Church Ave. $10 to $61+.