Museums and Art
Free Third Thursdays at MOCA. In Tucson, third Thursdays are for contemporary art. Because every third Thursday, the museum is open free to the public from 6 to 8 p.m. for a special art-making activity. This month, visitors can build their very own "pocket shrines" or little miniature altars, with the help of DIRT (Alan Dickson and Taylor Garcia Dickson). These little devotional pieces are meant to be personalized with little object like candles, oracles or photographs. So, while the museum will be providing a variety of supplies, you should definitely bring some stuff from home to make the piece your own. A picture of a deceased loved one? A dried flower petal from your wedding? A photo of a hot celebrity cut out of a magazine? Up to you. DIRT will also be doing free one-card tarot readings, and the night also offers music, a cash bar and food trucks. 6 to 8 p.m. Thursday, Oct. 18. Tucson Museum of Contemporary Art, 265 S. Church Ave.
Art Now! With Scott Treleaven. It's time for another opportunity to hear from an artist down at MOCA, and to ask questions to your heart's content. Scott Treleaven came to prominence about 20 years ago as a filmmaker, zine-creator, collage fabricator and general artist in the North American gay punk scene. He's been examining the way modernism, counterculture and queerness are affected by occult symbology ever since. This autobiographical lecture—illustrated with images from art he's created over the past two decades—will see Treleaven questioning whether it might be time to put some old demons to rest. 6 to 7 p.m. Tuesday, Oct. 23. Tucson Museum of Contemporary Art, 265 S. Church Ave. $10 nonmembers, free for members.
Diana Madaras' Adventures of the Heart. Local artist Diana Madaras is debuting three new series of paintings at her annual show. "Adventures of the Heart: Spirit Animals" tells the story of Madaras' deep connection to animals, which started as a child when she lived in an apartment attached to her dad's veterinary hospital. "California Coastline" was inspired by a trip to Bodega Bay in Northern California, where she painted on misty mornings, working with completely different light sources than she does in Tucson. "Back to Greece" was inspired by her recent trip to the country—a 15th anniversary celebration of when she went to a painting workshop in Greece in 1993 and decided to become a professional artist in the first place. All three series have her dynamic use of color and display her ability to maintain a signature style as she evolves as an artist. Reception 11 a.m. to 2 p.m. Sunday, Oct. 21. Madaras Gallery, 3035 N. Swan Road. RSVP at 623-4000 or ops@madaras.com.
Tom Philabaum's Alchemy. The Philabaum Glass Gallery and Studio has a new exhibit all about alchemy, the seemingly magical process of transformation, creation or combination. It features both stunning paintings and remarkable glass pieces that showcase Philabaum's ability to move across mediums. Seriously, we're pretty sure glass blowing is alchemy. If there's anything that's "seemingly magical," it's how an artist can take a molten hot blob of nothingness and make it into a sculpture that really ties a room together. 11 a.m. to 4 p.m. Tuesdays through Saturdays through Saturday, Jan. 26. Call for dates and times to view glassblowing.
Arts in the Plaza Fine Art Festival. If you're looking for a way to feel fancy, heading to St. Philip's Plaza is always a good idea. But even more so this weekend, because they're hosting this limited-capacity, juried art festival with metalwork, jewelry, ceramics, photography, acrylic, mixed media, sculpture and even more media. Designed to highlight the talent of local fine artisans in the region, it doubles as an opportunity to fill your house up with gorgeous art that will have your friends saying, "Where did you get that?!" 9 a.m. to 4 p.m. Saturday, Oct. 20, and Sunday, Oct. 21. St. Philip's Plaza, 4280 N. Campbell Ave.
Festivals and Celebrations
Woods Memorial Library 50th Anniversary Celebration. Hooray! One of our beloved local libraries is celebrating a huge milestone. Fifty years' worth of reading material and community events certainly calls for a party, and they're doing it right with a '60s car show, a memory tree, hula hoop lesson, a bubble zone and plenty of crafts. A DJ will be spinning music straight from the '60s, and there will be book giveaways throughout the evening. And you can share your own memories of the library in a memory gathering workshop hosted by Marge Pellegrino. Happy Reading! 1:30 to 4 p.m. Saturday, Oct. 20. Woods Memorial Library, 3455 N. First Ave. Free.
Arizona Insect Festival. Let's get buggy! The UA Department of Entomology is hosting this totally free community event to give the community some hands-on experience in STEM, and to get some very literal hands-on experience with Hercules beetles, ocotillo caterpillars, giant whip scorpions and more. There will also be more than 20 booths with UA researchers presenting their research and community representatives like the Southeast Butterfly Association and the Arizona-Sonora Desert Museum. Check out bugs under microscopes! Look at bugs on display! Maybe even eat some bugs! 10 a.m. to 3 p.m. Sunday, Oct. 21. ENR2 Building, 1064 E. Lowell St. Free.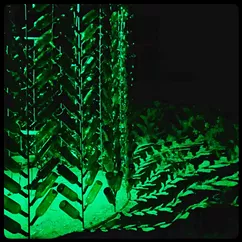 Wild Kingdom GLOW! Everyone knows that In 'n' Out French fries are better animal style. But have you ever tried the Triangle L Ranch's annual GLOW! event animal style? Now's your chance! Put on your glowing-est outfit, and throw some animal elements into it if you like. Dress up as your inner animal! Dress up as an animal you thought up with your own imagination! Go for a more abstract animal look and just sort of "let your wild side out." And, of course, enjoy Music on the Paths by hypnopad and Nancy McCallion from 7 to 9 p.m., main stage music from 9 to 11 p.m. by Al Foul and tarot card readings by Felicitas and Chad. 7 to 11 p.m. Saturday, Oct. 20. Triangle L Ranch, 2805 N. Triangle L Ranch Road, Oracle. $21.44 adults 13 and up, $12.86 kids 4 to 12 and free for kids 3 and under.
Anza Days at Historic Canoa Ranch. Happy 50th anniversary to the National Trails System, and happy grand opening and dedication to Canoa Lake! This calls for a party. So saunter on over to the Historic Hacienda de la Canoa Ranch for a day full of food, vendors, music and dance performances, presentations, and 4H exhibitors. And don't miss the horseback rides! There's nothing like spending a day outside (especially now that it's cooling down) and enjoying a good, old-fashioned festival. 9 a.m. to 3 p.m. Saturday, Oct. 20. Historic Hacienda De La Canoa Ranch, Historic Hacienda de la Canoa, 5375 I-19 Frontage Road, Green Valley.
Boo Bash at Lincoln Park. Every night in October is the perfect night to throw a Boo Bash, but on this night, Tucson Parks and Rec and the PCC East Campus are teaming up to throw a Boo Bash for you so you don't have to do it yourself! Stock up on Halloween candy to give out to trick or treaters at the trunk-or-treat, play some carnival games and be a part of the costume parade, which starts at 6 p.m. It's the perfect way to give your costume a test drive if you're still sorting out some of the finer details. There's plenty of food available for purchase too, to keep your tummy from grumbling more loudly than a wailing ghost. 4 to 7 p.m. Saturday, Oct. 20. Lincoln Park soccer fields, 4325 S. Pantano Road. Free.
Theater, Music and Shows
Erma Bombeck: At Wit's End. If you were reading newspapers between 1965 and 1996, you probably read one of the 4,000+ columns Erma Bombeck penned about life as a Midwestern suburban housewife. She was also a longtime Arizonan, having moved to Phoenix in the '70s. The Arizona Theatre Company is telling the story of how this journalist championed women's rights and women's lives with her delightfully witty, wonderfully truthful writing. Who says you can't be a mom, a working woman and an artist all at once? Preview shows at 7:30 p.m. Saturday, Oct. 20, and Tuesday, Oct. 23, through Thursday, Oct. 25, as well as at 7 p.m. on Sunday, Oct. 21. Regular shows at either 2 or 7:30 p.m. from Friday, Oct. 26, through Saturday, Nov. 10. Temple of Music and Art, 330 S. Scott Ave. Regular tickets $41 to $76, preview shows $25 to $50.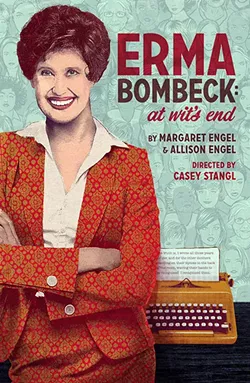 Sax Great Terry Hanck. Bless the Southern Arizona Blues Heritage Foundation for managing to bring some of the best blues artist around down to the Old Pueblo. For Terry Hanck, who spent 15 years with the Elvin Bishop Band and another 15-plus making music on his own, it actually won't be his first time in Tucson. The Florida-based musician says he writes the kinds of songs you think you've heard for years, and, if you've ever sat down with the music by the likes of Fats Domino, B.B. King or Ray Charles, you'll know exactly what Hanck is talking about once you hear him play. He'll be accompanied by Mike Blommer on guitar, Steve Grams on bass and Glenn Velardi on drums—all members of the Arizona Blues Hall of Fame. 7 p.m. Friday, Oct. 19. House of Bards, 4915 E. Speedway. $12 in advance or $5 at the door, with discounts for SABHF and KXCI members.
DHOAD Gypsies of Rajasthan. Gypsies are so fascinating that, personally, we'd pay to just sit in a room and chat with them. But the musicians and dancers of this group, directed by Rahis Bharti, are going to do their audience one better by performing traditional music and dance. They've performed for the Prime Minister of India, the president of France, at Queen Elizabeth's Diamond Jubilee and at MICK JAGGER'S BIRTHDAY PARTY. WHAT? They've done their show in 95 countries, have won a Polish Grammy, and are now they're coming here, to perform for us. So don't miss it—Mick Jagger wouldn't, and neither would the queen. 7:30 to 10:30 p.m. Wednesday, Oct. 24. Fox Tucson Theatre, 17 W. Congress St. $24 to $29.
Sundays in the Garden at Tohono Chul. Can you think of anything lovelier than spending a Sunday sipping wine (or prickly pear lemonade) and listening to mariachi and folklore music in a garden? It's difficult, isn't it? Head over to one of our city's beautiful gardens to see the Mariachi & Folklore Music of Tucson High Mariachi & Grupo Folklorico, performing as part of the #InvestinEd Showcase. Seating is limited, and everyone who's anyone is going to be there, so make sure you arrive early. 1:30 to 3 p.m. Sunday, Oct. 21. Free for members and free with admission, $13 adult, $3 kids 5 to 12, $10 students/seniors/military, free for kids under
Haunted Ruins: The Magic of Dawn. The Valley of the Moon is, in its own way, one of the most Halloween-y places in town. It's already purported to be full of spirits and sprites, but for the month of October, there will be an interactive Halloween show going on, with scenes scattered throughout the site. The 40-minute show follows Dawn, a fairy born without wings, who doesn't believe that she has any magic or is a true fairy, despite her father's attempts to convince her otherwise. When the Valley of the Moon is threatened by the evil fairy Nocturn, and her father is kidnapped, Dawn must look inside herself and see if she can find the magic she needs to save the day. 6 p.m. to 9 p.m., with adventures starting every 20 minutes, Fridays through Sundays for the rest of October. Valley of the Moon, 2544 E. Allen Road. $10 adults, $5 kids, free for members and kids 7 and under.
Fun in General
Lighting of A Mountain. Happy Homecoming, Tucson! Maybe it would be more correct to say, "Happy Homecoming, UA!" But how separate are our city and our university, really? In celebration of this classic event, and of the cooler weather, the UA Alumni Association and the Student Alumni Ambassadors are Making A statement. A Mountain, always a beacon, will be even more like a lighthouse after the letter is all lit up. Enjoy free food and refreshments, hang out with Wilbur and Wilma and sing "Bear Down" with the alumni pep band and UA cheerleaders. It's going to be lit. 5:30 to 7:30 p.m. Sunday, Oct. 21. Top floor of Main Gate parking garage, 815 E. Second St. Free.
Native Seeds SEARCH Annual Fall Veggie Plant Sale. Fall is here, and so are all the deliciously squash-y, sweet potato-y, cinnamon-y flavors that come with it. Check out the red acre cabbage, Brussels sprouts, rainbow chard and snowball cauliflower at this sale, as well as a ton of other veggies. Not to mention spices like calypso cilantro, Greek oregano and thyme. Once you have enough to fill your fridge and pantry, fill the rest of your house with the plants they'll have on sale, like season-appropriate wildflowers, established Chiltepin plants and seed-grown ocotillo. Should you go? Your answer should be an autumn-atic yes. 10 a.m. to 5 p.m. Friday, Oct. 19, through Sunday, Oct. 21. Also open at 9 a.m. on Friday for members only. New and renewing members get a one-time 15 percent off their entire purchase. Native Seeds SEARCH, 3061 N. Campbell Ave.
2018 Tucson Classics Car Show. The Rotary Club's classic car show is back for its 12th iteration, and they're going big to celebrate, with more than 400 cars to ogle and drool over. There's also plenty of food and a beer garden, so there's nothing to stop you from staying at the show all day long. Plus, activities for the kids will keep the little ones busy, and a huge array of vendors will keep you busy if you need sensory break from the overwhelming beauty of all the vehicles. Buckle up and enjoy the ride! 10 a.m. to 4 p.m. Saturday, Oct. 20. The Gregory School, 3231 N. Craycroft Road.
MEN on BOATS by Jaclyn Backhaus. They say truth is stranger than fiction, and that's pretty evident when you consider what this play is based on: an 1869 expedition led by a one-armed captain and a crew of crazy volunteers who head out to chart the course of the Colorado River, and to discover the Grand Canyon. In Backhaus' theatrical adaptation of this, she genderbends the story—all of the characters are women, and the events in the play, like so many facts today, are "mostly true." It's gone over well so far, receiving a Kilroys 2015 playlist choice for one of the best plays by women and being named a NYT Critics' Pick. Why not check out this production by Something Something Theatre Company? 7:30 p.m. Thursdays through Sundays in October and 2 p.m. on Sundays in October. Temple Cabaret, 330 S. Scott Ave. $25, or $20 for students, seniors, teachers and military. Thursday, Oct. 18, and Thursday, Oct. 25, are "pay what you decide" nights.
Tucson Zombie Mud Run. Looking for a last minute opportunity to get really muddy, sweaty and spooky this weekend? Look no further than this undead romp through Buckelew Farms. This 5K will take you over walls, across monkey bars, through pipes and down slides as you try to escape from the zombies who have infiltrated the farm with all of your limbs (you'll have two flags attached to you to represent your limbs) attached. Try the competitive team run at 3 p.m. if you're competition-oriented, or consider the more laid back versions of the same race at 3:15 and 3:30 p.m. Or, if you're 12 and under, try the Little Monster Mile. Prizes will be given for top finishers, best costume, most original costume, scariest costume and top survivors. Saturday, Oct. 20. Buckelew Farms, 17000 W. Ajo Hwy. $45, or $200 for a five-person team.
Tucson Roadrunners vs. Rockford IceHogs. This Illinois team is coming on down to the Old Pueblo to play two games against our home team, who, in terms of which species are more comfortable in the desert, definitely has the home team advantage. On Friday, Oct. 19, Proforma is sponsoring a magnetic schedule giveaway, for the organized or wannabe organized among us. It's also College Night, so you can get one ticket, two drinks and a hat for just $25. And Saturday is all-you-can-eat night, for those among us who are hungry, or who like a challenge. The package includes popcorn, hot dogs, nachos, water and soda. (See the website for more info on both specials.) 7:05 p.m. Friday, Oct. 19 and Saturday, Oct. 20. Tucson Arena, 260 S. Church Ave. $10 to $61+.