Art and Museums
A Creative Journey: An Artistic Expression of Grief. In these troubled times we live in, we all find ourselves longing for the simple pleasures of childhood from time to time. Sometimes we forget that children are not immune to grief, either. This art show will highlight pieces created by more than 200 grieving children, using different mediums based on their age. The exhibit is sponsored by Tu Nidito, the local nonprofit that provides support to grieving children and families, and is designed to educate attendees about childhood grief and how they can support those suffering from it. 5:30 to 9:30 p.m. Saturday, Oct. 13 and 11 a.m. to 3 p.m. on Sunday, Oct. 14. 260 E. Congress St. Free.
Second Saturdays at The Southern Arizona Transportation Museum. Head on down to downtown's cutest train museum for a reading of Carlon Encina's children's book, The New Engine/La Maquina Nueva. There's plenty else to do as well, like arts and crafts with Gail, taking a choo-choo train ride around the area and ringing the bell on the iconic Locomotive 1673. There's nothing like a healthy dose of family fun on a Saturday morning, and there's REALLY nothing like a healthy dose of free family fun on a Saturday morning. All aboard! 10:30 a.m. Saturday, Oct. 13. The Southern Arizona Transportation Museum, 414 N. Toole Ave. Free.
Luminous at Tucson Botanical Gardens. It's difficult to imagine a place more charming than the Tucson Botanical Gardens. But how about the Tucson Botanical Gardens at night, with illuminated sculptures based on the flora and fauna of the Sonoran Desert? Even better. Artist Mykl Wells handmade these beautiful lanterns especially for our local gardens to celebrate the diversity of life in our desert. It's going to be the sort of night where you'll leave overwhelmed by how much you learned and ecstatic over all of the beautiful, twinkly lights all at once. Luminous Hours are 5:30 to 8:30 p.m. through Jan. 6. Tucson Botanical Gardens, 2150 N. Alvernon Way. $15 adults, $8 kids 4 to 17 and free for kids 3 and under. Members: $8 adults, $4 kids 4 to 17 and free for kids 3 and under.
Second SundAZe Family Day at TMA. Just when you think you've soaked up all the art Tucson has to offer, a new exhibit opens. Take advantage of free admission for Arizona, Sonora and Mexico residents to see the Tucson Museum of Art's new exhibit, 30 Americans, which showcases work by some of the most significant African American artists of the last four decades. TMALearn! Educators are hosting a Kehinde Wiley-inspired photo station and a silhouette and collage art making project. Plus, Liudvik Luis Cutino Cruz is performing at 1 p.m. And one more thing! The TENWEST Festival is going on in the TMA plaza today as well, connecting community members to opportunities to support local art, technology and initiatives. 10 a.m. to 5 p.m. Sunday, Oct. 14. Tucson Museum of Art and Historic Block, 140 N . Main Ave. Free.
Evening of Play 2018. Be honest. If you have kids, there's probably been a time or two where you were jealous of some of the fun activities Tucson has to offer them, like all of the events at the Children's Museum. Well you know what? Now is your chance to have some good old-fashioned fun, and to support the Children's Museum mission to provide the city with the joy that comes from discovery, learning and play. There will be fantastic food and cocktails, like the Mt. Lemmonade cocktail from Series19, a beer garden, a mad science room, robots to play with, a silent auction and a Kendra Scott jewelry table. Raise a glass to the children! Especially the ones who have aged on the outside, but not in their hearts. 6:30 to 10 p.m. Saturday, Oct. 13. Children's Museum Tucson, 200 S. Sixth Ave. $125.
ZOOcson 2018. It's always wonderful when the stars align and the opportunity to support your beloved local zoo also means the opportunity to spend the evening eating, drinking and dancing the night away. In honor of the arrival of the American alligator, this year's ZOOcson theme is "A Wild Night," and will feature food from top Tucson eateries, drinks and live music by Apocalypso and KDE Jazz Quartet with singer Crystal Stark. There's also lots of animal ambassador presentations and a live auction, where you can bid for an opportunity to win cool items and even cooler experiences, like being "Keeper for a Day." This is the zoo's 25th annual iteration of this fundraising event, so come on out and help make it the most successful one yet! 6 to 9 p.m. Friday, Oct. 12. Reid Park Zoo, 3400 Zoo Court. $125 or $95 for zoo members.
Learn Something New
The Race for Groundwater: A Shrinking Resource. The Flandrau Science Center & Planetarium is hosting this fall lecture series all about Women in Science: From Pioneers to the Present. Women researchers from the University of Arizona will be talking about their research, as well as about other women researchers who inspired them. On this week's docket: Jen McIntosh in hydrology and atmospheric sciences, who will be talking about the world's shrinking supply of groundwater, particularly in the United States. She'll also talk about the work of Barbara Sherwood-Lollar, a scientist from the University of Toronto who discovered deep water resources in the earth's crust (and the microbial life that lives there). 6 to 7:30 p.m. Tuesday, Oct. 16. Magpie's Gourmet Pizza, 605 N. Fourth Ave. Free.
Arrowhead-making and Flintknapping Workshop. When you're a kid (and if you're an adult with a sense of wonder left somewhat intact), there are few things cooler than an arrowhead. How did ancient people make such neat looking, useful tools out of rocks? Get ready for your cool-o-meter to get busted, because at this workshop, you'll learn how to make your very own arrowheads and spear points. Flintknapping expert Sam Greenleaf leads the workshop, designed to help modern people understand how prehistoric Native Americans created traditional crafts. 9 a.m. to noon. Saturday, Oct. 13. Old Pueblo Archaeology Center, 2201 W. 44th St. $35.
Shows and Entertainment
Death By Design. Roberto Guajardo, the director of this play put on by Live Theatre Workshop, says, "While you may not literally die laughing at 'Death by Design,' you are guaranteed to chuckle, chortle and guffaw at this comedy/murder mystery." Well sign us up! We're especially intrigued that he doesn't guarantee no audience members will literally die, only saying that we "may not." The show is about playwright Edward Bennett and his wife, actress Sorel Bennett, who fled London for their country manor after a disastrous opening night in 1932. One by one, ridiculous guests—like a fiery socialist and a nearsighted ingenue—start showing up, and, of course, one of the guests ends up murdered. Who did it? There's only one way to find out. 7:30 p.m. on Thursdays, Fridays and Saturdays and 3 p.m. on Sundays from Saturday, Oct. 13 through Saturday, Nov. 11, with an additional Saturday matinee on Nov. 11. Preview shows at 7:30 p.m. on Thursday, Oct. 11 and Friday, Oct. 12. Live Theatre Workshop, 5317 E. Speedway Blvd. $20 GA, $18 military/student/senior, $15 Thursdays and previews.
Samskara. For many people, the dawn of the cool fall weather is enough to make them feel like they're traveling to a whole different world. But maybe you want to take it a step further and feel like you're traveling to a whole different dimension. The Flandrau Science Center & Planetarium has got you covered. This show pairs animated illustrations by Android Jones with EDM/trip-hop music by Tripper and displays them on the dome of the planetarium theater for a truly immersive experience. Seriously, this show is going to be beautiful, so don't miss its very limited run! 8 p.m. on Thursday, Oct. 11, and Saturday, Oct. 13. 9 p.m. on Friday, Oct. 12. Flandrau Science Center & Planetarium, 1601 E. University Blvd. $12.
Sister Act. If you didn't think it could get any better than Whoopi Goldberg playing a crass nun with a voice like honey, you're wrong. Because they made Sister Act into a musical, and it's coming to the UA. With music by Alan Menken (who did the score for most of the Disney Renaissance movies), lyrics by Glenn Slater (who received his first Tony nomination for writing lyrics to The Little Mermaid on Broadway, and his second for the lyrics of Sister Act) and Bill and Cheri Steinkellner (who worked on Cheers), this show is truly a blessing. The kind of experience that will make you consider joining a convent yourself, because you'll be so grateful to the Lord for bringing us a Sister Act musical. Wednesday, Oct. 17, through Sunday, Nov. 4, at various dates and times. Previews are at 1:30 p.m. on Sunday, Oct. 14, and 7:30 p.m. on Monday, Oct. 15. Marroney Theatre, 1025 N. Olive Road. $15 student, $29 senior/military/UA employees/$31 adults.
Ballet Tucson Fall Concert. The art scene in Tucson is livening up again after its summer hibernation with lots of events you won't want to miss. This is one of them. For their season opener, Ballet Tucson is commemorating Dia de Los Muertos in Spirit Garden—with a little help from artist Lawrence W. Lee and Calexico. They're also presenting some original choreography to Maurice Ravel's iconic Boler-O and paying tribute to the Great American Songbook with I'll See You in My Dreams. That last one will be premiering at the show, along with live music by The Great Banjo Summit. 2 and 7:30 p.m. Saturday, Oct. 13. Pima Community College (West Campus) Center for the Arts Proscenium Theatre, 2202 W. Anklam Road. $45 GA, $40 seniors/students/military.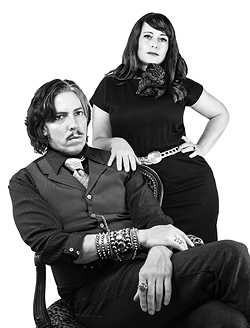 Magic at the Mortuary. Magic Kenny Bang Bang has been spending all year creating the spookiest, most magical show possible for Tucson, and now that October is here, he can finally deliver! Magic Kenny and the bewitching Ms. Midnight are presenting their intimate, parlor-style magic performance at Owl's Club every Wednesday throughout October. Enjoy the magic show, then take a tour of the former Bring's Funeral Home embalming room and listen to some spooky stories about Tucson. What do you have to do on a Wednesday night that is more fun or important or timely than a macabre magic show? Every Wednesday throughout October at 6, 7, 8 and 9 p.m. Owl's Club, 236 S. Scott Ave. $20, 21+.
Oro Valley Music Festival. The Oro Valley Music Festival is back at it again, and it's more orange than ever with its new location at Naranja Park. On the lineup for Saturday, Oct. 13: Chris Young, Danielle Bradbery, High Valley, Cassadee Pope and Matt Farris. For Sunday, Oct. 14: O.A.R. Switchfoot, Mat Kearney, A Great Big World and Max. For food options, they've got everything from Fiesta Filipina to Enjoyabowls to Tee's Concessions to Sonoran Snowballs. They suggest you bring your own chairs/blankets to sit on though, so don't forget to bring your seat! 12:30 p.m. to 10 p.m. Saturday, Oct. 13 and Sunday, Oct. 14. Naranja Park, 810 W. Naranja Drive. Kids 10 and under are $8 on Saturday and totally free on Sunday! $89.50 to $200 for a two-day pass, one-day passes also available.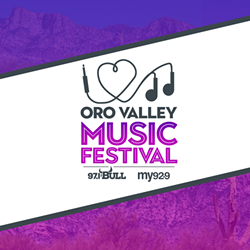 Shopping
Tohono Chul Fall Plant Sale. If you're looking for a selection that includes dozens of different plant species for you to peruse, you might just need to dream bigger. Because at the Tohono Chul fall plant sale, you'll have more than 1,000 plant species to choose from! Are you a gardener looking for the perfect specimen to finish off a corner of your garden? Maybe you're an office worker looking for a little friend to brighten up the corner of your desk. Whoever you are, and however green (or not green) your thumb is, you'll find something to steal your heart away at this sale. 9 a.m. to 5 p.m. on Saturday, Oct. 13, and 10 a.m. to 4 p.m. on Sunday, Oct. 14. Tohono Chul Propagation Area, 7211 N. Northern Ave.

Mercado Flea Market. Another month means another trip to the Mercado Flea! And this month will be less hot than last month, adding one more reason to the long list of reasons why you should come check it out. Also on the list: furniture, industrial items, collectibles and vintage clothing. Seriously, vendors at this market are only allowed to bring antiques/collectibles/vintage items—no new items allowed. Walk in with a heart full of hope and walk out with your arms full of one-of-a-kind treats. 8 a.m. to 2 p.m. Sunday, Oct. 14. Mercado San Agustin, 100 S. Avenida del Convento.
Fun in General
FAM Fest. Arizona Zipline Adventures is on a mission to provide kids with more opportunities to explore the arts, in all of their forms. How can you help? By buying a ticket for this event, which you're probably going to want to do anyway. There's going to be local and regional musicians, art and food vendors and a nearby campgroun. All you have to do is spend a part of your Saturday enjoying live music and delicious food, and BAM!—you've helped raise money for artists and teachers to hold monthly art workshops at the Oracle Community Center. Do it for the children! And also, do it for yourself. Noon to 7 p.m. Saturday, Oct. 13. 35406 S. Mt. Lemmon Road, Oracle. $10 GA, $5 ages 15 and under.
Buckelew Farm 30th Annual Pumpkin Festival and Corn Maze. It's pretty much past the time of year where anyone can think it's too early to be excited about Halloween—we're right in the thick of the season! And Buckelew Farms is providing a pumpkin patch, tractor-drawn wagon rides, a corn maze, a petting zoo and food booths for the young, the young at heart and pretty much anyone who likes having a good time. There's also a beer garden, specifically for the not-younger-than-21 crowd. Kids will love the zombie paintball shootout, and some of the more daring adults might end up trying out—and enjoying—the mechanical bull. There's also a "Terror in the Corn" haunted corn maze (open 6:30 p.m. to midnight on Friday and Saturday nights through Halloween for $25 to $30). 10 a.m. to 5 p.m. on Saturday and Sunday, Oct. 13, 14, 20, 21, 27 and 28. $10.
Erth's Prehistoric Aquarium Adventure. If you've ever seen Planet Earth and wanted to have a similar, but more interactive and theatrical experience, join half a million other people who have enjoyed this show about the ocean's deepest and most unknown depths. The show combines actors, technology, puppets, science and lots of imagination to teach young audiences about paleontology in as engaging a way as possible. This show is a follow-up of sorts to Erth's Dinosaur Zoo Live, a show that's similar in scope, but less aquatic. Let's get under the sea! 3 p.m. Sunday, Oct. 14. Fox Tucson Theatre, 17 W. Congress St. $32-$57.
Star Party at Catalina State Park. What's the coolest thing about the night sky? Maybe that it's so beautiful and fascinating that the only thing that could make it more beautiful and fascinating is to be able to see it better. Why not try going to see it better tonight, using eight big 'ole telescopes provided by the Tucson Amateur Astronomy Association? As you check out the moon, Uranus, Neptune, star clusters, double star systems and the Andromeda Galaxy, astronomers will be hanging out discussing the night sky and answering your questions about it. Bring a sweater/jacket, snacks, water and a red light (to protect everybody's vision). 6:30 to 9:30 p.m. Saturday, Oct. 13. Catalina State Park, 11570 N. Oracle Road. $7 per car (up to four adults).
Wild Spirits Art Show. You're probably overdue for a visit to Cat Mountain Station anyway, and an art event with more than 80 artisans is the perfect excuse to make another trip. Cactus Wren Artisans, Studio S'Evans, Affairs of the Art Gallery and Tintype Mercantile are hosting this day full of food, demonstrations, fun and—of course—plenty of art! Why not make a whole thing out of it and stay at the B&B? And why not treat yourself to some shopping while supporting local artists? It's a win-win. 9 a.m. to 2 p.m. Saturday, Oct. 13. Cat Mountain Station, 2740 S. Kinney Road.