Shows and Spectacles
The Magic Rainforest: An Amazon Journey. Pima Theatre brings us another play by José Cruz González, the playwright behind The Astronaut Farmworker. When a young boy named Aki sets off on a quest through the Amazon to save his village from a fire demon, he learns that each plant and animal in the surrounding sacred forest has its own voice. It's a journey where he begins to understand his place in the forest, and the clash between nature and the modern world. Directed by Mickey Nugent, this production is perfect for families with children, or families with children-at-heart. 2 p.m. and 7 p.m. on Saturdays and 2 p.m. on Sundays, plus 7 p.m. show on Friday, Oct. 5. Wednesday, Sept. 26 through Sunday, Oct. 7. Proscenium Theatre, 2202 W. Anklam Road. $8.
Tucson Pride. Happy Pride, Tucson! The theme for this year's festival and celebration is "New Beginnings," in honor of a new direction for the Tucson Pride organization, the community and new, better starts in general. The Mr. and Miss Tucson Pride Pageant's theme is "The Wizard of Oz," starring Lady Ashley and Justin Deeper. The parade is at 11 a.m. on Saturday, Sept. 29, at Reid Park. Check out more than 50 retail, nonprofit and food vendors, tons of entertainers that are both local and headliners and plenty of community resources. And check out the great festival and parade logos by local artist Joanne Contreras as well! Noon to 9 p.m. Saturday, Sept. 29. DeMeester Performance Center, 900 S. Randolph Way. $5 to $20.
50 Pounds from Stardom. Like any good musical, this show at the Gaslight Music Hall is packed with comedy, rockin' tunes and a message about overcoming adversity. Specifically, it tells the story of one singer's attempts to "make it big" in showbiz and her niece's dream of taking a walk in her aunt's shoes. You'll be blown away by the vocal talents of the two stars, Marianne LeMoine and Yvette Karr, and the body positivity will have audiences of all shapes and sizes feeling refreshed and like there is no amount of weight between them and stardom. 2 and 6 p.m. Sunday, Sept. 30. Gaslight Music Hall, 13005 N. Oracle Road. $20.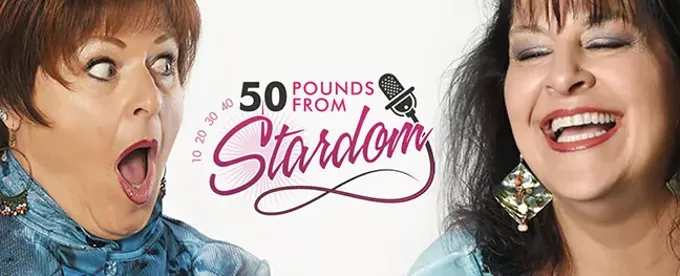 Art
Power: A Closer Look at Queens Throughout History. If you didn't already know you need more miniatures of queens throughout history in your life, you do now. Last year a donation by Eunice and E. G. Hernandez and family left the museum with 32 one-quarter-life-size historical figures created by George Stuart in the 1950s. Since then, the museum's been doing three spotlight exhibits per year to highlight different figurines. This time around: Isabeau of Bavaria, Catherine de Medici, Queen Victoria and Queen Elizabeth II. What does power mean to you? What did it mean to them? How have women wielded power differently than men through history? Put on your crown and come on down. Museum open 9 a.m. to 4 p.m. Tuesday through Saturday and noon to 4 p.m. on Sundays. 4455 E. Camp Lowell Drive. $9 GA, $8 senior/military, $6 student and youth, free for kids 3 and under.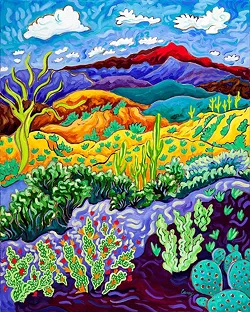 Desert Living. A new month means a new show at the Wildemeyer Gallery. And in October, all of the gallery's art is centered around the theme of what it's like to live in the desert. Whether it's a Native American looking off at the sun from atop his horse, a vibrant landscape or desert wildlife draped in Sonoran sunshine, you'll see the beauty of the desert portrayed from angles you never realized existed. Even if you already think the desert is beautiful and love living here, there's something fascinating about seeing your world through someone else's eyes. Oct. 1 through Oct. 31. 10 a.m. to 5:30 p.m. Monday through Saturday and 1 to 4 p.m. on Sundays. Every Thursday, the gallery is open for ArtWalk from 5 to 7 p.m. as well, with refreshments and special events. Wildemeyer Gallery, 2870 E. Skyline Drive. Free.
Welcome, Fall!
Desert Museum Fall Plant Sale. Fall is the perfect time to brighten up your landscape (or your windowsill) with some new plants—especially if you're the type of plant owner whose specimens didn't exactly make it through the summer. As the weather cools down, it also becomes even more enjoyable to head to the Desert Museum. So why wouldn't you want to drive over to the Desert Museum to check out the more than 250 different plant species they'll have available, including lots of popular perennials and low shrubs? They'll also highlight five categories of plants that will help you take your garden to the mythical next level. Members-only sale is from 6:30 a.m. to noon on Saturday, Sept. 29, and members get 10 percent off. Public sale is 6:30 a.m. to noon on Sunday, Sept. 30. Arizona-Sonora Desert Museum, 2021 N. Kinney Road. Admission is $21.95 for adults, $19.95 for seniors, $8.95 for kids 3 to 12, $17.95 for active or retired military and $16.95 for Arizona/Sonora residents.
Pajama-palooza
Pajama Storytime. Every night can be pajama story time if you really want it to be. But it's rare that you get to have pajama story time outside of the house! Not only is the library making it possible, but they also provide activities like crafts, music and puppet shows at these Tuesday evening events. Grab your comfiest jammies and get ready to be on the edge of your seat while still staying cozy. All ages welcome, but this event is especially fun for kids. 6:30 to 7:15 p.m. Tuesday, Oct. 2. Mission Library, 3770 S. Mission Road. Free.
Pajama Jam Bar Crawl Tucson. You know when you sort of want to leave the house, or you feel like you should sort of want to leave the house, but it's all-too tempting to just stay home in your pajamas? Tonight, you can have the best of both worlds (as long as your pajamas are appropriate for the public, so don't try anything funny!). Your ticket includes your first drink at Desert Sky Event Planning, and the night will take you all through downtown. Bars and specials are subject to change, so throw on your pajamas and be ready for whatever comes your way. 5 to 10 p.m. Saturday, Sept. 29. Maloney's Tucson, 213 N. Fourth Ave. $15.
Animals
Family and Friends Fiesta at the Zoo. Honestly, there's something about being at the zoo that feels like a party 24/7, but the Reid Park Zoo and Apex Real Estate Network are teaming up to take things to the next level. We're talking VIP exclusive access to the zoo, food, drinks, entertainment, prizes and all sorts of activities. For you and your whole family (up to six tickets per family)! All for free! Put on some comfy shoes, slap on your party hat and get ready to party like you're an animal that just escaped from the zoo. 4 to 7 p.m. Saturday, Sept. 29. Reid Park Zoo, 3400 E. Zoo Court. Free.
Popovich's Comedy Pet Theater. Gregory Popovich grew up as the child of Russian circus performers and started juggling at age six then went on to be part of the Great Moscow Circus Group. Now he travels the United States putting on this crazy show with dozens of animals he rescued from all over the country. Dogs walk on tight ropes, cats jump rope, miniature ponies perform, and a whole crew of geese, parrots and white doves all get in on the action too. Plus, there's a crew of world-class humans who juggle, perform acrobatics and make the audience laugh. He says on his website that, rather than "train" his animals, he designs performances based on his animals' existing interests and talents. This show is perfect for human children, human adults and probably the whole animal kingdom, but try not to bring any non-humans with you. 3 p.m. Sunday, Sept. 30. Fox Tucson Theatre, 17 W. Congress St. $17 to $37.
$3 After 3 p.m. If your excuse for not visiting the International Wildlife Museum has ever been "I don't have more than $3," then this event has banished your excuses to high heaven. Adults and kids alike need only mention this special offer through Sept. 28 to get into the museum for less than the cost of... well, pretty much anything. What else are you going to do with $3? The museum is open until 5 p.m., with last admission given at 4:15 p.m. Don't miss this chance to check out Jana Booker's IndigenoUS exhibit and all of the museum's other offerings on the cheap. International Wildlife Museum, 4800 W. Gates Pass Road.
Learn Something New
Finding Near Earth Asteroids with the Catalina Sky Survey. The Summerhaven Speaker Series continues with this talk by Eric Christensen, principal investigator of the Catalina Sky Survey. Asteroid impacts have shaped the course of life on Earth as we know it, and they still regularly occur in our solar system. NASA has given CSS the mission of detecting and tracking near-Earth asteroids, and CSS has really done its job: They've found more potentially hazardous asteroids by looking up at the sky on Mount Lemmon than any other survey program in the world. Christensen will talk about how asteroids are discovered, how frequently they impact Earth and what we can do to predict—and even prevent—future asteroid impacts. 2:30 p.m. Thursday, Sept. 27. Summerhaven Community Center on Mount Lemmon.
An Evening with Author Gary Nabhan. The Borderlands Restoration Network, a Patagonia-based nonprofit dedicated to rebuilding a restoration-based economy in the Arizona-Sonora borderlands, hosts this event with author and famed ethnobiologist Gary Nabhan. Nabhan dedicates his work to conserving the links between biodiversity and cultural diversity, and wow, bless him for it. His new book, Food from the Radical Center: Healing Our Lands & Communities, is available to purchase—and have signed by Nabhan himself—after this talk. Food and music under the stars will be available as well, and so will drinks with a donation. 5:30 to 7:30 p.m. Saturday, Sept. 29. Mission Garden: Friends of Tucson's Birthplace, 946 W. Mission Lane. $20 suggested donation.
Argentine Tango Classes: Begin Here. We know what you're thinking: You don't want to try tango-ing because you don't know how to tango. But how are you supposed to learn how to tango if you never try it? And this class is the perfect way to start. They're covering the most basic of basics, from how to connect with your partner to the Tango Walk to simple turns to a general introduction to Tango music. Hey, it takes two to tango, so if you learn how to do it now then you're halfway there. 2:15 p.m. on Saturdays through Dec. 22. Tucson Dance Academy, 2850 W. Ina Road, $10 per class.
Spanish Conversation Class. If you live in Tucson and still don't know any Spanish, it can't hurt to learn a little. And even if you live in Tucson and already speak Spanish pretty well, it can't hurt to brush up—or to help others do the same. This open enrollment, walk-in class at the library allows students of all levels to practice their Spanish conversation skills by talking about topics like culture and customs, home, work and travel. The focus will be on pronunciation and vocabulary, sentence structure and commonly-used phrases. ¿Por que no? 10 a.m. to noon on Saturdays at the Oro Valley Public Library, 1305 W. Naranja Drive. Free.
Fun in General
Nightfall at Old Tucson. It's that time of year again already! Time to eat and drink pumpkin-flavored everything, start wearing sweaters (OK, you might need to wait another month or so on that one because we live in Tucson) and voluntarily scare yourself out of your wits. And Old Tucson sure is the place for that last one. Live shows, terrifying haunts like Nightmare Infirmary and Rattlesnake Gulch, and other amusements will abound. Take a haunted hay ride! Run from zombies! See some sword swallowers and glass chewers! Try out a VR experience! Whatever you do, go out there and get your Halloween on. Fridays through Sundays, Sept. 28 through Oct. 4, and Thursdays through Sundays through Halloween, plus Halloween itself, which is on a Wednesday. Hours vary, but this weekend is 6 p.m. to midnight Friday and Saturday and 6 p.m. to 10 p.m. on Sunday. Old Tucson, 201 S. Kinney Road. $29.50 adults, $22 kids 9 to 11, free for kids 8 and under (though it may not be suitable). This weekend tickets are only $20 on Friday and Saturday!
Steampunk GLOW! It's the second GLOW! of the season, and it's time to get goggly! Think science fiction meets technology but all in the Victoria Era and also glowing. Because this is GLOW! So you have to light up the trails with your costumes and the glow of your excitement. Mtn Lmn HiWay and hypnopad will play music on the paths from 7 to 9 p.m., Los Puchos will perform on the main stage from 9 to 11 p.m. and Laurel Wilson will be performing "Death Wears a Miniskirt" throughout the night. In addition, grab a tarot card reading by Felicitas and check out Karel Moonan's photo booth. Ready, set, GLOW! 7 to 11 p.m. Saturday, Sept. 29. Triangle L Ranch, 2805 N. Triangle L Ranch Road. $21.44 adults, $12.86 kids 4 to 12, $75.04 for a carpool (four adults per car).
Thin Mint Sprint 2018. It would be a lot easier to find the motivation to work out if there was a Girl Scout cookie waiting for you at the end of every run, right? At this event, your dreams come true. This family-friendly event includes the 5K Thin Mint Sprint and a 1-mile Do-si-do Dash, as well as a Trevoil Trot race for those aged 5 and under, which is untimed and free. All kids in the race get a Thin Mint Sprint patch, and participating Girl Scouts have the chance to earn a badge by running it. Do it for your health! Do it for the Girl Scouts. And, obviously, do it for the Girl Scout cookies. 7:30 to 10 a.m. Sunday, Dept. 30. Brandi Fenton Memorial Park, 3482 E. River Road. $20 to $30.
Bear Down Fridays. Every day in Tucson is a day to Bear Down, but we like to do it on Fridays especially, to get all pumped up right along with our Wildcat football team. Starting at 3 p.m., restaurants and shops along University Blvd. will offer food specials, happy hour pricing, discounts, giveaways and activities, and at 6 p.m., the pep rally kicks off—complete with the Pride of Arizona Marching Band, UA Poms, Twirlers and Flags, Wilbur and Wilma and UA Cheer. A Junior Cats Zone from 4 to 6 p.m. has lots of all-ages activities as well. Parking in the Tyndall Garage is free after 4 p.m. with merchant validation. Bear Down! Yay Cats! Go Tucson! 3 p.m. Friday, Sept. 28. Main Gate Square, 814 E. University Blvd.
Karaoke Hotline. As the months grow colder, two of the most effective ways to stay warm, according to science, are to warm up your limbs with a little bit of alcohol and warm up your soul with a little bit of singing your heart out. This week, why not try it out at R Bar, where they claim to have access to the largest collection of karaoke known to this plane of existence. There could be songs in their karaoke repertoire that aren't even WRITTEN yet. Get groovin', get movin', and get on down to R Bar. 10 p.m. Sunday, Sept. 30. R Bar, 350 E. Congress, Free.