Museums
MOCA Fall Fundraiser: Surrealist Dinner Party Featuring David Henry Nobody Jr. Just another run-of-the-mill dinner party inspired by Les Diners de Gala, Salvador Dali's surrealist cookbook. The book has a whole chapter devoted to snail and frog dishes, a recipe for avocado toast with lamb brains and tequila on it and a special section devoted to aphrodisiacs. It, like this party, is completely nuts in all the right ways. David Henry Nobody Jr. will be the "ringmaster" of the night, which features an Art-ini (an edible buffet of food porn, Molly Gabbard's fascinating Everyday Titties exhibit, Brian & Ryan's All American Hotdog Eating Invitational, performances by the Pork Torta & Shooda Shook It and video installations. The highlight of the night is David Henry Nobody Jr's live, red-carpet runway show, "Edible Wardrobe Malfunctions." 7 to 11 p.m. Saturday, Sept. 8. MOCA Tucson, 265 S. Church Ave. $100 tickets include food and two drink tickets.
Sense of Place. This new exhibit at the Tucson Children's Museum is being billed as their newest and biggest yet! It takes museum guests on a trip around Tucson while staying all in one room. With depictions of desert landscapes and animals, maps of the area, and photos, the exhibit is a celebration of all the things that make Tucson wonderful—and boy, there sure are a lot of them. You'll travel from the walls of Sabino Canyon to the hills of Sentinel Peak, check out Colossal Cave, see the stars through the Kitt Peak Telescope and even see the inside of a saguaro. Exhibit opens 10 a.m. on Saturday, Sept. 8. Tucson Children's Museum, 200 S. Sixth Ave. $9 admission.
Second Sundaze Family Day at TMA. The museum is celebrating World Peace Day on Sept. 21 a little early at this second Sunday celebration, where there'll be art-making, live performing and new-art unveiling. Make kites, postcards, paper crains, or even impressionistic art as part of the night's creative component. You can even add your wish for peace to a big, collaborative web. Julie Sasse, chief curator and curator of modern and contemporary art, will lead a tour of some of the new works from the Kasser Mochary Art Foundation—including a painting by the famed impressionism pioneer himself, Claude Monet. And of course, it wouldn't be a peace-lovin' event for Tucsonans without a performance by Mr. Nature at 1 p.m. 10 a.m. to 5 p.m. Sunday, Sept. 9. Tucson Museum of Art and Historic Block, 140 N. Main Ave. Free.
First Fridays at the Arizona History Museum. It's never a bad time to go check out the Arizona History museum, which houses artifacts of famous Arizonans like Geronimo and Wyatt Earp, as well as family-friendly exhibits like a mining tunnel and a recreation of 1870s Tucson. Not to mention the stories of other fascinating figures, like Emperor and Empress Maximillian and Carlota of Mexico. But going on first Fridays, when admission is two for one for the evening, is an especially good idea. 4 to 8 pm. Friday, Sept. 7. Arizona History Museum, 949 E. Second St. $10 adults, $8 seniors, $5 adult students, $4 students 7 to 17, free for kids 6 and under/veterans/AHS members.
The Story of Owney the Postal Dog. Way back in 1888, this scruffy little dog started following the mailmen in Albany, New York around. The mailmen liked Owney pretty well, so they started letting him ride on the railway's train cars across the state... then across the country... and then internationally. The first unofficial postal mascot has one cute story, and children and adult Tucsonans alike deserve to hear it. So head over to the Transportation Museum, where Postal History Foundation Director Lisa Dembowski will tell the story, and Will and Lee MacDonald will provide music. While you're at it, check out the museum and have some family fun. 10:30 a.m. Saturday, Sept. 8. Tucson Historic Depot, 400 N. Toole Ave. Free.
Shopping
Second Saturdays at Steam Pump Ranch Another weekend, another farmer's market. And Second Saturdays at the Oro Valley Farmer's market have more than the usual local produce and baked goods. This week, they're hosting a special craft for kids: making lace dreamcatchers to celebrate National Lacemaking Day, National Aunt's Day and National Grandparent's Day. What a perfect way to knock out gifts for all those grandparents and aunts, especially considering that kids can do it at the farmer's market, while parents are picking up their groceries. 8 a.m. to noon. Saturday, Sept. 8. Steam Pump Ranch, 10901 N. Oracle Road.
Mercado Flea. This eclectic vintage market at Mercado San Agustin was on hiatus for the summer, but it's back from September to May! Antique and vintage dealers from all over the Tucson area are coming together to sell furniture, industrial equipment, collectibles, vintage clothing and all things old and authentic. Whether you're looking for a final piece to tie your redecorating project together, are searching for some inspiration to get your redecorating project started, or just like to look at pretty things and see where it takes you, the Mercado Flea is always a treat. 8 a.m. to 2 p.m. Sunday, Sept. 10. Lot between the Mercado San Agustin and the Mercado Annex, 100 S. Avenida del Convento.
Tucson Fall Gem Shows. During the winter here in Tucson, we have the biggest gem and mineral event of its kind. This event is like that event's younger brother: not quite as big, but definitely catching up, and still very cool. There are a few events going on here. The Best Bead Show runs 10 a.m. to 6 p.m. Thursday, Sept. 6, through Saturday, Sept. 8 and 10 a.m. to 3 p.m. on Sunday, Sept. 9 at Quality Inn & Suites Airport North, 5251 S. Julian Drive. The Holidome by Gem & Lapidary Wholesalers run from 10 a.m. to 6 p.m. Thursday, Sept. 6 through Sunday, Sept. 9. At 4475 S. Country Club Road. The Gem Show at Kent's Tools runs from 9 a.m. to 6 p.m. through Sunday, Sept. 9 at 2745 N. First Ave. Check out visittucson.org for more information, and get ready to have your world rocked.
Shows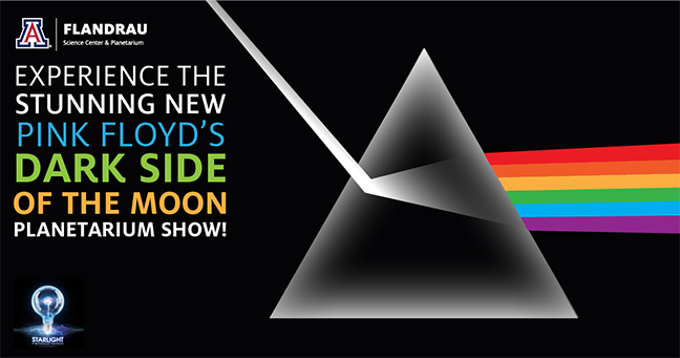 Pink Floyd Planetarium Show. If you were alive in the '70s and have never seen a Dark Side of the Moon laser light show, then shame on you. In fact, no matter when you were born, at this point, seeing a Dark Side of the Moon laser light show is sort of just part of the human experience. The Flandrau Planetarium is launching a revamped version of the show with spellbinding visuals, an upgraded sound system and that special kind of magic only Pink Floyd can make. To launch the new spectacular, they'll be showing it at 8 p.m. and 10 p.m. every Friday and 9 p.m. and 10 p.m. every Saturday for a month. The show opens at 8 p.m. on Friday, Sept. 7. Eos Foundation Planetarium Theater in the Flandrau Science Center & Planetarium, 1601 E. University Blvd. $8 tickets are available for purchase on the day of the show. Call 621-4516 to reserve tickets.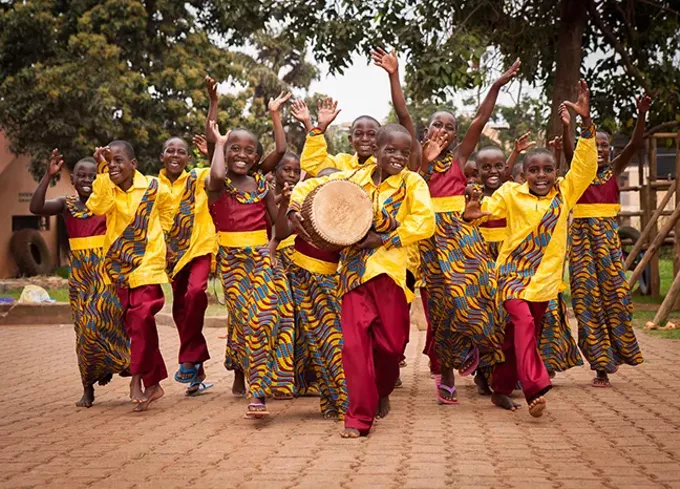 African Children's Choir. This insanely adorable, incredibly talented group of kids was put together by Music for Life, an organization that proves education to children in Uganda, Kenya, Rwanda and South Africa. Their goal is to help create new leadership for Africa, and one way they do this is by raising funds through children's choir performances. While the children get an education and a chance to travel the world, the world gets to have their hearts melt and to learn just a little bit about different cultures as they watch these kids sing and dance and perform traditional African songs and dances (as well as some spirituals and Gospel faves). They've performed alongside artists like Paul McCartney and Mariah Carey, and for people like the Queen of England—and now you! 8:30 and 11 a.m. Sunday, Sept. 9. First Southern Baptist Church of Tucson, 445 E. Speedway Blvd. No tickets, donations appreciated.

Native Gardens. The Arizona Theatre Company is opening their season with a hilarious new show about the border wall... well, about the border fence between two houses in a well-to-do Washington D.C. neighborhood. When Pablo and Tania Del Valle, a high-powered lawyer and a PhD student, respectively, move next door to Frank and Virginia Butley, a retired government employee and an engineer, the couples exchange pleasantries, but find they have different philosophies when it comes to gardening. Which wouldn't be a problem if there wasn't a disagreement as to exactly where the fence line between the two properties should lie. This play looks at the pursuit of the American dream, discrimination and compromise in a refreshingly funny way, leaving you both chuckling and contemplating as you walk out of the theater. Saturday, Sept. 8 to Saturday, Sept. 29, with shows at 7:30 p.m. most Tuesdays through Sundays, and at 2 p.m. on Saturdays and Sundays. Temple of Music and Art, 330 S. Scott Ave. $25 to $90.
Odyssey Storytelling: Branded
. As the storytellers at this event can attest, there are a lot of different ways to be branded. There are the literally markings, like tattoos, piercings and scars. And there are the mental, emotional kinds that come from being labeled by other people. Some brand themselves by choosing to wear their hearts on their sleeves, while others feel betrayed when they're given designations they didn't choose. Tonight, six Tucson storytellers will share stories about times they've felt branded, reminding you that you're never alone. 7 to 9 p.m. Thursday, Sept. 6. The Sea of Glass Center for the Arts, 330 E. Seventh St. $10 GA, $7 students.
Art

"Desert Dwellings" Opening Reception.
This new exhibit at the DeGrazia Gallery in the sun runs through Jan. 30, 2019, and features an array of Ted DeGrazia's landscape paintings. Whether he's depicting adobes and ranch houses for people to dwell in or saguaros and mountains for animals to dwell in, these moody paintings are all about the hot homes of the Sonora. These paintings have never been on display before, so don't miss an incredible opportunity to see and experience these dreamy landscapes by one of Tucson's finest. 5 to 7 p.m. Friday, Sept. 7. DeGrazia Gallery in the Sun, 6300 N. Swan Road. Free.
Cacao Yoga
. There are a lot of different types of yoga out there, and they're all supposed to relieve stress. But this one involves cacao, which we already know relieves stress, or at least is so good that it distracts you from whatever was stressing you out in the first place. This monthly practice at Barefoot Studio celebrates the new moon and includes a sacred cacao elixir to help you tap into your heart center, and your creativity and breath along with it. If you've never honored the new moon with a yoga routine, why not try it? The worst that could happen is that you have some nice quiet time and some magical elixir. 5:30 p.m. Friday, Sept. 7. Barefoot Studio, 6718 Thornydale Road. $25 members, $30 nonmembers.

Our Sister's Keeper.
Photographer Marie Plakos travels the world to photograph people, cultures and landscapes. In this exhibit, she is showcasing her works that illustrate the beauty and strength of women—particularly in the face of adversity. From economic hardships and hunger to lack of adequate health care and physical abuse, there are many women who get up every day and fight just to be alive. In her words, "human rights must exist for everyone living on this planet and for women and girls to have a better life. Our life interdependence demands this, and that is why we must be our sister's keeper." Exhibit runs through Sunday, Oct. 28. Saint Philips in the Hills, 4440 N. Campbell Ave. Free.
Fun in General

Third Annual Putt for Paws Golf Tournament.
You've probably heard that GOLF was originally an acronym that stood for "Gentlemen Only, Ladies Forbidden." That's actually incorrect. In fact, it stands for Game Of Lovable Furballs. All proceeds at this tournament benefit the Humane Society of Southern Arizona, so enjoy a day full of golfing, kegs throughout the course, prizes, contests, awards and a luncheon afterparty secure in the knowledge that you are being completely selfless. And make sure you don't miss the complimentary Bloody Mary bar. 7:30 a.m. to 1 p.m. Saturday, Sept. 8. Ventana Canyon Golf & Racquet Club, 6200 N. Club House Lane. $125 per player or $475 for a foursome.
Teddy Bear Clinic at the Reid Park Zoo.
Happy National Teddy Bear Day! In honor of this momentous occasion, the Reid Park Zoo is offering an opportunity for you to bring in your favorite plush friend to get a check-up. Stuffed animals will be measured, weighed, diagnosed, and all bandaged up, if necessary, by a team of caring zoo staff and volunteers. Do you even remember the last time you took your teddy bear to the doctor? Probably not, which means you might be overdue. 9 to 11 a.m. Sunday, Sept. 9. Reid Park Zoo, 3400 Zoo Court. Free with zoo admission, which is $10.50 for adults 15 to 61, $8.50 for seniors 62 and up, $6.50 for kids 2 to 14 and free for kids 0 to 1.
JPride Pound Workout.
Let's start with a few definitions: JPride is a program sponsored by the Tucson J which began in 2005 with the goal of promoting inclusivity for the LGBTQ+ community. The Pound workout is a growing type of group fitness class that combines cardio, strength training and lots and lots of sweating. So, in attending this class, you're supporting a diversity initiative and bringing yourself one step closer to the set of abs you've always wanted (or at least one step closer to feeling justified in eating the plate of nachos you were going to eat tonight anyway). All ages, abilities, identities, genders, sizes and faiths are welcome! 6:30 to 7:30 p.m. Saturday, Sept. 11. Tucson Jewish Community Center, 3800 E. River Road. Free.
Climate Change: Arizona's New Reality.
Much like the rest of the world, Arizona is suffering the effects of climate change, including high temperatures and a years-long drought. This speaker series hosted by the Pima County Public Library, the Citizens' Climate Lobby and the UA Institute for the Environment details the threats of climate change, and also presents ways you can help reduce greenhouse gas emissions and prepare for what the future has in store. While the series will feature three talks, along with presentations by Tucson-area high schoolers and UA students who are studying climate change themselves, UA scientist Gregg Garfin kicks off the series with this Southwest-centric talk. 3 to 4:30 p.m. Saturday, Sept. 8. Joel D. Valdez Main Library, 101 N. Stone Ave. lower level meeting room. Free.