Art
Arizona Biennial 2018 at the Tucson Museum of Art. Artwork from all over the state was juried into this exhibition by guest juror Rebecca R. Hart, curator of modern and contemporary art at the Denver Art Museum. Works by dozens of artists, in dozens of mediums, will be on display in the James J. and Louse R. Glasser Galleries, the Chann Gallery and the Green Gallery. After all, you can't spell "Tucson, Arizona" without "art." On display through Sunday, Sept. 16 at the Tucson Museum of Art, 140 N. Main Ave. Hours are 10 a.m. to 5 p.m. Tuesday through Sunday and 10 a.m. to 8 p.m. on the first Thursday of each month. $12 adults, $10 seniors 65+, $7 college students with ID and youth 13-17, free for kids 12 and under, veterans and museum members.
The Resiliency of Hopi Culture: 500 Years of Planting. There's something about photographs taken or curated by a member of a community, rather than from the outside looking in, that gives pictures a certain power. This exhibit at the Arizona State Museum, guest curated by Hopi farmer, photographer and UA PhD candidate in the School of Natural Resources and the Environment Michael Kotuwa Johnson, is a perfect example. This series of photographs illustrates traditional Hopi farming practices and the values they're based on. 10 a.m. to 5 p.m. Monday through Saturday through June 29, 2019. Arizona State Museum, 1013 E. University Blvd. $5 adults and free for museum members, anyone 17 and under and UA faculty, staff and students with a Cat Card.
MOCA at GLOW! Launch. Oh yeah, there's another thing to look forward to in the summer: the return of GLOW, the annual multimedia event in article with visual and performance artists, a full moon and lots and lots of glow-in-the-dark stuff. Join the folks over at MOCA in celebrating the launch of this year's event, which goes through September and October. GLOW! And MOCA artists are presenting a glow-in-the-dark treasure hunt, pop-up installations and live performances. Be sure to wear your most fashionable glowing outfit! (Dior has a great glow-in-the-dark line out this year, but if that's out of your price range, the Dollar Tree is a great place to get lit quick). 7 to 11 p.m. Saturday, July 14. Triangle L Ranch, 2805 N. Triangle L Ranch Road, Oracle. $10 suggested donation.
Art After Dark at the Children's Museum. Second Saturdays at the Tucson Children's Museum always feature local art groups coming together for some hands-on fun. This week, we have Tucson's resident tot idol, Mr. Nature, bringing his favorite instruments and singing songs with the kids. There's sure to be plenty of dancing as well, especially during numbers like "I Like Bees," and "Mac and Cheese." As usual, kids must be accompanied by adults, and vice versa, for this event. The first 400 people to attend get a pass for one free visit to the museum. Start your vocal warmups now! 5:30 to 8 p.m. Saturday, July 14. Children's Museum Tucson, 200 S. Sixth Ave. Free.
The Zoo!
Summer Safari Nights. Mosey on over to the Reid Park Zoo for their summer program, where this week's theme is "Fighting for the Underdogs," and your chance to checkout some of the world's lesser-known and more mysterious animals. We're talking capybara, tapir, rhea, tortoise, chuckwalla, trans pesos, black & white ruffed lemur and flamingos (seriously, what is the deal with flamingos? How do they even stand?) As always, there will be plenty of local vendors, wildlife activities and food and drink specials. The Freddy Parish Band provides the live music. Get to exploring! 6 to 8 p.m. Friday, July 13. Reid Park Zoo, 3400 Zoo Court. $10.50 adults, $8.50 seniors, $6.50 children ages 2 to 14. Half off for zoo members.
Zoo Summer Camp. Do you have a future zoologist on your hands? Send 'em off to a summer
camp that will make their dreams come true. There's lots of games, crafts and behind-the scenes opportunities, but it's also super educational. Kids get to see how the staff use science, technology, engineering and math every day to take care of the animals, and to learn about why wildlife preservation is so important. Each week of camp also includes swimming sessions at the Edith Ball Adaptive Recreation Center. Bring your own lunch, or order it at the Zoofari Market Café. Open to kids entering grades 1 through 6. 8:30 a.m. to 4 p.m. Monday, July 16 through Friday, July 20. Other dates throughout the summer as well! Reid Park Zoo, 3400 E. Zoo Court. $275 for non-zoo member kids and $235 for zoo member kids.
Watermelon Wednesdays at Reid Park Zoo. Summer and watermelon. Name a more iconic duo. It's hard, right? Few things are more enjoyable than a cool slice of melon on a Tucson summer day. And it's not just humans who feel that way! At Watermelon Wednesdays throughout the summer, enjoy the slightly cooler morning temperatures and enjoy watching elephants, otters, grizzly bears, meerkats and more animals enjoying their own watermelon popsicles and smashing open watermelons with their bare bear paws. Don't worry, watermelon Eegees and slices are available for purchase for the humans too. 8:30 to 11:30 a.m. Wednesday, July 18. Reid Park Zoo, 3400 E. Zoo Court. Program is free with admission to the zoo, which is $10.50 for adults, $8.50 for seniors, $6.50 for kids ages 2 to 14 and free for kids 1 and under.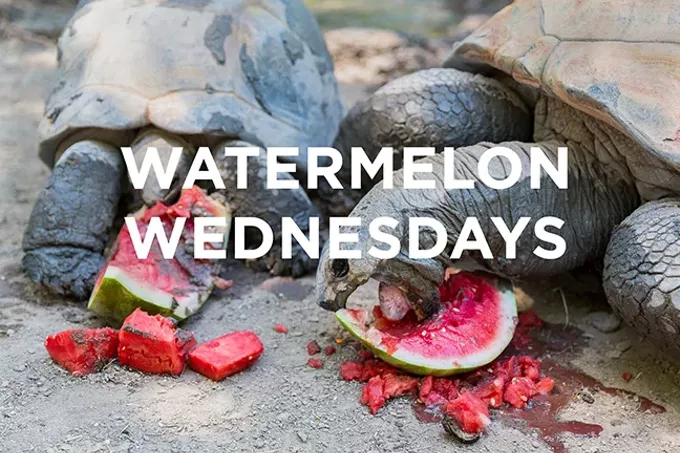 See a Show
Odyssey Storytelling Presents: Summer. In case you hadn't noticed, summer is here! And Odyssey Storytelling is celebrating it with its summer program, exploring the season in all of its facets, from Little League baseball games and popsicle-stained lips to summer romances and trips to the library. People who are getting up on stage to tell 10-minute personal stories include Aimee Finkelstein, Stephen Krohn and Paul Lucie. Maybe you're not the type of person who likes to tell personal stories in front of people, but this show is sure to get you thinking: What summer story would you tell? 7 to 9 p.m. Thursday, July 12. The Sea of Glass Center for the Arts, 330 E. Seventh Ave. $10 GA, $7 students with ID.
The Estrogen Hour. Happy National Ice Cream Day! Today, the gals at the Estrogen Hour are celebrating ice cream secondarily—first and foremost, the show is in honor of their late friend and fellow comedian Jennifer Finley. While you're enjoying comedy by the likes of Amber Frame, Bridgitte Thum and Cindell Hanson (plus special "Guestosterone Dominic DiTolla), you can feel good knowing that your ticket money is going straight to Jennifer's family at their time of need. Doors open at 5:30, show starts at 6:30. Sunday, July 15. Laffs Comedy Caffe, 2900 E. Broadway Blvd, suite 154. $15, plus Laffs has a two-item minimum. 21+.
The Music of the Blues Brothers. If you needed another reason to kick back and listen to some blues, consider that blue is on the "cooler" end of the color spectrum. So, attending this show might just help you beat the heat! Charlie Hall and Mike Yarema are bringing their nine-piece Blues Brother Tribute Concert back to Tucson. All you have to bring is your dancing shoes and a fedora. (Fedoras are not mandatory, but they'll help you get into the spirit, we're sure.) If you're not a Soul Man when you enter the Gaslight Theatre, you'll be one when you leave it. 7 p.m. Monday, July 16. Gaslight Theatre, 7010 E. Broadway. $22.95 adult, $20.95 senior/student/military, $12.95 children.
Learn Something New
Borderlands Restoration Network Field School. If you're in the mood to be immersed in the wilderness for a few weeks (but in more of a "practical training course" way) this four-week course in Patagonia full of lectures, workshops, field trips and hands-on learning opportunities all about environmentalism in the Sky Islands and the restoration economy. Learn about the current challenges and opportunities there are for people working in the U.S./Mexico Borderlands, the regional history of the area, and what wild plants are edible. Seriously, you'll learn way more than we can fit into this blurb, and there are needs-based scholarships available. 1 School St., Patagonia, Arizona. Monday, July 16 to Friday, Aug. 10. $1,500.
Cool Summer Nights. Night at the Desert Museum, and the stars are the star of the show, with folks from the National Optical Astronomy Observatory (NOAO) and the Tucson Amateur Astronomers here for a special astronomy night! You can check out interactive solar system activities that are perfect for families, marvel at faraway celestial bodies at one of the telescope stations and enjoy a special astronomy presentation by Kevin Hainline. As always, there's the fine art exhibit "Becoming Animal," plenty of docents full of fun facts, soothing live flute music, the stingray touch exhibit and the Packrat Playhouse for kids (parents, did you know you can skip the line by reserving time in the Packrat Playhouse in advance?) 5 to 9 p.m. Saturday, July 14. Arizona-Sonora Desert Museum, 2021 N. Kinney Road. $22 GA, $20 seniors 65 and up, $9 kids 2 to 12, $18 military, $17 Arizona/Sonora resident.
Beginners Guide to Meditation. Are you one of those people who's always thought that meditating sounded like a good idea, in theory, but every time you've sat down to try it, you haven't been able to stop thinking about when the last time you washed your sheets was, or whether you paid the electricity bill, or whether people still remember that embarrassing thing you did in fifth grade? This affordable series of classes will get you set up with all of the basic guidelines and simple, time-tested techniques to get you on the right track. All levels are welcome! Even if you've been meditating for awhile, but want to reboot your practice, this class could be for you. 7 a.m. every Wednesday through Aug. 1. The Yoga Connection, 3929 E. Pima St. $40.
Mirror Lab Tours. You've probably heard of the UA's mirror lab, but might not know exactly what it is, or at least haven't seen it in person. But you can! They have tours all the time! If you haven't checked it out yet, why not this week? You'll have the chance to see LITERALLY the biggest and most advanced telescope mirrors in the world (like 27 feet across), because they're made at the UA campus. The stuff that goes on in the Richard F. Caris Mirror Lab make it possible for astronomers to look deep into the universe, and, technically, if you walk through the lab, you can say you're a part of it, right? Monday through Friday at 1 p.m. 527 National Championship Drive. The lab is located on the east side of the UA Football stadium. Adults $20, seniors an military $18, students 10-20 years old with ID, $10.
Fun in General
Make & Sip: Pick Your Craft! Grab all of your best craft-lovin' friends and head down to Scott Avenue for a night that's going to be just as full of class as it is fun! Creative Tribe is celebrating one year of hosting Make & Sip events, and they're celebrating with a craft jamboree, where participants can choose from a number of crafts the group has hosted over the past year. Choose from options that include terracotta pot painting, watercolors, friendship bracelets, stemless wine glass painting, wood bead keychains and Perler beads. Materials are first come, first serve, so get there early if you're dead set on one in particular. Food is welcome, and so are drinks, but a reasonable amount—40 oz. of beer, 750 ml of wine or four ounces of distilled spirits. Let's get crafty! 6 to 9 p.m. Friday, July 13. Creative Tribe, 236 S. Scott Ave. $7.
The Breaking Point. Fed up with this heat? Fed up with your job? Fed up with the meaninglessness of life? Whatever you're fed up with, you probably feel like you want to smash something. Maybe break some plates, maybe go bigger, and take a bat to your refrigerator. Well, say no more. Because the Breaking Point, Tucson's new (and only!) rage room, is exactly the place you need. Head into one of their rooms full of shatter-able items with a blunt object they provide and start smashing away. Take a hammer to an old washing machine. Take a metal rod to a table covered in glass bottles. (And do it all while wearing the appropriate safety gear they provide, and, for the love of God, don't wear flip flops). Call ahead to make your reservation! The Breaking Point, 2006 E. 14th St. Prices range from $10 to $400 based on the length of your session, how many people you bring, and which experience you choose.
Little Anthony's Diner Classic Car Shows. In the evenings, as it starts to cool down (however slightly), what better way to let the stress of the day roll off your back than by grabbing a meal at a local diner and then walking up and down rows of some of the most beautiful cars in town? Even if you're not into cars, you gotta admit that the food and live music make this event perfect for the whole family. And you can go every other Saturday for the whole rest of the year, if you want! 6 to 9 p.m. Saturday, July 14. Little Anthony's Diner, 7010 E. Broadway Blvd. Free.
Second Saturdays at Steam Pump Ranch. There's nothing like spending a weekend morning at the farmer's market, especially if you can get there early enough to beat the worst of the heat. Plus, if you walk or ride your bike on the shared use path to get there, you get a $1 coupon to use at one of the vendors. (Offer limited to the first 20 people, and be sure to drink plenty of water!) This week, there's a free teddy bear picnic basket craft for kids. Due to weather, there will be no Pusch Ranch House tours (it's hot in there), gardening activities (it's hot out there) or live music (too hot to sing/instruments might melt/the sound waves could risk making the air hotter). 8 a.m. to noon. Saturday, July 14. Steam Pump Ranch, 10901 N. Oracle Road. Free entry.