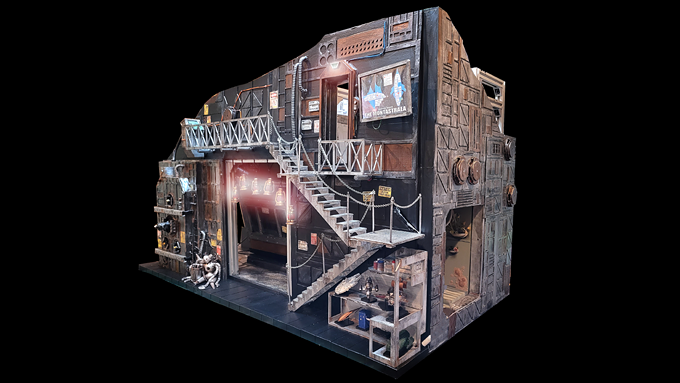 ARA BENTLEY'S "THE CAPTAIN'S QUARTERS"
THROUGH NOVEMBER 2025
Ara Bentley became a YouTube hit with videos about her tiny ships. She has since taken social media by storm with her stories, in miniatures, about "The Captain's Quarters." Said "captain" is a 200-year-old female who may not be fully human, but for her own appreciation and amusement, she maintains a replica of an 18th century captain's quarters within the hull of her . . .wait for it. . . miniature spaceship.
Mini Time Machine Museum, 4455 E. Camp Lowell Drive, Tucson, $14, discounts available, 9 a.m. to 4 p.m. Tuesday to Sunday, www.theminitimemachine.org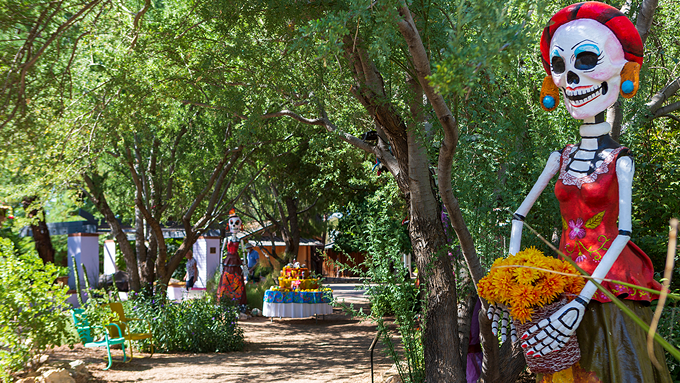 "LA CALAVERA CATRINA"
THROUGH DEC. 31
A bilingual exhibition features larger-than-life sculptures of "La Catrina," the figure most recognized from events surrounding El Dia de Los Muertos, the Day of the Dead. She's lovely even as a mere skeleton of her former self. She wears earrings and period dress featuring Aztec or Mexican traditional motifs, and there's always a garland of flowers in her hair or a fabulous hat on her head. La Catrina represents death as a celebrated, albeit inevitable, aspect of life.
Tucson Botanical Garden, 2150 N. Alvernon Way, Tucson, $15, 8:30 a.m. to 4:30 p.m., www.tucsonbotanical.org
DAN DEACON
NOV. 15
Dan Deacon is best known for being unknown. Innovative electronic music is his main jam, but his work is often the sound of a scene — heightening drama and humor in films and series. You may have heard him on recordings by Arcade Fire, Miley Cyrus and The Flaming Lips. His own albums, "Spiderman of the Rings" and "Bromst," were included in "Pitchfork's" Best New Music list..
191 Toole, 191 E. Toole Avenue, Tucson, tickets start at $20, 8 p.m.,
www.ticketmaster.com
WFC 159: LIVE MIXED MARTIAL ARTS
NOV. 11
Shades of Bruce Lee! It was his movies that jump started the popularity of mixed martial arts in the United States. The World Fighting Championships 159 tournament attracts competitors around the world. VIP packages are available.
Casino del Sol's AVA Amphitheater, 5655 W. Valencia Road, Tucson, tickets start at $32, 7 p.m.,
www.casinodelsol.com
HONORING VETERANS
NOV. 10
On Saturday, Nov. 10, Tucson's Veterans Day Car Parade encircles the Tucson Convention Center. Visit the website below for the route!
Tucson Veterans Day Parade, Tucson Convention Center, 260 S. Church Avenue, free, 11 a.m.,
www.tucsonvdpf.org
DUSK MUSIC FESTIVAL
NOV. 10 AND NOV. 11
Rio Nuevo, the organization that works to keep Downtown thriving and growing, kicks out the jams this weekend with the likes of Louis the Child, Seven Lions and 311. Other attractions include an exhibit of large-scale art, a culinary festival and a vendor village with Arizona businesses.
Jacome Plaza, 101 N. Stone Avenue, Tucson, doors open at 2 p.m., tickets start at $70, www.tixr.com
TUCSON MODERNISM WEEK
NOV. 10 TO NOV. 12
As Tucson's population and construction boomed after World War II, architecture trends here expressed an aesthetic then known as "modernist." Tucson is second only to Palm Springs as an attraction for modernism fans. Learn more at the lectures and site visits set for this event's closing weekend.
Rincon Congregational Sanctuary, 122 N. Craycroft Road, Tucson, $10 per lecture or $25 for all six, $35 home tour, various times,
www.tucson.org/modernism-week
Vegan Fest
NOV. 11
Centered around vegan diets, the Vegan Fest honors and remembers veterans and first responders — humans and animals. It serves as a fundraiser for Whisper's Sanctuary.
Brandi Fenton Park, Hay Barn Ramada No. 6, 3482 E. River Road, Tucson, free admission, 11 a.m. to 3 p.m.
vegnow4animals@gmail.com
Mercado Flea
NOV. 12
The Mercado Flea returns with more than 50 vendors, the second Sunday of each month from October to May. The open-air urban flea market sells antique, vintage and used and collectible items.
Mercado District, Avenida del Covento between Congress and Cushing streets, Tucson, free admission, 8 a.m. to 2 p.m., www.mercadodistrict.com
"HOLIDAY HULLABALOO"
NOV. 12 AND NOV. 19
One Rehearsal Short, a long-running musical comedy ensemble, debuts its annual holiday confection this week. Costumed and committed, they parody Broadway hits, performing them in improbable settings that turn the lyrics into parody. Their dance routines are invariably hilarious. This is the show for your whole family and holiday guests from out of town.
Live Theatre Workshop, 3322 E. Fort Lowell Road, 6:30 to 8:30 p.m., $10, www.livetheatreworkshop.org
GABA Rio Nuevo Bike Swap
NOV. 12
The Greater Arizona Bicycling Association and Rio Nuevo will host its second bike swap of the year at Armory Park. It's dubbed the southwest's largest bike swap meet, as it attracts more than 5,000 attendees and over 40 vendors biannually.
Armory Park, 220 S. Sixth Avenue, Tucson, free admission, 7 a.m. to 1 p.m., www.bikegaba.org
EXAMINING THE JEWISH EXPERIENCE IN TUCSON
NOV. 16
The Southwest Jewish Archives and the Bloom Family Archives cohost an event to explore the archives' origins and their current work. Steve Hussman and Michelle Boyer of the University of Arizona's Special Collections will discuss the archives' collections of video and audiotapes, photographs and ephemera related to Bloom family members' generations in Tucson, including prejudice they endured.
Tucson Jewish Museum and Holocaust Center, 564 S. Stone Avenue, Tucson, free, registration requested, 11 a.m. to noon,
www.jewishhistorymuseum.orgARA BENTLEY'S "THE CAPTAIN'S QUARTERS"