When the residents of Arcosanti pour molten bronze to craft their bells, they place pennies next to the matrix. That way, if a bit of the superheated metal spills onto the copper of the penny, it makes a bright green flame. Why? Because it looks cool.
Creating something real, while making it look cool: This was the ethos at FORM music festival. The experimental, ecological commune of Arcosanti, in central Arizona, was the scene of the fifth annual FORM. The festival hosted some 1,500 festival-goers, along with dozens of bands, artists, sustainability-entrepreneurs, architects, volunteers and tea sellers.
Before the first night's headliner Fleet Foxes played, Jeff Stein, executive director of the Cosanti Foundation, gave a talk on the power and importance that community and eco-thought will have in the future.
Arcosanti is the project of Italian-American architect, Paolo Soleri. The commune is based on the concept of "arcology," a combination of ecology and architecture. With the town, he wished to show "how urban conditions could be improved while minimizing the destructive impact on the earth." Starting in 1970, the construction also made for shared, open spaces, and forces communal engagement. Essentially, it's made for sharing art, ecology, thoughts and music.
Fleet Foxes blew away the night. Their lush folk instrumentation combined with their colorful backdrops made for a fantastically uplifting time. The six-person band juggled between guitars, keyboards, flutes, drums, tubas, mandolins and castanets. Their cozy yet powerful sounds fit well with the fact that frontman Robin Pecknold was drinking a nice cup of tea onstage.
Arcosanti was built on the cliffs of a canyon, surrounded by Arizona plateaus. There are three large amphitheaters like severed bells, plus plenty of stylized housing areas and art studios. The abstract rooms and courtyards are like a multiplayer level from some forgotten science fiction video game. They're punctuated with juniper trees, fountains, gazebos and towers. It's the perfect location for just about any gathering, particularly a music festival.
The indie-rock band Sandy (formerly known as Alex G, after their singer/songwriter) dished out breezy and catchy songs, which were perfect for the sunny outcropping they played from. Their guitar pop, sung in a kind of deadpan, was equally melancholic and warm. It served as a great break from the bombastic electronica elsewhere, and proved its niche in the eclectic festival well.
Directly outside the scenic Tuscan-looking ecoscape is the harsh wilderness of Yavapai County. Festival-goers experienced both. The high altitude and barren plains make for an incredibly dry and dusty experience outside of the concert amphitheaters. The dirt-choked gusts are so thick they'll give you dreadlocks in a day. Luckily, a pool and showers are available. But even those might not fully combat the heat of a daytime tent.
But by night, when the winds calm and the stars are unblocked by any light pollution, the area drastically changes. It even gets a little chilly. The eclectic nature of Arcosanti was best exemplified by Flying Lotus' electronics show. It was preceded by the conscious poetry of Aja Monet, who urged the audience to actually think while having a good time. Then Flying Lotus came out, and melted faces with danceable beats and complex electronics, all the while psychedelic 3D projections exploded behind his DJ booth.
Arcosanti's permanent buildings hold about 100 residents who live there full-time. The swarm of festival-goers had to camp in the river gorge beneath the city. This makes for hiking a lot of dusty switchbacks, back and forth from music to bed. A face mask or bandana is a good idea for these treks, which makes for a lot of interesting characters, with Mad Max face covers and tie-dye bikinis.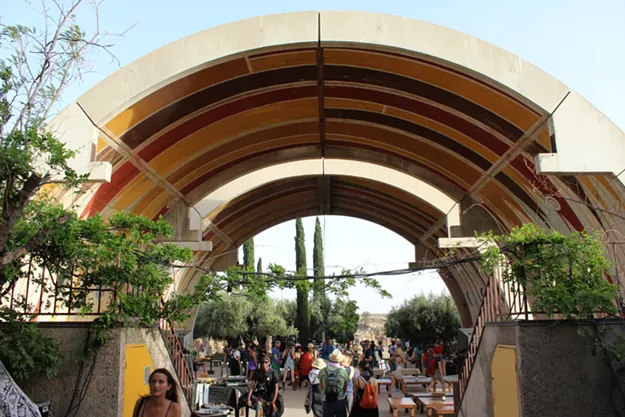 The music Grouper conjured up was perfect for the location. Her droning layers of voice and haunting piano echoed through the stone hallways, adding even more of a sense of mystery to the place. Grouper, the name of Liz Harris' solo music project, involves her running tape loops alongside electric guitar and a piano to create some truly otherworldly sounds. Literally otherworldly, as some of her most acclaimed albums take cues from psychedelia and the cosmos as inspiration for their atmospheres. Seeing Grouper do her thing among the dusky olive trees and billowing pennants was truly an experience.
Studio and performance art also ran rampant through the arcades of Arcosanti. One particularly interesting example had a dozen actors dressed in all red, wandering through the commune without speaking, some holding flowers, some holding briefcases. A man in the crowd covertly gave them directions on where to go and what to do, but at the same time he mingled and bought drinks. This gave onlookers the fun game of trying to spy who was in charge and what his motives were.
The Phoenix Afrobeat Orchestra also really got people dancing. They fused their polyrhythmic grooving with a message, reminding all of the troubles that exist in the nations that their music is from. There were so many brass-players, drummers, dancers and singers onstage that it almost looked the crowd had rushed up there to dance along.
In addition to the music and art, FORM hosted a wide variety of talks and panels from groups like the ACLU, Planned Parenthood, The Human Rights Campaign, the Phoenix Art Museum, Global Inheritance and more.
Between the whirlwinds of grit and the beautiful architecture, an interesting balance is to be found. If you're at all interested in art or sustainability, or in magically combining the two, by all means go to next year's fest. Your boogers might turn black, but your face will be bright. ■