Tucson was destined for diversity before Tucson even existed. The Sonoran Desert is one of the most taxonomically rich environments in the world; with thousands of species of plants alone, the landscape draws in members of any and every culture. The population has grown and regrown so many times that every now and again we need to take a step back and appreciate just what it is we've made here.
Tucson Meet Yourself allows for participants to rediscover themselves and the cultures surrounding them by "eating different foods, dancing on the streets, talking to strangers, seeing what is familiar in a new light." This year's highlights include a film festival, culinary demonstrations, circus art, an AIDS walk, and a myriad of diverse performers.
The Loft Cinema will be screening a series of films discussing unknown or underrepresented figures in art. Films include RUMBLE: The Indians who Rocked the World, about the role of Native Americans in popular music history, and Selena Sing-along!, a biopic about the late Tejano star Selena Quintanilla-Perez.
And it wouldn't be a Tucson event without delving into the land's rich food heritage. Tucson Meet Yourself is filled with culinary workshops and discussions, including a "Culture Kitchen" which discusses the passing on of culinary traditions, and a "Food Justice Expo" about Southern Arizona's foodshed. Throughout the festival, dozens of vendors will serve up food from just about everywhere, including Somalia, Egypt, Jamaica, Greece, Peru, Mexico, Turkey, Thailand and the Sonoran Desert itself.
The circus art showcase discusses Tucson's rich and wacky tradition of circus performances, including acrobatics, juggling, stilt-walking and more. The showcase features both performances from masters and workshops for hopefuls.
Celebrating its 30th anniversary, AIDSWALK Tucson enters its eigth year as part of Tucson Meet Yourself. The AIDS Walk gathers funds for the care services and LGBTQ initiatives for the Southern Arizona AIDS Foundation.
In keeping with modern Tucson, the festival is making an effort to go green this year. Such steps include promoting reusable water bottles, not permitting any vendors to use styrofoam, and partnering with UA Compost Cats.
Art of every medium will be present at throughout Pennington and Church Streets. Such local and native craftwork includes harp players, oil paintings, pottery, basket weaving, jewelry making, calligraphy and woodcarving.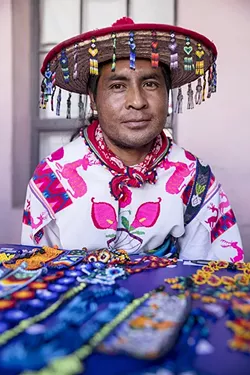 This year's "Faces of the Festival" helps archive and illuminate the wide variety of cultural presenters at Tucson Meet Yourself. The faces this year include a Buddhist monk from southeast Asia, a member of the Pascua Yaqui Tribe, snowbirds from northern states flocking to Tucson for the warmer climate, and a musician from Latin America. Come to think of it, that just sounds like a walk down North Fourth Avenue.
For more information, a full schedule, visit TucsonMeetYourself.org.
TMY After Party!
Is it really a party if there isn't an after-party? Haven't had enough of meeting yourself at the Tucson Meet Yourself?
TMY is stepping up its game this year. In addition to a new location and new vendors, there is now an avenue to keep the party going after the event has ended on Sunday evening.
Just down the street from the main event, ExoRoast Co. will be hosting "Taconazo," which is sure to be a heel-tapping good time. A lineup of intimate performances from TMY artists "that both reflect the rhythmic and vibrant art of zapateado, or the tapping of tacones, heels."
Featured artists include Son Jarocho Collective and Flamenco Tucsonense; Hector Vega (Hermosillo); Misael Barraza (Hermosillo); Olivia Rojas (El Paso); and Fabian & Katrina Sisneros (Albuquerque)
Exo is located at 403 N. Sixth Ave. Doors open at 6:30 p.m. and the event runs until 9:30 p.m. Tickets cost $10.
—Moe Irish
Tucson Meet Yourself, By The Numbers
• Estimated attendance: 120,000 people
• Number of performing acts: 100
• Number of food vendors: 56
• Number of folk artists: 100
• Number of community agencies: 80
• Number of volunteers: 750
• Total economic impact: $3.5 million
• Pounds of food waste to be composted: 5,280
• Pounds of total waste produced last year: 20,000
• Percentage of waste diverted from at last year's festival: 50
• Total cost of staging Tucson Meet Yourself: $330,000
• Number of sponsors making the event free to the public: 27
• Amount a single booth made last year over the course of three days: $10,000
• Amount withdrawn from nearby ATMs last year: $133,000
—Chandler Donald
Catch a Movie at Tucson Meet Yourself
The Loft Cinema will be presenting free screenings at Tucson Meet Yourself on at 7 p.m. Friday, Oct. 12, and Saturday, Oct. 13, at the Pima County Pavilion on Jácome Plaza. Films include:
• Selena, a sing-along to the 1997 musical drama written and directed by Gregory Nava and starring Jennifer Lopez as the late Tejano star Selena Quintanilla-Perez (127 min.) • RUMBLE: The Indians who Rocked the World, a 2017 documentary about the role of Native Americans in popular music history featuring music icons Charley Patton, Mildred Bailey, Link Wray, Buffy Sainte-Marie, Jimi Hendrix, Jesse Ed Davis, Robbie Robertson, Redbone, Randy Castillo and Taboo (103 min).
The films are free and open to the public.
—Kara Lipson
Find more Tucson Meet Yourself highlights on The Range.