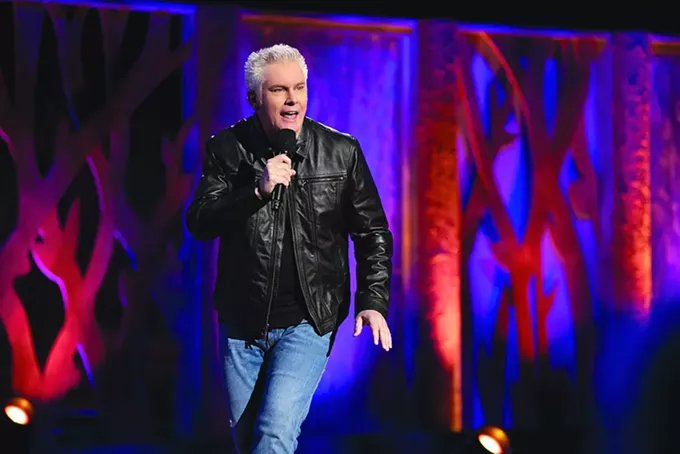 The "electrical connectionof comedy" has kept Brian Regan passionate about his career for 40 years.
"I love that feeling of saying something that you thought of in your brain and creating a picture in an audience member's brain. And if you connect, you get a laugh. It's a powerful experience," he said.
The power of that connection has made him one of the most inspiring comedians working today. Tucsonans under his spell have nearly sold out his set at the Fox Tucson Theatre on Sunday, Nov. 20.
Regan has been good for a laugh at least since college when he first took a stab at standup. His football coach urged him to think about a career in comedy if his major in accounting didn't work out. From there, as Regan was quick to point out, it was a long road to his 1991 debut on 'The Tonight Show with Johnny Carson." Life as a professional comedian is athletic in its own way.
He noted that over many years he averaged 100 live shows. Between gigs were repeated rounds of late-night talk shows, including a record-breaking 28 appearances on "The Late Show with David Letterman." In 2015, Comedy Central tapped him for their first ever live comedy special. He's gone on to create seven more comedy specials for streaming. He's also made movies and three seasons of an Amazon Prime series, "Loudermilk" in which he played, lovably, against type.
In his Wikipedia entry, the credits run to two pages.
In 40 years, he's seen a lot of changes, too. He pointed out, for example, that comedy is no longer a business, but an industry. Things have changed even more in comedy's cultural environment, too. Decades of common joke premises are now taboo, while many topics that were once taboo are now commonplace.
"Comedy does change, just like music and movies change," Regan said. "It seems like more people are looking for deeper topics within the comedy world. Years ago, people would avoid that like crazy. I believe in freedom of speech. As long as people are sharing what's important to them through the prism of comedy, I usually think it's beautiful." The exception, he said, is anything mean-spirited or hurtful.
Regan is never mean-spirited or hurtful, or crass, or even coarse, let alone vulgar.
"I tend to like to do clean comedy," he said. "I enjoy trying to see how much mileage I can get without hitting certain words or certain topics. My audience, because they're coming to see me, they have an idea of what to expect." But that's not to say they will always see the same show. Regan said he changes up some of his material in almost every appearance, creating, expanding on and honing new ideas.
What's made Regan's comedy so popular is its nearly universal relatability. His encounters and reactions are slices of almost every American life, his sets are a vacation from everything that separates us. The genius in his observations, his 40 years as a comedy athlete, and his demeanor as the neighbor we all wish we had are all wrapped up in a gift of something like grace.
As we open the paper and pull out the tissue we find our common humanity, and we laugh at it together.
The magic in that common ground is wonderfully expressed in the opening of Regan's latest Netflix special, "Brian Regan: On the Rocks." Upbeat music soars with us as we fly through a sunny day over the majestic red rocks surrounding the Red Rocks Amphitheater.
Regan bounds onto the stage, immediately addressing the elephant the room: his gray hair. From there his affect cycles through cheery, wry, bewildered, goofy and sarcastic as he holds forth about nonsense in hilarious detail. All the while he is moving and mugging with a physicality too rare among standup comedians.
He speculates on the ludicrousness of inventing marching bands. He derides an assertion that bees are smarter than humans because they can give directions with their tails. He gamely illustrates what that might look like. He relates the comic consequences of his OCD when confronted with a quiz to diagnose it.
As he goes on like that for an hour, he makes the 8,500-seat Red Rocks amphitheater feel like a neighborhood barbeque where everybody gets the jokes. He's the everyman, and everybody's comedian.
7 p.m. Sunday, Nov. 20, Fox Tucson Theatre, 17 W. Congress Street, foxtucson.com, tickets stat at $40
Seattle's Derek Sheen
headlines 'Comedy in Catalina'
Having opened for the likes of Patton Oswalt and Janeane Garofalo, Derek Sheen is the biggest catch yet for Kenny Shade's "Comedy in Catalina." Sheen's storytelling plumbs the depths of the human condition to shed light on the laughs buried there.
But having Mishka Shubaly feature on the same bill puts this show in the big leagues for a Tucson-area pizza parlor. Shubaly has toured with Doug Stanhope and was the musical director for Stanhope's movie, "The Unbookables."
9 p.m. Saturday, Nov. 19, Catalina Craft Pizza,15930 N. Oracle Road, Suite 178, 520-825-0140, $8 or free with a donation of food or clothing. Lineup includes Allana Erickson-Lopez, Kenny Shade, ME Rodgerson, and Valdez of 96.1 KLPX who hosts. Reservations are recommended.
Comedy elsewhere this week
Arte Bella, 340 N. Fourth Avenue, 6:30 p.m. Tuesday, Nov. 22, $10, "Blazed and Amused" 420-friendly comedy showcase with music by Lew Lepley, featuring hosts Rebecca Tingley Fox and Paul Fox, and Drake Belt, Joel Martin, Eden Nault, Joey Gaynor, Kristine Levine.
Laff's Comedy Caffe, 2900 E. Broadway Boulevard, laffstucson.com, $15, $20 preferred seating, 8 p.m. and 10:30 p.m. Friday, Nov. 18, and Saturday, Nov. 19. Hippieman John Novosad, a 30-year veteran hippie.
Tucson Improv Movement/TIM Comedy Theatre, 414 E. Ninth Street. tucsonimprov.com. $7 each show, $10 for both shows, same night, free jam and open mic. 7:30 p.m. Thursday, Nov. 17, Standup Class Showcases; 8:30 p.m. Open Mic; 6:30 p.m. Friday, Nov. 18, Improv Jam; 7:30 p.m., "The Soapbox" with Paul Dietzel; 9 p.m. Stand Up Showcase. 7:30 p.m. Saturday, Nov. 19, "Set Unlisted;" 9 p.m. Dirty Tees and The Dating Scene.
Unscrewed Theater, 4500 E. Speedway Boulevard. unscrewedtheatre.org, $8, live or remote, $5 kids. 7:30 p.m. Friday, Nov. 18, Family-Friendly Improv; 6 p.m. Saturday, Nov. 19, Unscrewed Family Hour with Comic Chaos; 7:30 p.m. Family-Friendly Improv, 6:30 p.m. Monday, Sept. 26, Improv Drop-ins, free.