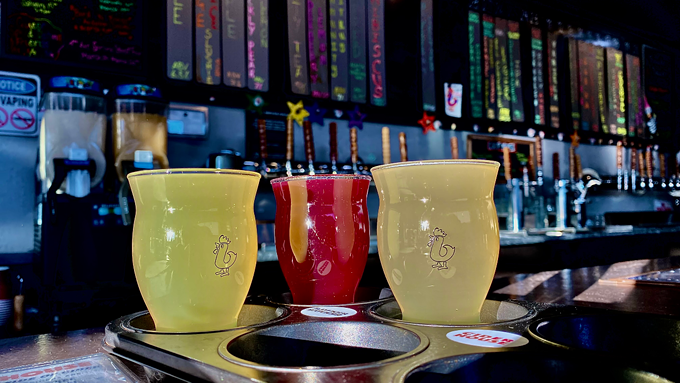 The 12th Annual Arizona Beer Week is around the corner, and Tucson's finest brewers are gearing up for the Saturday, Feb. 25 Craft Beer Crawl.
Non-beer drinkers can imbibe as well, with participants like Bawker Bawker Cider House and Ray Ray's Sonoran Spirit Tea.
Longtime Arizona Craft Brewers Guild member Bawker Bawker Cider House was asked to participate in the crawl as an alternative to beer.
"We're the gluten-free option for people," said co-owner Jaimie Perkunas. "There can be a lot of carry over between cider and beer."
Operated by chicken-lover Don Rubino, Bawker Bawker opened in early 2020 as the only cidery in Tucson. After almost three years, it still stands as the sole cider house in the city, crafting colorful and creative brews that give back and tap into the community.
Bawker Bawker's ciders may be an alternate option, but Perkunas calls cider a gateway for beer lovers.
"It can be similar," Perkunas said. "We love introducing what we call 'beer people' to cider and showing them that it doesn't always have to be too sweet or sugary."
Its first year in the beer crawl, Bawker Bawker also offers a low-sugar option. The taproom prides itself on serving more than 15 brews that can be mixed and matched, and sometimes fit into taste categories of normal beer options.
Perkunas outlined a few, claiming an IPA lover could try their hopped cider, and a stout enthusiast could enjoy a nitro and taste similarities. Unlike other ciders, Bawker Bawker brews drier, more tart and bitter variants that equate to sours.
Its highlighted beverages for the Tucson Craft Beer Crawl include hibiscus, elderberry lemon and blueberry seltzer ciders. The hibiscus has a dry, flowery quality that resembles a wine flavoring. It's smooth and bitter with the hibiscus cutting the tartness of the apple. The blueberry seltzer, on the other hand, is sweet and bubbly. It's a lighter blend of the two fruits with a taste that's refreshing on a warm day.
The elderberry lemon has a pleasant aroma with a citrus forefront, and Bawker Bawker owes that to the community's donation of lemons, oranges and grapefruits.
"We have such a plethora of citrus in Tucson," Perkunas remarked. "A lot of times we'll ask people to bring it in and then we'll juice it whole, and then we put it into our ciders."
Bawker Bawker carries options for cider and beer drinkers, but those aren't the only brews featured in this year's Beer Crawl. Local entrepreneur Rachel D'Acquisto has been brewing for years and decided to create her own take through Ray Ray's Sonoran Spirit Tea.
Partnering with Thunder Canyon Brewstillery, the brewer dropped her first hibiscus and black hybrid spiked tea.
"I don't know if I could've done it without them," D'Acquisto said. "They've given me the space to test my recipes, learn all the things I don't know and put it out for wholesale."
In the words of D'Acquisto, her spirit tea is "not a beer and not a cocktail." It's not fermented, but because it's a craft tea, it's considered an alcoholic brew. She uses black tea and locally sourced hibiscus to make it mild and low-caffeinated. The brewer then adds a vodka and tequila blend with a touch of agave syrup to bring it together.
The result? A smooth and light beer alternative. D'Acquisto was shocked — but not surprised — by the tea's broad success.
"It's capturing a wider market than I thought because it's an easy drink," D'Acquisto said.
"I don't use refined sugars. There's no gluten and it has a low AVB."
This will be Bawker Bawker and D'Acquisto's debut at the Beer Crawl. While Bawker Bawker will not be a crawl venue, the bar will serve up to 13 of its classic ciders. Crawlers can find its featured ciders on tap throughout the participating venues.
"We love to be a part of anything that involves the beer community," Perkunas said. "We're creating a bridge between cider and beer and educating people on what cider is."
Across from Thunder Canyon, Ray Ray's Sonoran Spirit Tea will be served on Herbert Alley.
"My closest mentors are beer brewers, so I'm excited to meet more of them," D'Acquisto said.
Tucson Craft Beer Crawl
WHEN: Noon VIP entrance; 1 p.m. general admission, to 5 p.m. Saturday, Feb. 25
WHERE: Various venues
COST: Tickets start at $45
INFO: tucsoncraftbeercrawl.com