Ten55 Brewing Co. opened its doors as a taproom five years ago, and while its 44th Street location gave co-founders J.P. Vyborny and Chris Squires a chance to feel out the Tucson market and work on their brand, they always had their eye on moving downtown.
Their new beer hall, which opened on Congress Street last week, aims to give locals a taste of German traditions while incorporating the local culture.
"First we wanted to make good beer and get the town behind us, and it's gone very well," Vyborny said. "Chris and I have always have been a fan of the renovation of downtown. Five years ago, we knew that's where we want to be and ever since it's just been getting better and better down there."
Ten55's beer hall sets itself apart from other downtown spots with a taste of Bavarian stylings—but don't expect anyone to be wearing lederhosen.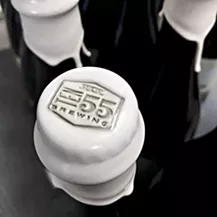 "While this has a basis in those old-world community-oriented beer halls, it's definitely been adapted for this city that we love," Vyborny said. "The idea is that you'll be able to share a table with your neighbor and break bread together and converse in a friendly manner in a very approachable setting."
The Southwestern-mixed beer hall serves up Bavarian bratwursts and craft sausages but also offers them Sonoran-style, with bacon, pinto beans, pico, mayo and mustard. Guests can also get a literal taste of the desert with a rattlesnake and rabbit sausage.
Executive chef Ivor Cryderman and craft butcher Ben Forbes of Forbes Meat Company will create all of the sausages. Cryderman—whose former food truck, Chef's Kitchen and Catering, collaborated with Ten55 for beer dinners—said the menu highlights the quality of local beer. One dish draws from Cryderman's great-great-great-grandmother's Polish sausage recipe, but now with wheat pale ale added.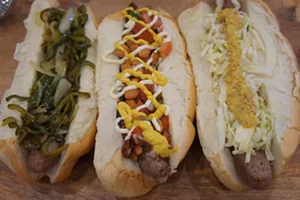 The menu also includes salads and a pimento grilled cheese that Cryderman calls "absolutely amazing." Ema Peterson of Beer Geek Bakery will provide desserts. Vyborny is especially excited about the beer hall's Belgian fries, hoping they will be known as the best fries in town.
"Both [German and Belgian] cultures have perfected what goes well with a pint, and we're just building on that," Vyborny said. "Even though the concept has some German influence, we've really updated it for Tucson and our community."
The beer hall also gives Ten55 the chance to expand its selection of beers on tap. Now, they can have 10 to 12 of their own beers on tap, up from six at their previous location. They will also have a selection of German and Belgian beers available.
The local focus also shines through the brewery's building itself. When renovating the downtown space, the founders discovered advertisements from the address going back to 1917, and those advertisements now have a new life as wallpaper in parts of the beer hall.
"We want to make sure that the building itself looks part of the attraction and show its color," Vyborny said. "It really lends itself to our concept and the brewery being in there as well."
At the grand opening last week, Mayor Jonathan Rothschild was on hand to pour the first pint in classic Bavarian style.
"It really is about the community aspect," Vyborny said. "We see beer halls and taprooms being meeting places for people more and more. Just tapping into that Tucson sense of community, it's great to have the mayor down to hoist the first pint."
That sense of community is what Vyborny said he and Squires love about breweries in Tucson, and now they can put their own spin on it.
Vyborny said the brewery has been "five years in the making and we can't wait to open our doors to Tucson."