Muhammad Ali towered resplendently in a custom suit and house-wide shoulders, and he had this strange, faraway dignity. You don't understand the charismatic power of a true international giant until you meet them face-to-face, empty gaze and expressionless features notwithstanding. I was introduced to Ali as "Brian Smith from Gentlemen Afterdark" and felt disoriented in front of him like a misplaced scarecrow. But I had some confidence because I'd just chugged a quart of Colt 45 malt liquor.
As I shook his baseball-glove-sized hand, his glorious lumpy fingers heavy with diamonds, it strained all belief that I was touching the greatest on Earth. Ali was "The Greatest" for many reasons, but we remembered him as the principled badass who had sucker-punched the world with his boxing gloves. Ali had a fearsome grip too, but oddly soft skin, and he smelled of custom $200-an-ounce cologne. Ali's pal Sly Stone was circulating the room. He had a demented expression and wore a lime-colored fedora with a long feather sticking up off the side, a trio of curvy women in hooker boots in tow.
Ali leaned down toward his young daughter, who stood beside him holding his other hand, and he nodded slowly toward me. (It was as if Ali's every movement was in slow motion.) He said to her, in deep monotone, "It's Boy George."
We were backstage at the 3,000-seat Santa Monica Civic, where Gentlemen Afterdark was booked to support, of all people, Billy Preston. I expected us to get booed the hell off that stage.
* * * *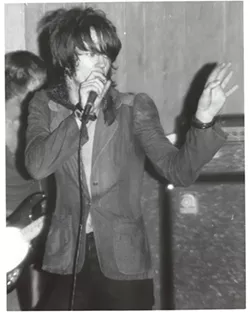 I had kohl eyes and Ronnie Wood rooster hair, and likely resembled post-New York Dolls Johnny Thunders more than anyone. I took sartorial cues from my heroes back in 1984. It was irrelevant if Ali was punch-drunk because his comment was spot-on. Gentleman Afterdark were always misunderstood. In my eyes, we were beer, cigarettes and riffs; a loud, youthful and shambolic mess of pop romanticism and record collections littered with Roxy Music and David Bowie and The Dolls and Blondie and Alice Cooper and Bob Dylan and Simple Minds and early Ultravox and The Psychedelic Furs, and so on. But what did I know?
We were attempting to blend commerce and art, and we wanted our songs heard by as many people as humanly possible. We wanted to be famous, man, and that was our downfall. We were too insecure and vain to just be—we needed validation so we were constantly second-guessing our music and our existence at every step. I wore eyeliner everywhere I went because I couldn't just be; I was scared, feeling grossly inferior to others. Meeting Ali was the career metaphor in that we came this close to something bigger than the sum of all of us combined, something that might've fed and sustained our wildest all-American dreams of fame, of touching the hem of that mystery dream life that I'd banked on to transcend my inner-fears, like a perfect life atop a Benedict Canyon hillside next to Rudolf Valentino's glorious old place, earning my glittery keep in song (and self-destruction).
Just months before I'd met Ali, People Magazine had picked Gentleman Afterdark to be stars of the future in their ballyhooed 10th anniversary issue. In those pre-Internet days, celebrity worship was print-only, and there were few outlets. There was Rolling Stone and People and that was about it as far mainstream mass appeal. People had one of the largest circulations of any magazine on the planet. Alongside us, the magazine picked Glenn Close and Tom Cruise to be future stars too, and their photos (Cruise's was a movie still from Risky Business) were smaller than ours. Our full-page image showed us tying Alice Cooper to a massive saguaro cactus outside of his Paradise Valley home. Major record labels flooded our manager with calls after the magazine hit stands.
* * * *
At first we were able to measure our band in efficiency—new songs and studio recordings, a growing following, etc.—and everyday felt new. After a few years we could measure ourselves in inefficiency—ambition supplanted by depression, entropy, and, with some of us, addiction. But it can't be said that we didn't completely throw ourselves into every melody, every lyric and every song we wrote. We played music as if our lives depended on it, because our lives did depend on it, just as it should in a proper rock 'n' roll band. It was all we had, and for much of the time it was our living, if you could call it that; we drank mostly for free and lived off what we'd earn playing music.
I'd believed in the cliché that in rock 'n' roll, or in any art or writing, the very things that make you good at your work are the very things that make it difficult to exist, much less prosper, in the day-to-day. You're just not going to be right for the world. Worse, you'll be self-conscious about that, and that makes it nearly impossible to interact with others outside of whatever little isolated bubble you exist in. And I was convinced that there was nothing else in this life for me. Tip the bottle back. Let the inertia in.
But I did every gig as if I had a gun pointed straight at the back of my head because life had this way of informing such action. If we'd do successive nights of shows, by the third one I'd be injured with welts along my spine and down my shins from leaping around, and I was constantly reinjuring sprains, and after shows I'd find bruises, sores and bleeding cuts on strange places on my body. I remember one night we were supporting Midge Ure (from Ultravox) at the Ventura Theater in Ventura, California, and I leapt into the air off the drum riser and landed on a slight crack in the stage. My foot got caught and my body went one way and the lower half of my leg the other. I heard my knee pop as it was as loud as the thundering din rising behind me, and I saw fireworks. I finished the set in pure agony. I hobbled for weeks in a knee brace. The knee has never been the same.
Being in Gentlemen Afterdark showed me how easy it was to confuse insecurity with self-belief. And I was so shy that it was nearly impossible to interact with others—friends, strangers—on any kind of social or meaningful level. That's one reason why I was into being a rock 'n' roll frontman. You don't have to work to interact with anyone. Hell, you don't even have to interact. You shut off and show off and people show up to watch you and then you disappear, and when you reappear again and it's under that persona. That becomes who you are, and you learn to skate by on forced charm. The introversion was often misinterpreted as inflated self-opinion, and I got called an asshole many times by people I'd never met. Sometimes I deserved it. I was young and pompous enough to believe that I was tragic—god, I must've embarrassed my bandmates many times—and I drank like it. I was married twice in those years and I had no clue how to negotiate such a thing and so the unions were fraught with subterfuge, unhappiness and drinking on my part. I could hardly manage myself. I figured if the band made it then I would too, and also the marriage. Yessir.
But I sometimes had that truly hopeless, destined feeling, the panic-y depression that settles over you when you begin to fear that you're going to wind up in the streets, drunk and dying. That feeling would become seemingly irresolvable and it took years to learn self-awareness, and to appreciate the little wonders of actually living this life. In those days, the drinking and the rock 'n' roll did it all for me. Nothing was grounded. And that's a life, wasted.
But when the band was great, we were unstoppable, which is why it wasn't just the third-rate hustlers who'd glommed on to us saying we were going places. We had powerful managers, agents, major labels, indie labels, producers and rock stars telling us that we were going to shake the world. When you have enough people saying that you might begin to believe it. So we developed an arrogant camaraderie. It wasn't the mean-spirited, cynical kind of arrogance, more like that which rises from angry fear and insecurity. It kept us safe somehow, like family.
It was that arrogance that led us to believe that Muhammad Ali was everything that we thought our band could be. And lord knows we tried. Between 1982 and 1990 we had that belief in each other. And we were young. By 1984, drummer Winston Watson was, at 22, the oldest, my guitarist/keyboardist brother Stuart was youngest at 18.
And by the end of the band we were frighteningly good at being in a band — the songs, the performances and the weird ability to sonically articulate things like our own self-destruction, inner-group misunderstandings and identity confusion, as well as all the heartbreak, tension and attendant pretentiousness that comes with not trying hard enough or trying too hard. We should've been good; hell, we were together longer than The Beatles were together. There were marriages, divorces, drug overdoses, brushes with fame and brushes with death. Our hopes were dashed so often it became our normal to expect the worst, to believe in the worst in most others, in us too, and anyone having anything to do with music who didn't write it or play it.
* * * *
The Ramones, Generation X and some other punk bands had abducted my heart when I was young teen, as well as Creem Magazine. I became obsessed with the music to the point that I quit bike racing and my post on the U.S. junior national cycling team. I found Lee Joseph, Pen Pendleton and Cliff Green and formed The Suspects, a first-wave Tucson punk band that debuted at Pearl's Hurricane Lounge alongside the Pedestrians, Z-9 and others.
I'd shriek like Johnny Rotten until I my voice was toast, and that didn't last long. I quit the Suspects to join Z-9 with guitarist Robin Johnson, bassist Fred Cross and drummer Rex Estell. I was attracted to Johnson especially. At 15 years old, he was total rock 'n' roll, a spindly girl-magnet who loved Cheap Trick and Aerosmith, and I turned him onto the New York Dolls. So that was it. Except for Estell, who was a bit older, we were kids: 15, 16, and 17. We changed the name to The Pills, which we lifted off the Dolls cover version of the Bo Diddley tune. We worshipped the Dolls and Johnny Thunders' Heartbreakers, and our sets included songs by those two bands. We debuted as a quartet at some nowhere cowboy bar near 22nd Street under an overpass. Robin wore red lipstick and a fake red-leather coat. Cross was a big kid—pretty sure he was a wrestler in high school at that point—and he sweetly wore his sister's frilly white blouse. Estell had real dignity and wore a suit jacket. My brother Stuart (later in Gentlemen Afterdark) roadied; he had a Les Paul that Johnson used for back up. The show was as innocent and beautiful as it was bad, and the place was crowded.
Guitarist Mark Smythe (aka Tripp Trigger) showed up to watch, and later approached us. It blew our minds that he asked to join the group. Smythe was to us a rock 'n' roll star, a vet with boatloads of playing and songwriting skills and experience. He toured and played real clubs in bands such as Isaiah. He walked in that night wearing leather and shades, cigarette dangling, with a beautiful woman who was chewing bubblegum and blowing bubbles. He could've been Joe Perry. He had a singing voice that sounded like John Lennon, and he wrote great power pop. He was 22 and we called him grandpa. He hated that.
We drank heavily and played everywhere in Tucson, and then in Phoenix, did one of our first radio interviews in Tempe with venerable DJ Johnny D, who dug us and played our record a lot. That record was a four-song EP call The Pills, recorded at Westwood Studios and funded by our manager, Marty Giller, a guy who'd worked in TV and toured with the Rolling Stones. The EP featured the tune "DC-10, "which became somewhat of a minor local hit local rock radio station KWFM, thanks to mainly to Dave LaRussa (his show "Anything That's Rock 'n' Roll"), as well as Karen Stern and Bob Cook (R.I.P.), a trio of DJs who believed in the band.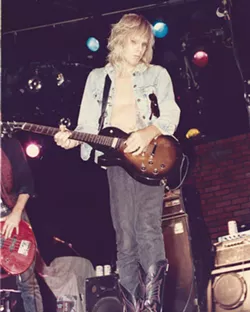 On stage, The Pills (and later, Gentlemen Afterdark) were a visceral and physical release for me, drug-like. Our intent was to be a greatest live rock 'n' roll band anywhere. And we were, sometimes. I could barely sing a lick ... a pitched rasp really, and it bummed me out. But I could leap and strut like Jagger and David Johansen on meth. Johnson and I should've been in high school, but we'd both quit. We were going for it, and we were out of control. If youthful rock arrogance had paid dividends, we would've killed ourselves with the profits. Smythe grew weary of our contemptuous and life-testing misdeeds, and I'm pretty sure we embarrassed him far too much. For example, we were doing a live interview once on KWFM and I was drunk, drinking beer in the studio, which was against any FCC regulation. I'm pretty sure I said that the reason I was in The Pills was because "I wanted to sleep with lots of women and do lots of drugs," or something absolutely stupid like that. It wasn't even true. I was posing, testing people. Smythe was furious. Robin and I just giggled. Smythe had already suffered enough childish shit in his previous band.
Smythe soon quit the group to form the band Johnny Seven, and we did our record-release show without him at a 400-seat club called Faces. The show sold out, and there was a line out the door, mostly because of all the KWFM airplay. But the group soon splintered and I moved to New York City by myself in search of a band that might have me, but wound up living amongst the ghosts of Max's Kansas City. I worked at a beat Manhattan record store on Bleecker Street called Village Oldies, the very one where, years before, Patti Smith had met Lenny Kaye. The legendary record man Broadway Al owned the store, and he didn't care if we drank while we worked, so we'd get hammered on Rolling Rock and play great records all night. Guys like Iggy Pop, Rick James and Walter Lure from the Heartbreakers would come in to shop and I'd never charge them for the albums they'd bring up to the register. The store was also the first place I ever did crystal meth, one of the few times I used needles. I'd shoot the speed up in the back room and walk around Manhattan jabbering with friends until the sun would appear and drop again.
This was in the early '80s, just before AIDs broke out, and Manhattan was frightening for a teen kid from Tucson. For one thing, subway chickenhawks from outer boroughs looked at me as easy prey. Creepy men with droopy jowls and beady eyes would forcefully offer to pay to have sex with me, or to suck me off. They'd follow me around and loom over me. It happened often, and it put me on the ugly end of the male gaze, which taught me a lot about sensitivity toward women. I remember thinking how horrible it must be to date men.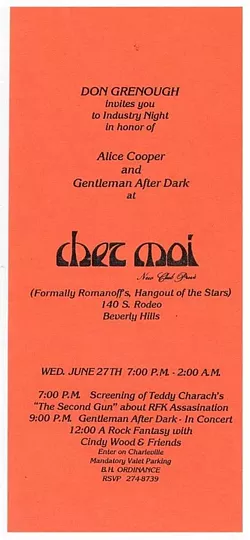 My older brother Barry was living down near Coney Island in Brooklyn, trying to get his music happening. We both returned to Tucson at different times and I reformed The Pills with Estell, Johnson and Cross. Barry joined the lineup on violin and keyboards, bringing a gnarly Nash the Slash meets Kraftwerk element to our weirdly melodic punkish din, and he made us rise up to be real musicians. There was a good band in there somewhere and it was only getting better. We signed on to an insurmountable debt at Chicago Store for equipment and went to work in a little house in central Tucson. Things screeched to a halt when Estell was involved in a horrible car accident, which nearly killed him. It was obvious he was going to be down for a long time so we recruited drummer Winston Watson from a Mesozoic-era cover band called Snowblind. They were an hirsute combo doing Rush and Ted Nugent tunes at smelly pickup joints like The Embers on Speedway, which I was too young to set foot in but no one ever checked IDs. (There were very few live-music options in Tucson in '82. The existing ones always seemed to smell like rotten tealeaves and filthy ashtrays, and the red-eyed and cocaine doormen would frighten me with their Styx-like power-shags and hippie flairs.)
Our first gig, which was a colossal catastrophe because the opening band sabotaged the P.A., sold out Tucson's Night Train rock club. We soon moved to Phoenix because we could make a living playing our songs. We'd do four-night stands at clubs like Merlin's and the Mason Jar and earn enough to live on and "support" a road crew. We developed a huge following in Phoenix. Brian Nelson, who was Alice Cooper's assistant, became our manager. He was young, smart and organized, and had learned a lot from Cooper's manager Shep Gordon. Sometimes Nelson would pick me up and we'd go to movies and bars in Cooper's aging Rolls Royce, which had missing hubcaps, dented fenders and would stall out at stoplights. The fading machine was metaphorical of Cooper himself—his 1983 album DaDa had just tanked and his career was in the toilet, and he had yet to sober up for good. His late-'80s comeback was Herculean.
Barry quit Gentlemen Afterdark after we recorded a self-titled, four-song EP, which was produced by Cooper and Detroit rock legend and ex-Lou Reed/Cooper guitarist Dick Wagner. We adored that Wagner penned the music to The Coop's "Only Women Bleed" and "You and Me," two of the most beautiful songs to emerge from the '70s in any genre. We loved Wagner and Cooper's production ideas too; it was very '70s rock, like the radio shit we grew up on, with all the tricks that they'd picked up from Cooper's producer Bob Ezrin. There were these quasi-classical overtures and finely wrought arrangements that allowed Barry's electric violin to magically ascend and the verses and guitar parts to air out. Then there was my singing voice. Wagner was getting me to sing in ways I didn't like, and I did so much of his cocaine when I was recording my vocals that I sounded expressionless, strangled and flat. The sound made me cringe and I couldn't listen to the record once it came out. Everyone else played brilliantly. Watson was already a groove monster, and Johnson a guitar hero. Bassist Fred Cross had developed an absolutely glacial sound, and Barry provided glorious violin and keyboard countermelody. The record was meant to be a "calling card," as Wagner called it, to major labels. But those labels hated the record and I'm sure it was because of the sound of my voice. I was the worst sounding guy in the band. More, the record was too major-label sounding for an indie label.
We soon recorded another EP, the last stuff Barry played on, which contained "I Go," "Only in You" and "Celebrate Youth," three songs we loved because they sounded like us. Some major labels loved the songs too.
* * * *
It broke my heart when Barry quit the band. It broke all of our hearts. So we recruited my gifted younger brother Stuart to take Barry's place on guitar and keys. By then we were doing bigger shows, dates with Culture Club and New Order among others, and we moved to Los Angeles.
In L.A. we lived with our girlfriends/wives/roadies in a single rehearsal space—well, a cavernous concrete room—twelve of us on the fifth floor of the old Pabst Blue Ribbon brewery near Chinatown. That entire floor of the brewery had rooms rigged into rehearsal spaces, which were mostly rented by wretched glam-metal bands. It'd become a warfare of cacophony when more than one band would go it at once. Sometimes five or six would be bashing away, all day and into the night. There was but a single bathroom with a leaky shower for not only all of us, but the entire floor. We had our crew, our girlfriends, and my wife. We had no money, no cars, except those belonging to girlfriends, and I'd sometimes bum quarters from metalheads for quarts of Colt 45. It was summertime, humid, and we breathed truck and car exhaust from the nearby freeways. We were bone-thin hungry.
We strung up blankets and clothes for privacy, which made that ugly room into an even uglier shantytown, a rock 'n' roll third world. No foul odor went undetected, no sexual tryst unheard, no unpleasantness unfelt. We created little "bedrooms" of found objects, and mine was constructed of boxes filled with unsold Gentlemen Afterdark albums. For light there was a single bulb that dangled from the ceiling, maybe twenty feet up. You'd have to climb a ladder at night to turn it off and pray you wouldn't tumble down in the darkness. Our gear was set up in our room too, and we'd rehearse sometimes, but we never accomplished much. Cross's girlfriend found work at a nearby bakery and would haul home 45-gallon garbage bags stuffed with day-old croissants. She saved us because often that was our only food. Sometimes when the pickings became too slim we'd be so hungry we'd battle slithery roaches for the moldy, bottom-of-the-bag croissants.
There was a barrio across the street, and behind us to the west were acres of industrial wasteland connected by spines of railroad tracks. The downtown skyline at night was rare beauty, which we could see out the backdoor and on the fire escape. The city lights and the cool air filled me an indefinable yearning that'd haunt me all night, reassuring me that I was in this place because I could tolerate it more than any other place.
Nelson was also living in L.A. and was also working for Pee-wee Herman, and sometimes he'd pick me up and we'd go housesit Pee-wee's place while he was out of town. That was real refuge away from the brewery. And I'd drink every last Coors Pee Wee had stashed in his refrigerator. Pee Wee would come home and bitch that someone drank all his beer. A few us made coin trimming Pee Wee's hedges and mowing his lawn.
We did many shows in L.A., a few at this chichi Beverly Hills club called Chez Moi—a sort of leftover disco for the jeweled set who were too afraid of Hollywood. We'd play and folks like Diana Ross would show up and shake their heads and complain that we were way too loud. Some of us would arrive in Cross's girlfriend's car, which had been victim of a hit and run out in front of the brewery and the rear end was completely smashed in and the trunk no longer existed. It had a top speed of 40 mph and looked like a giant injured snail as it moved slightly sideways down the freeway. It's a wonder the thing was still drivable. At Chez Moi the only way to park was valet. And, for whatever reason, the only way we could start the smashed-up Datsun was with a screwdriver. We'd pull up in this battered beast to this five-star venue on Rodeo Drive and crawl out like kohl-eyed street urchins. We'd hand the valet the screwdriver and somebody would scrounge up a quarter tip.
But jocularity was fleeting. One day the Summer Olympics came on the tiny black-and-white TV that we had. I made the mistake of watching the men's cycling road race. I saw that my old cycling teammate, Alexi Grewal, was in the race. I'd lived with him in Aspen, Colorado and at the U.S. Olympic Training Center in Colorado Springs and had traveled the country with him racing road bikes. He was older than me, but I used to beat him. But I'd quit racing to play in a punk band in Tucson. That day, on that little black-and-white TV, I watched my old teammate win the Olympic gold medal. I was stunned into emotional paralysis, dumb with regret and sadness, and I pitifully thought of myself as a bike-racing has-been at 16 and rock 'n' roll has-been at 21. I got up and bummed coins until I had enough for two quarts of Colt 45 malt liquor. I stepped out into the afternoon sun—it was one of those hot and hazy-dirty L.A. days—and walked to nearest liquor store. Gave shape to my worldview.
* * * *
A year later the band was done and my wife Stefania had left me. I was broken. I moved back to Los Angeles with Doug Hopkins (future Gin Blossoms) to start a band, which didn't work, and we drank in a Hollywood motel the whole time. We had an investor who had no money, another third-rate hustler who was fresh out of jail and wearing an Andy Warhol toupee. I returned to New York with Stuart. It was a fool's errand because we trusted the word of yet another con who said he owned a big 48-track studio where we could live and record for free, but he really tended bar, owned a portable cassette four-track recorder and lived in an old house on Stanton Island that was almost unlivable because it was being rehabbed. It was unbelievable.
Johnson had gone off to front a band called Undertow, and that didn't last. I was back in Phoenix sleeping on people's couches, spending hangover days reading at the library, and counting nickels for beer. I DJ'd and played acoustic sets at clubs. A big payday came in the form of Gentlemen Afterdark "reunion" shows, which brought the band together again. We rediscovered the magic and reformed minus Fred Cross but with bassist Kevin Pate, and we wrote and recorded in earnestness. Spinal Tap began to feel like prophesy as the revolving door continued. At one point Watson moved to Los Angeles and recorded with Giant Sand and others and we had Phoenix drummer Rich Contadino in the group until Watson returned. But things were a mess; we went through a number of managers, we weren't talking with each other, and there was no money. Then Watson split for good, joined Color Code, a band signed to Island Records.
We enlisted drummer Jon Norwood, which was a turning point. This lineup became the best version of the group because Stuart, Robin and I had developed, as writers, producers and performers, and Norwood and Pate together happened to be one of the best rhythm sections the state had ever produced. I'd also remarried. Things were looking up.
We all moved back to Los Angeles and played every venue and shithole, and did good support slots on big shows and landed a great manager in this guy Wayne Sharp. But Guns N' Roses were huge then and Hollywood was alight in the dismal glitter of these fake glam bands, and then there was us, lost in the morass, and Pate's heroin habit was out of control. There was no cultural context for what we were doing music-wise either, but we played at clubs like Scream, Cathouse, the Coconut Teaszer, The Roxy and The Country Club with these bad bands. We were perpetual outsiders, and we only had ourselves, but people were taken aback when we'd play. They'd never seen anything like us.
We met with hit producer and label suit Jimmy Ienner, who been following our band and calling us frequently. Ienner, as a producer, essentially made the Raspberries in the '70s, and that's why I loved him. He did lots of stuff, produced Grand Funk Railroad and The Chambers Brothers and The Bay City Rollers, and he was responsible for the 1987 soundtrack to Dirty Dancing, which sold more than 35 million copies and was one of the biggest-selling albums ever. One night Johnson and I had a meeting with him at his suite at the Beverly-Wilshire Hotel. We drank a dozen of his Heinekens and ate all his shrimp while he explained that he was going to take care of us. He'd been telling us that our songs like "I Go" and "Stories" were to be massive, "like U2 massive." Said we had "brains, looks, heart and hooks." He told us that we had nine hit songs and just needed one more to make a perfect 10 for an album. An album of hits. That way, he said, all the major labels will be bidding. We trusted him. But he kept saying that the tenth song that we needed was eluding us, and we'd write, record and send him more. He'd say the same thing.
Looking back we should've been releasing our songs on an indie label, a record every two years, an idea guys like Ienner scoffed at. Through the decade we'd turned down the offers from the indies. We thought going the small-label route was a waste because no one would ever hear your music if it's on an indie. Just how wrong could a band be? We recorded enough songs in good studios to fill a number of albums. But we were half-deluded, wanting to be rock stars. We didn't consider how that kind of thinking was reductive and killed creativity.
One day in 1989, we were recording in A&M studios in Hollywood. We got a demo deal with the label and we spent a lot of time getting the songs right, spending two weeks on just three songs. This kickass-haired knob-twirler named Rob Jacobs was producing; a guy who by then had worked with U2 and a handful of other name artists. He was the real deal. He'd badmouth labels and suits, and do everything his way in the studio. U2 respected that in him. They wound up using his mixes on such hit songs as "Angel of Harlem."
On our final mix day, then-label head Jimmy Iovine came down and listened to some final mixes. Now Iovine and guys like him made us nervous. To us they had the keys. We were at their mercy and I resented them for it. Iovine was already a mogul, a guy who came up a musical iconoclast, securing his status as a star-making music-biz legend after having worked closely with John Lennon, Bruce Springsteen, Tom Petty, U2, Patti Smith, and so on (he'd soon partner up with Dr. Dre, and he's now one of the chief architects of Apple Music). So we had to respect him. At least pretend to. He stepped into the studio's control room, nodded to Jacobs, who then fired up the tape machine. Iovine positioned himself between the speakers and listened to two songs, "Promises" and "Holiday," bouncing his head, pumping his leg and closing his eyes as he listened. When the songs ended we all looked over at him, and he waited a moment to say anything. Then he grinned, looked at each of us, and said, "These are incredible songs. They're hits. Don't play these for anyone else." As he turned to leave, he said, "Get ready, gentlemen." And then he walked out. Jacobs turned to us, and said, "See? I told you. You guys are in."
We were stoked. After the starvation and living on couches, the myriad hours of shows, rehearsals, failures, hopes, lies and drinking, we were finally in, based on what this legend was telling us. I floated on air for weeks. Then our manager said that Iovine had gone to Europe. Then he said that Iovine had stopped returning his calls. A few months later Iovine launched Interscope Records, focusing on hip-hop and urban dance music.
Around that time we appeared on national TV, a telethon of some sort broadcast from Disneyland. It was at night and we did a four-camera live-performance lip-sync to a several of our songs. We played on big colorful stage in front a chirpy canned crowd and some Disney characters. Mickey Mouse was there dancing and frolicking along to us, his big heads swaying from side to side, and so was Ludwig Von Drake, Donald Duck and Goofy. Disneyland was closed that night and it felt eerie and lonely, all innocence gone. Before we played I went and downed a pint of brandy next to the "It's a Small World" ride in Fantasyland. I was thinking about how it had all come to down to Mickey Mouse and Donald Duck. But my parents saw the show in Tucson and were very proud. That counted.
This was art versus commerce, and we were growing up and beginning to understand just how easy it was to be on the losing side of things. Had you showed us a foot we would've showed you any number of ways to blow it to pieces. Heroin had many times abducted Johnson and Pate. My choice was always booze and coke. I did "important" record label showcases so hammered that I needed to hold on to the mic stand to keep from tumbling off stage. I used to tell myself that I was lucky and smart that I'd chosen alcohol, because it was legal and didn't involve needles. I really used to think that.
After the go-nowhere A&M demos, our momentum waned, and we returned to Tucson, back where we started, in 1990. Norwood and Pate stayed behind in L.A. We rounded up Phoenix bass player Paul "PC" Cardone and Tucson's Spyder Rhodes on drums, but the lineup never played a show. I got my first real job, making yoyos for company owned by Howe Gelb's dad. I wouldn't stop drinking, but my wife, Shireen Liane, had sobered up so we split up. She went on to make a great album on Virgin Records with her band The Slingbacks. I moved back to Phoenix and started a band called the Beat Angels with Norwood and Pate, released two albums and toured, and began writing and editing for a living, and got sober. But all of that's a whole other tangled, beautiful and ugly trajectory.
The life was hard on people. The world can be a random bag of shit and heartbreak, and when its centered on a core group of people it can wind up feeling tragic. Count the ghosts; they head in either direction. Our soundman Nino Notaro and bass player Kevin Pate are both now dead because their livers had surrendered. Our second drummer Jon Norwood died young of cancer. One of our other soundmen, Jon Suskin, OD'd on heroin. Original bass player Fred Cross drank like no one I'd ever seen, and after his Gentlemen Afterdark stint, he joined Caterwaul, and then disappeared down a dark road. Our early and longtime manager Brian "Renfield" Nelson committed suicide several years ago.
Of other Gentlemen Afterdark guys, Watson wound up in Bob Dylan's band for a number of years and played with lots of folks including Alice Cooper and Warren Zevon, and is now in the soon-to-be giant Tucson band XIXA. Johnson had myriad hurdles and played with everyone from David Slutes and the Sand Rubies to Greyhound Soul, and he now lives in Los Angeles and is an accomplished singer/songwriter. Stuart lives in the U.K., released an album and singles on the Creation label with his band Super J Lounge, and then he started his own company called Thundering Jacks where his inventive arena video designs have earned clients in everyone from Peter Gabriel and Kings of Leon to 50 Cent and Coldplay. Barry plays his violin for a living in Northern Arizona.
It was all just around the corner for us, but everything just slowed down like weekday hangovers. And that show with Billy Preston at the Santa Monica Civic all those years ago? We didn't get booed off the stage at all. We cancelled at the last possible moment. Of course.
Get a free Gentlemen Afterdark song from their A&M demos.
Smith and his fellow Gentlemen Afterdark will be reuniting at Club Congress' 30th anniversary celebration during HoCo Fest on Saturday, Sept. 5.