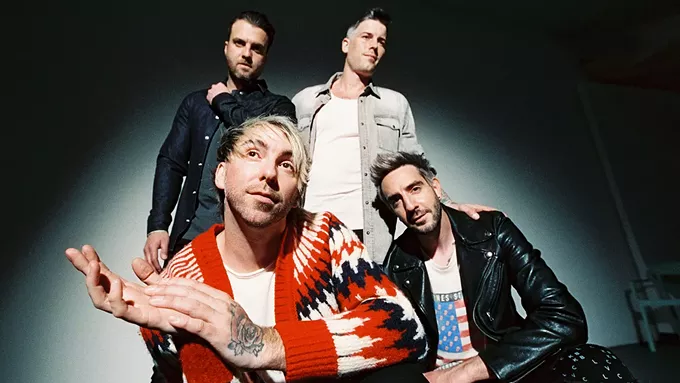 All Time Low frontman Alex Gaskarth wants to comfort his fans with music.
That's the inspiration behind the band's latest album "Tell Me I'm Alive," which explores loneliness, isolation and coping with the pitfalls of the pandemic.
"It is not a 'pandemic record,' per se, but written on the heels of such a life-changing event. Its themes are certainly focused through and informed by that lens," Gaskarth said.
"Some songs echo defiance and a desire to escape, others are reflective and remorseful over lost time and longing for deeper connections and deeper meaning. We wanted to instill a hopeful tone, but ultimately this album is about dealing with hopelessness and surviving. We hope our fans find comfort in the understanding that even at our lowest points, there can be forward motion, growth, the strength to let go of what no longer serves us, and ultimately a message of resilience."
All Time Low will perform some of the tracks and its hits when it visits the Rialto on May 27.
"You can expect a lot of smiles, laughs and high fives," he said. "I'm looking forward to it. It's an energetic stage show. It's different than anything we've ever done. I've started playing more piano on stage, which is fun and new for me. People equate that to meaning I'm up there doing ballads and stuff. It just fits nicely in the show."
That stemmed from the injection of piano into "Tell Me I'm Alive."
"The piano is a bit of a backbone to a lot of the songs on the record," Gaskarth said.
"There's so much piano on it that I wanted to get involved and start playing. I'm not really a piano player. It's a fun exercise. You always have to keep pushing. I've been making music for 20 years. I need to keep it fresh."
"Tell Me I'm Alive" is a progression from 2020's "Wake Up, Sunshine," according to Gaskarth. He said the changes came about naturally and "Tell Me I'm Alive" picks up where "Wake Up, Sunshine" left off.
The 13-track collection was recorded in Los Angeles and Aspen, Colorado, with longtime collaborators Zakk Cervini (Blink-182, Machine Gun Kelly, Halsey) and Andrew Goldstein (Maroon 5, Katy Perry, Jxdn).
The album spawned the No. 1 alt-rock hit "Sleepwalking," the emotional title track, and the anti-dating anthem "Modern Love."
"We went to some new places, in terms of theatricality and the piano elements," he said. "We just kind of also developed the sound that we had on the last record. The song 'Sleepwalking' lent itself nicely to the new vibes of the band. At this point, we always think about how it's going to go over live.
"We put a lot of thought into how the songs are going to translate live. We wouldn't want to put a song on the record, at this point, that we wouldn't want to play live. That's a big point of emphasis."
Gaskarth said touring and performing for fans are vital to All Time Low.
"We really put our live show first," he said. "It's always been about getting on tour and getting on stage. Some people make records to make records. We make records so we can go out and play those songs live."
Apparently, it's affected listeners, too. Gaskarth explained that fans share "lovely things" about how their songs inspire or lift them.
"I hear how music helped them through a tough time," he said. "I hear inspiring stories, or how a song or a mutual appreciation for songs have brought people closer together — like a mom who brought her kids to the show. It's really satisfying.
"People spend their time, energy and their hard-earned money on wanting to share a moment like that with us. It's really inspiring, and I'm incredibly grateful that people are coming."
All Time Low w/Mayday Parade and Games We Play
WHEN: 7 p.m. Saturday, May 27
WHERE: Rialto Theatre, 318 E. Congress Street, Tucson
COST: Tickets start at $45; all ages
INFO: 740-1000, rialtotheatre.com