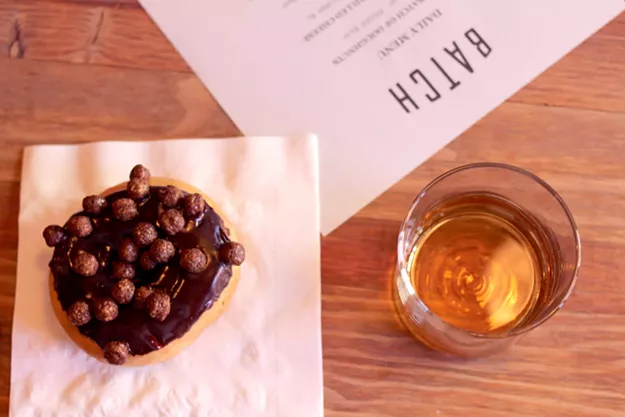 Taking over wine bar Unplugged's former location, Batch celebrated its grand opening the weekend of Friday, Jan. 1 with donuts and whiskey at 118 E. Congress St.
The rotating daily selection features about ten different donut varieties, several topped with popular kid cereals like Cocoa Puffs and Fruity Pebbles. Filled donuts are $3.50 and hole donuts are $2.50. As far as whiskey, the first menu features more than 40 different varieties, including three Jacks, two Jims, two Johnnies and a handful of craft distilled, small batch options.
Batch is also serving a modest selection of draft beer to pair with your donuts. However, if you decide you're looking for more than just donuts to eat, the small counter service restaurant offers build-your-own grilled cheeses ($5) with bread options like a glazed donut or ciabatta and cheese choices such as sharp cheddar, swiss or havarti, which can be embellished further with jalapeño, bacon, tomato, prosciutto and more. Batch has a daily cheese plate ($12), a daily bruschetta ($5), a mixed green salad ($6.50) and deviled eggs ($7) as well.
For more information on Batch's offerings, visit
the restaurant and bar's website
.
Before that, though, check out some pictures of Batch's offerings because it's Monday and we all had a long weekend: