Ancient Babylon is commonly known (aside from its evil kings who allegedly chucked people in furnaces and fed them to lions) as the home of one of the seven wonders of the ancient world: the Hanging Gardens. The fabled locale, which should be somewhere in modern day Iraq, was referred to as a lush paradise but the exact location was never found leading some to wonder if the marvel of antiquity ever really existed.
So why am I talking about ancient Babylon in a food review? Well, I'm not suggesting you go on a foolhardy mission to uncover the exact whereabouts of the former wonder. I am suggesting, however, you go to the little Middle Eastern takeout joint, grocer and halal butcher that takes its name from the ancient city.
Babylon Market is one of those places that will quickly sneak its way onto your list of haunts with cheap specialty food items and honest, straightforward dishes prepared to go quickly. Here, you have your choice to either call in orders for quick pick up or peruse the store's aisles while you wait about 10 minutes for your food to be bagged and ready. When weather permits, you can eat at one of the picnic benches out front or, in any case, take your food where you please. I wouldn't say either choice adds or subtracts much to the experience overall so that's really up to you.
If you do have the time to spare, however, I would suggest ordering on-site, rather than calling in. The staff at Babylon Market is friendly and happy to assist with any questions you might have about the modest menu of pita-wrapped sandwiches, dishes atop beds of bright saffron rice and the few sharable starter options.
That also gives you the opportunity to stock up on some kitchen basics that are typically outrageously priced at the bigger grocery stores. Packs of freshly baked flatbread and soda bread, crates of dates and ethically butchered halal meats will likely be the first things you notice for sale.
Further browsing will show off large, inexpensive jars of tahini ($7.99 for 32 ounces) for your at-home hummus making needs, bottles of rosewater ($2.99 for 10 ounces) that go equally well in cocktails and baked goods and a host of exotic spices and blends such as turmeric, cumin, safflower, cardamom and the ubiquitous sumac. Just being in the store makes you want to start experimenting in your kitchen with ingredients like pickled turnips, pomegranate molasses, quince jam, date vinegar, lebni kefir cheese and cardamom-laced sugar cubes.
By the time your order is up, you'll likely have to make a second trip to the register, but that's half the fun, right?
You'll find that digging into the already prepared foods at Babylon Market is just as rewarding as stocking up in the grocery section. Incredibly smooth hummus, tangy and herby tabbouleh and mutabbal eggplant (think baba ghanouge studded with tomatoes, onions and peppers) are all good places to start for $4.99 per serving.
Quick, tasty lunches in the form of pita sandwiches offer tastes of shawarma, kebab and falafel for around $4.99. However, where Babylon Market really shines is the plates.
For indecisive first-timers, the combo plate ($8.99) serves up your choice of hummus, tabbouleh or baba ghanouge with rice, pita, lettuce, tomato, cucumber, pickles and chicken and beef kababs. The kababs are admittedly a little greasy and juicy, which tends to seep into the rice by the time you start eating, adding another layer of flavor to the already tasty rice.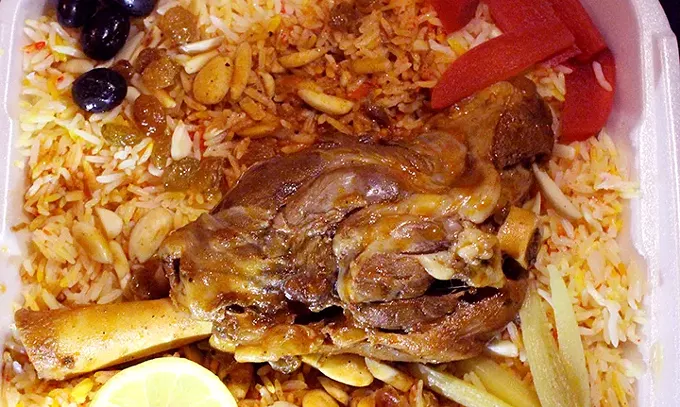 The one dish you absolutely have to try, though, is the kabsa ($10.99). One fatty, meaty and tender bone-in lamb shank is seasoned with an intoxicating blend of cardamom, cinnamon, saffron, nutmeg, cloves and more. Optimizing the dish's main event, it's accompanied by saffron rice, golden raisins, blanched almonds, olives and pickled turnip for a dish that's as straightforward as it is smartly composed—not to mention fragrant to boot. The meat itself falls right off the bone after being touched by the provided plastic fork.
While the winning combo of a delicious, quick takeout spot and an inexpensive, unique grocery store might be the reason that Babylon Market draws customers in time and time again for return visits, it might also be that the dishes and wares from the small joint off of Speedway Boulevard leave a light perfume on whatever you wore that day—a subtle but persistent reminder to stop in again soon.