Prep & Pastry owner Nathan Ares excitedly shows off touches to his new restaurant called Commoner & Co. There's large, raised plush seating, high top tables, a lovely marble-topped bar and lots of bright colors at the restaurant located at 6960 E. Sunrise Dr. You might remember the location as the former Brian Metzger restaurant The Abbey, but Ares is looking to create something new in the space with upscale bar fare with a fusion twist.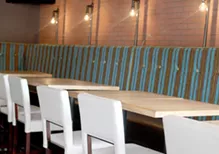 To execute the menu, he brought on Virginia Wooters—a veteran of Fox Restaurant Concepts and Metzger Family Restaurants alike. She says she sees Ares as the next in a lineage of Arizona restauranteurs.
"Nate's got an eye for what's trendy and popular," Wooters says. "And he goes after what he wants."
What he and Wooters both want for Commoner & Co. is a good neighborhood bar for the foothills that serves fresh inventive food. Offerings include a brown sugar and black pepper crusted burger with pork belly, mussels with Thai curry, handmade pasta with Calabrian chili and lemon broth, pan seared halloumi cheese and housemade duck pastrami. Wooters explains that the fusion elements are an homage to her favorite dishes to eat when she dines out.
"We wanted it to be fun, different stuff that no one else is doing," she says. "It stems from the stuff that I like to order when I go out to eat, but if I could remake it how I like it."
While one of Wooters' favorite dishes of the new menu is a slow braised short rib with a caramel jus and a bone marrow bread pudding, Ares says he thinks the chicken fried duck and blueberry waffle will be a real hit.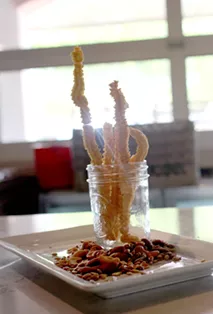 Behind the bar, local beer, cocktails created by Ares and sangria from local bartender Matt Martinez will keep guests sipping their way through the drink menu. Ares made a pickled pineapple margarita, a house pickle brine martini (shaken) and a riff on the sloe gin fizz with rose and lemon rose petal cordial for the menu. Martinez's sangrias offer red strawberry gastrique and a white Thai chili with clarified grapefruit juice.
Although all of that sounds pretty fancy, Ares assures that he aims to price the menu competitively with the area's other bars.
Commoner & Co. will open June 11 with the first few days of service being reservation only. After that, the restaurant will continue with dinner service, later adding weekend brunch after about a month and lunch later in the fall. Although many would worry about opening any new business (aside from a pool supply store) in Tucson at the beginning of summer, Ares says he sees the first few months being slower months as an opportunity to connect with the surrounding community and fine tune both the menu and service.
"If you're doing a good thing, people are still going to show up," Ares says. "This is like my big boy restaurant. I honestly never even expected Prep to be as big as it is."
For updates and more information, including how you can make a reservation for the restaurant's first few opening days, visit
the Commoner & Co. website
or follow
the restaurant's Facebook page
.