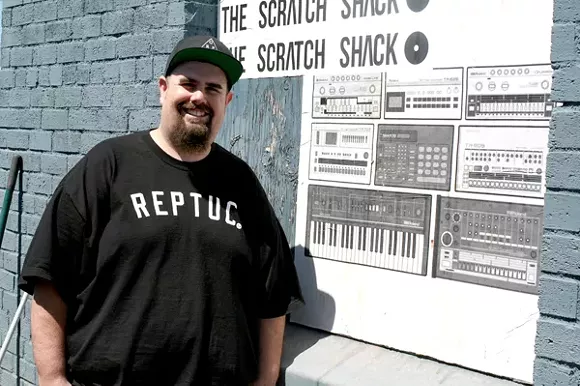 Booking hip hop shows in Tucson can be tough and no one knows this better than Pike Romero. As both a performer and booker himself, Romero has struggled to find a place that is welcoming to hip hop acts in a town saturated with old desert rock, psych revival acts and the occasional cumbia or mambo band. So where exactly does hip hop fit into that?
Well, for Romero, the answer was to start something new. He began booking shows through his own agency named
WeAreBugginOut
and scheduling acts at a small DIY venue in a converted church off of Speedway Boulevard.
The Skratch Shack has only been open for about a month or so, but it's already attracting about 50 to 70 attendees per show. Romero tries to make each of these events more than just a hip hop or rap concert. He includes elements ranging from live art to performing magicians and even one time a live goat at an event at The Flycatcher.
"I want my shows to be refreshing. They should always be something different," Romero says.
To that extent, Romero has also commissioned a massive functional drum machine for one past event and has planned future live streaming beat making sessions for others.
Although having dozens and dozens of people at a technically residential spot might seem like a recipe for a noise ordinance violation, Romero says his neighbors have been very welcoming and supportive of the Skratch Shack. Besides, the location is actually prime for not bothering other people, as most of the buildings around it are used commercially and closed when Romero puts on shows.
In the future, Romero hopes to have at least one show every other week. The next concert at the Skratch Shack will feature Johnny Polygon, Josh Sallee, A.R.K. Noah and more on April 8. For more information on this event and upcoming events at the Skratch Shack, visit the
WeAreBugginOut Facebook page
. All events at the Skratch Shack are 21 and over.