City of Tucson officials will be addressing new issues surrounding major traffic gridlock and Sun Link ridership delays following the first 2nd Saturdays event held in Downtown Tucson since the streetcar's arrival. Last Saturday's early evening event was plagued by extended motorist logjams and waits of up to an hour for potential streetcar passengers during 2nd Saturdays' peak hours. In addition to increasing service during such special events, the City is also aiming to "change traffic flow patterns" at trouble spots along the route.
At what many were calling the busiest 2nd Saturdays to ever be held during Tucson's normally sleepy summer months, jam-packed streetcars could be seen inching down Congress St. and Fourth Ave. prior to dusk. On Monday, expectations were high for final ridership totals for the weekend, but the released numbers did not reflect the long waits or social media photos and anecdotes from the night.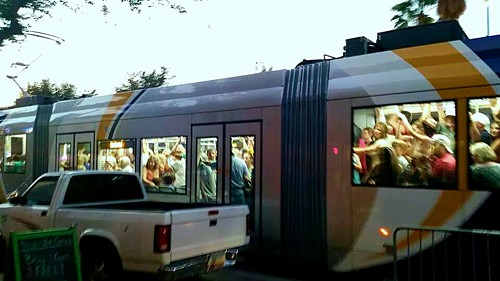 Ridership estimates for Saturday, August 9 were just under 6700, compared to Friday's total of approximately 4000, and dwarfed by the Saturday, July 25 total of more than 25,000 non-paying passengers during the Sun Link's opening weekend. The three-day total ridership estimate from last Friday to Sunday barely hit 13,000.
City of Tucson Department of Transportation spokesman Michael Graham addressed these figures with the Tucson Weekly, saying "The ridership numbers are correct. As for the delays that occurred last weekend, it appears the root of the problem is the intersection of Congress/Toole/Fourth Avenue. The congestion on westbound Congress is causing traffic to back up on Fourth Avenue and on Congress/Broadway, creating gridlock."
The intersection in question has long been pointed to as a potential problem for traffic, particularly following the last-minute installation of an additional Sun Link stop at the Centro Garage on Broadway Blvd and Toole Ave. The stop is located below the multi-story Cadence student housing complex, which sits on top popular ground-level merchants and restaurants such as Fed by Threads, GIO Taco, and the nightclub Hi Fi Kitchen and Cocktails. The Centro stop also lies in the shadow the historic Rialto Theatre and Hotel Congress, both magnets for pedestrians and downtown visitors on most weekend nights.
Graham acknowledged the issue, saying "This logjam is not allowing the streetcar to operate at its 10 minute or 20 minute headways, causing the entire streetcar system to come to a standstill." He added, "TDOT is looking at potentially changing traffic flow patterns and reallocating service hours during the weekend hours when we are seeing a higher ridership demand and higher downtown traffic and pedestrian patterns."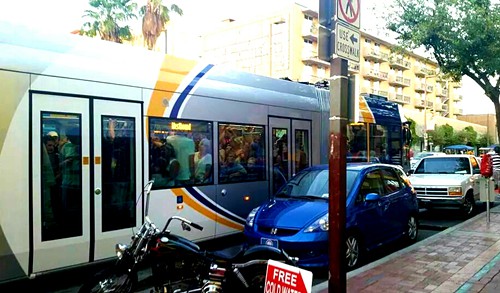 Emmy Simpson, whose office at Tierra Antiqua Realty is right in front of the Sun Link 6th Avenue and Congress St. stop, said riders there were able to board the streetcar fairly quickly, as most passengers had met their ultimate destination on Congress St. "People were in a great mood! I saw a lot of smiles and excitement," Simpson beamed. "The mood was the best I've ever seen."
Tucson Weekly contributor Linda Ray was at Sun Link's Main Gate stop on University Blvd. around 7:00 p.m. on Saturday, and said that some had been waiting up to an hour to get on one of the streetcars. The cars were passing by, Ray said, but skipping the stop in front of Gentle Ben's as they had already reached capacity between Main Gate and the Helen St. stop by the University of Arizona Medical Center. However, Ray said, "Once you got on, everyone's all happy and smiling."
Overall, Graham was confident these issues would be resolved and affirmed that the City was already closely monitoring the streetcar routes on a daily basis. "From day one, TDOT and Sun Link staff has said that they would continually monitor and evaluate the operations of the system and make necessary adjustments to meet demand."