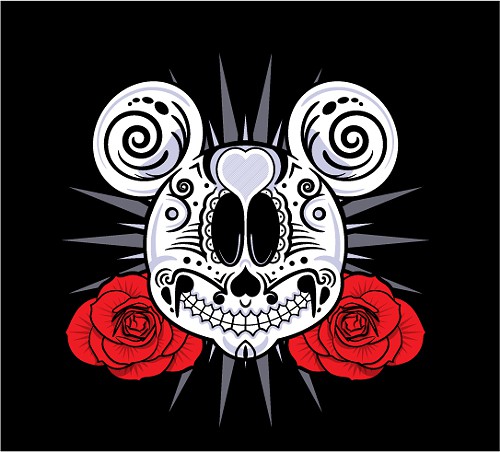 It's the blog post that cruised Tucson Facebook posts yesterday with the exclamation: Is Anything Sacred?
Well, is anything sacred? According to the blog Stitch Kingdom, Walt Disney Company filed trademark application to secure Dia de Los Muertos. In Tucson where we sometimes think we hold the trademark on all things Day of the Dead, the idea of Mickey and company owning the rights to images of skeleton mariachis or painted faces, marigolds, altars — take your pick — is as nuts as the idea of Michael Jackson owning the Beatles catalog.
Within the past few days, The Walt Disney Company (NYSE:DIS) has filed several trademark applications in attempt to secure 'Dia de Los Muertos' across multiple areas. Dia de Muertos, or 'Day of the Dead,' is a holiday most associated with Mexico, where it serves as a national holiday on November 1 and 2 — the days following Halloween — in which families gather together to remember and pray for relatives who have passed on. Interestingly enough, it has also been selected as the topic of an upcoming film from Pixar Animation Studios and directed by Lee Unkrich, tentatively being titled The Untitled Pixar Movie About Dia de los Muertos. The move could indicate that Disney is simply hedging its bets or that Pixar has indeed settled on simply calling its film Dia de Los Muertos, though they have yet to file for films that will precede it, such as Inside Out (2015), though trademarks have been filed for The Good Dinosaur (2014).
But it's okay, folks: It appears that the righteous fury Disney met with after attempting to trademark a national and cultural holiday went over about as well as if the House of Mouse made an attempt at trademarking Patriot's Day, or Halloween (The Nightmare Before Christmas aside) — similar to how a watermelon feels going up against a brick wall.
From Fronteras Desk:
The Walt Disney Company told Fronteras Desk it will withdraw trademark applications related to the Day of the Dead holiday. Disney made the decision late Tuesday after an avalanche of social media backlash.

...

The news did not go over well. Grace Alvarez Sesma is a traditional Mexican healer who lives in Colorado.

"We don't need The Walt Disney Company to help us to promote our own culture," she said.

Alvarez Sesma started an online petition against Disney. Hours later it had more than 14,000 supporters.

Twitter and Facebook exploded with posts like 'Our culture is not for sale' and 'Keep your corporate hands off.'

By late afternoon Disney released a statement saying it would withdraw its "Día de los Muertos" trademark applications.
Everybody wins — and by "everybody," we mean everyone who is pleased that we won't soon be seeing Disney-trademarked Mickey Mouse sugar skulls.