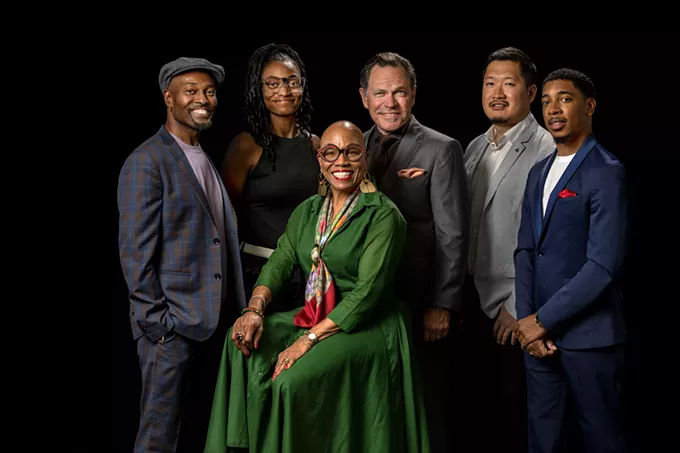 The Monterey Jazz Festival on Tour
We hope you are discovering the great jazz all over town during the Tucson Jazz Festival, which continues through Sunday, Jan. 22. Reservations and details for the remaining artists' shows are at tucsonjazzfestival.org. If you can squeeze in just one more, though, we recommend the Monterey Jazz Festival on Tour. The Monterey festival is, of course, the gold standard. The Fox show features vocalist Dee Dee Bridgewater, who's earned a Grand Slam of music awards, along with Grammy-winning vocalist Kurt Elling and a rising star of jazz saxophone Lakecia Benjamin. The Monterey Jazz Festival launched its Tour program on the institution's 50th anniversary to share the "artistry and energy" of the live festival with the world.
7:30 p.m. Saturday, Jan. 21, Fox Tucson Theatre, 17 W. Congress Street foxtucson.com, tickets start at $50
Tucson Fringe Festival
Across four Downtown venues and a streaming channel, 20 curated acts feature engaging, idiosyncratic and altogether extraordinary performances from between the cracks of familiar genres. Forty shows all together take place at The Screening Room, The Temple of Music and Art, the Steinfeld Warehouse and the Tucson Circus Academy. Intriguing titles include "Mafia Anonymous: The Women Speak," "Unicorns: Are They Pretty?," "Soul Searching in Sin City" and "The Singularity of the Machine," featuring aerialists and acrobats.
Noon Thursday, Jan. 19 through 7 p.m. Sunday, Jan. 22, multiple times and locations, tucsonfringe.org, $12 each show, $20 two-show pass, $50 five-show pass
'Music on Main Street'
Add semi-monthly music to the many reasons to visit Trail Dust Town. Along with great steak at Pinnacle Peak and popular attractions like the train ride, Ferris wheel, antique carousel, and Pistoleros' stunt shows, visitors to the old west-themed entertainment center can now enjoy concerts twice a month. Organizers say we can expect the series to present a wide range of genres. The debut features Aaron Simpson, Hank Topless and John Lindland. Wear your dancin' shoes.
5 p.m. to 9 p.m., Friday, Jan. 20, Trail Dust Town, 6541 E. Tanque Verde Road, traildusttown.com, free
Lieder and Beethoven's Ninth
This weekend marks the beginning of the Tucson Desert Song Festival's season of "Heroes and Villains." Concerts in the series continue through Sunday, Feb. 19, then pick up again from Friday, March 24, to Thursday, April 6. Opening the season are two performances of Lieder and Beethoven's Ninth in collaboration with the Tucson Symphony Orchestra. The Lieder are two songs by Richard Wagner. Soloists are Maria Brea, Kelley O'Connor, Richard Trey Smagur and Kelly Markgraf.
7:30 p.m. Friday, Jan. 20, and 2 p.m. and 4 p.m., Sunday, Jan. 22, Linda Ronstadt Music Hall, 260 S. Church Avenue, tucsondesertsongfestival.org, tickets start at $18
Broadway in Tucson: 'To Kill a Mockingbird'
Atticus Finch is today as meaningful a role model as when "To Kill a Mockingbird" was published in 1960. In the atomized culture of our times, Finch illuminates an ideal of mindful compassion and measured reasoning. Harper Lee's Pulitzer Prize-winning book has never been out of print, and Aaron Sorkin's adaptation is said to have filled every Broadway theater it's been staged in. Rolling Stone characterized it as "an emotionally shattering landmark production."
Various times through Sunday, Jan. 22, Centennial Hall, 1020 E. University Boulevard, broadwayintucson.com, tickets start at $50
The Maverick's 60 Year Anniversary
Tucson's favorite cowboy bar celebrates its 60th anniversary as the "King of Clubs" with a night of music featuring Virgin Records Nashville recording artist Chris Cagle and special guest Chauncey Jones. The club promises prizes, giveaways and drink specials, and the first 100 guests get a free commemorative T-shirt.
6 p.m. Saturday, Jan. 22, The Maverick, 6622 E. Tanque Verde Road, tucsonmaverick.com, free admission.
Ski the Lemmon!
Mount Lemmon Ski Valley opened for skiing and snowboarding on Jan. 5. Even if you don't ski, though, you can appreciate the view from the ski lift and hike Mount Lemmon's many trails. Or you can just enjoy a scenic drive up to Ski Valley Restaurant, The Cookie Cottage or the Mount Lemmon General Store and Fudge Shop. If you're ambitious, you can build a snowman in your truck bed, and bring it back to show off in any shopping center parking lot.
8:30 a.m. to 3 p.m. Thursday to Monday, Mount Lemmon Ski Valley, 10300 Ski Run Road, skithelemmon.com, full-day lift tickets start at $69, ski rentals available.
Curious Conversations, Inspired by Taiko
When awarded an Arizona Commission on the Arts Artist Research and Development Grant, Karen Falkenstrom said, "I have always emphasized to our students and our audiences that taiko is not just hitting a drum with a stick." Founder and developer of Odaiko Sonora, she also serves as its lead drum builder. She has studied taiko for more than 30 years with internationally known scholars and teachers. Her presentation will demonstrate taiko's visceral magic and inform our understanding of it.
1 p.m. Tuesday, Jan. 24, Fox Tucson Theatre, 17 W. Congress Street, foxtucson.com, free, also available on Zoom
Amor y Matemáticas (Love and Mathematics)
A sympathetically satirical comedy, set in upper-middle-class Monterey, Mexico tells the story of a member of a popular boy band, who, in his thirties, finds himself unhappy in marriage and unfulfilled in life. A former fan moves in next door and helps him find both himself and a successful new life.
7 p.m., Wednesday, Jan. 25, Fox Tucson Theatre, 17 W. Congress Street foxtucson.com, $6, in Spanish with English subtitles
'Water Harvesting: An Invitation to Abundance'

Water conservation evangelist Brad Lancaster, and his work developing model projects in the Dunbar/Spring neighborhood, are the subject of this inspiring film produced by Arizona Public Media. A panel discussion follows with Lancaster, the film's producer David Fenster and Tohono Chul Arts & Engagement Director James Schaub. Representatives of Watershed Management Group and Arizona Project WET will be on hand to discuss their conservation services. Snacks and a cash bar will be available.
5 p.m. Thursday, Jan. 26, Garden Pavilion, Tohono Chul Park, 7366 Paseo del Norte, tohonochul.org, free, but advance registration is required
Live Theatre Workshop: 'Stones in His Pockets'
Hilarity binds two local Irishmen working as extras in a Hollywood film, but an unexpected loss requires empathy and a rallying of good spirits. The Guardian describes the play, by Belfast writer Marie Jones, as "magical" and "a moving and heartfelt tribute to the imaginative power of live performance." Directed by Rhonda Hallquist, this production stars Keith Wick as Charlie and Stephen Frankenfield as Jake.
Various days and times Thursday through Sunday, through Saturday, Feb. 18, Live Theatre Workshop, 3322 E. Fort Lowell Road, livetheatreworkshop.org, tickets start at $23
'Switch City' Teen Program
City of Tucson Parks and Recreation is hosting a Nintendo tournament starting in February. Call now to reserve space at any center. The tournament has separate competitions for ages 12 to 14 and ages 15 to 17. Contestants in all centers play the same games at the same time. Winners of each round move to another center for the next month's game. The top two competitors in each age division win prizes. Call the prior month to reserve a space in each month's event.
Various times, dates and locations vary, tucsonaz.gov/parks/teen-programs, see the website for details.