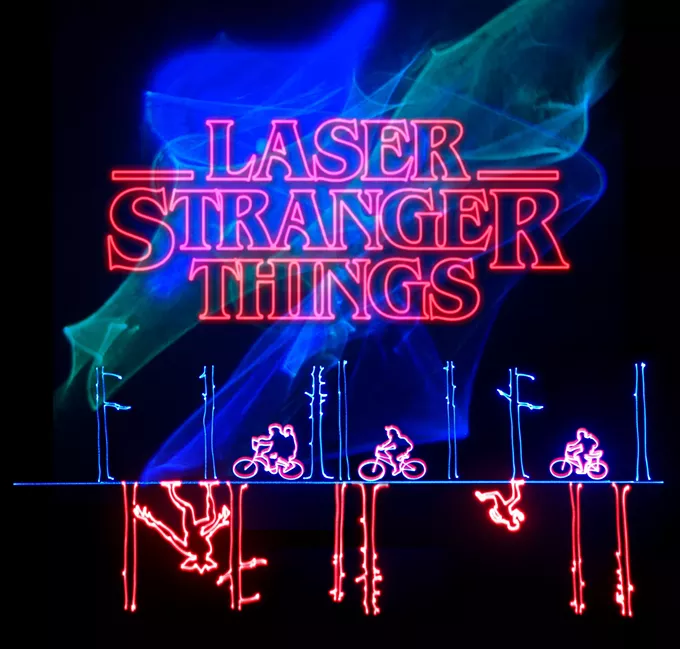 Laser Stranger Things. If you're a Stranger Things fan, you know how good the soundtrack is, and you also know that season four of the hit Netflix series is coming out this week! Come gear up for the new season with a laser light show at Flandrau Planetarium, which will transport you back to Stranger Things' dark and delightfully retro vibe. The spectacle features the '80s music and sounds from the show, reinterpreted in a fantastic light display. The 8 p.m. show on Thursday, May 26, will likely be sold out by the time this goes to print, but you can also catch it at 8 and 9 p.m. on Saturday, May 28, and at 8 p.m. on Saturday, June 25. Flandrau Science Center & Planetarium, 1601 E. University Blvd. $9 adults, $7 kids 4 to 17 and college students, $8 senior and military.
The Elements – Air.
Tohono Chul is running a series of exhibits about the elements, and how they reflect some of Arizona's social, economic, political and environmental issues. AIR is the second exhibition in the series, and features the work of dozens of artists reflecting on the responsibilities of humankind and the intersection of art and science. The beautiful pieces, in a huge array of mediums, are on display through Aug. 10. A free reception with the artists is 5:30 to 8 p.m. Thursday, May 26. Curator talks are Tuesday, May 31, and Thursday, June 2, at 10 a.m. Tohono Chul, 7366 Paseo del Norte.
The Seduction of Mimi. In honor of its 50th Anniversary, The Loft is playing a special selection of films from 1972 throughout the year. This film, a satire of 1970s Italy, brought director Lina Wertmüller international fame. It's the story of Mimi, who loses everything when he refuses to vote for the mafia candidate, but then starts a new life with the beautiful Fiorella. When his past comes back to haunt him, this turns into a raucous comedy taking aim about sexual politics, corrupt government and an ever-growing pile of quagmires for Mimi. 7:30 p.m. Thursday, May 26. Loft Cinema, 33 E. Speedway Blvd. $10 GA, $8 teachers/students/military. $7 children/seniors, $6 Loft members.
Huge Public Open Flea Market. Feel like you've exhausted your usual flea market/thrift store/farmers market circuit? Never fear! The Mission Garden Flea Market is a group of individual sellers who get together to sell during weekends and holidays. You might just see some artisans you're totally unfamiliar with and come home with a new treat. We recommend stopping by early to treat yourself to a new piece of home décor, then spending the heat of the afternoon holed up at home, drinking lemonade and finding the perfect place to display your new piece. 6 a.m. to noon. Friday, May 27. S. Grande Ave. at the base of A Mountain. Free admission.
Lucid Bloom.
I love immersive art experiences. Especially after a couple of years where the only things we were immersed in was our houses, I want to, like, walk through beady curtains like it's the '70s and be surrounded by multicolored lights and touch objects (then immediately sanitize my hands). Local multimedia artist Christina Thompson, who received a grant from the Arizona Commission on the Arts, has just the ticket for a more meditative alternative. Art-centric meditation, live mural painting and live music come together in an experience Thomas hopes will take viewers on a deep journey. 5 to 9 p.m. Saturday, May 28. Subspace Art Collective, 101 W. Sixth St.
Summer Safari Night. There's nothing like a summertime trip to the zoo. But there is also nothing like staying cool during a Tucson summer. And the Reid Park Zoo is giving you a chance to do both, by inviting you to come hang out with the animals in the cool of the evening. Grab a cold drink and dinner at the Zoofari Market, ride the Cox Jungle Carousel and play games with Tucson Parks and Rec. This week's theme is "Walk on the Wild Side" and features wonderfully unique animals and fossils, as well as music by the After 7 Band. 5:30 to 8:30 p.m. Saturday, May 28. Reid Park Zoo, 3400 E. Zoo Court. $10.50 adults, $8.50 seniors $6.50 kids 2 to 14. Free for Zoo members and kids under 2.
John Philip Sousa in the Park. Come celebrate Memorial Day with the Tucson Pops Orchestra's outdoor concert series. This week's special guest is the Davis-Monthan Honor Guard. The musical selection is all in honor of the United States, from Sousa's "The Thunderer March" and "Ancient and Honorable Artillery Company" to tunes like "Colonial Scenes" and "America, The Beautiful." It's a beautiful way to spend an evening, and it's free! 7 p.m. Sunday, May 29. DeMeester Outdoor Performance Center at Reid Park, 900 S. Randolph Way.
Chris Perondi's Stunt Dog Experience. Sometimes I like to think my dog is good at stunts: She can open latched doors and reach surprisingly high shelves if she smells something interesting enough. But this show has some of the most talented and highly trained dogs in the world, racing through obstacle courses, dancing with humans, leaping, flipping and being all-around adorable. They're trained using positive training methods by the folks at Stunt Dog Productions, a family business that has produced more than 8,000 live shows. 2 p.m. Sunday, May 29. Fox Theatre, 17 W. Congress St. $24.50 to $44.50.
Annihilate Anxiety Yoga Class. I appreciate the title of this event because, you know what, anxiety isn't afraid to attack us! Why should we have to be gentle with it in return? The Spark Project Collective is hosting this multi-flow yoga classes followed by a deep relaxation. Like, very deep. Some former participants called this "Night Night Yoga." All levels are welcome, and modifications will be provided. Bring a yoga mat, two blocks, a strap and a blanket or beach towel. 10 to 11:30 a.m. Every Thursday, plus first and third Saturdays. 493 E. Broadway Blvd. First class is free, and then $15 per class or $50 for a pack of five.